Japan, a country known for its bustling cities, rich cultural heritage, and delectable cuisine, also boasts some of the world's most stunning beaches. This article takes you on a journey through the best beaches in Japan, from the sandy shores of Okinawa to the rugged coastline of the Sea of Japan. It highlights the crystal-clear waters of Okinawa's Emerald Beach, the underwater caves of Cape Maeda, and the tranquility of the Yaeyama Islands. It also introduces you to the popular seaside destination of Shonan Kaigan Park in Kanagawa Prefecture, the historical beaches of Kamakura, and the natural beauty of Miyazaki's beaches. Lastly, it presents the pristine beaches of Iki Island, a lesser-known gem. Whether you're a beach enthusiast, a surfer, or a diver, Japan's beaches offer something for everyone.
When it comes to Japan, most people think of its bustling cities, delicious cuisine, and rich cultural heritage. But did you know that Japan is also home to some of the world's most beautiful beaches? From the sandy shores of Okinawa to the rugged coastline of the Sea of Japan, Japan has something to offer for every beach enthusiast. In this guide, we'll show you some of the best Japan beaches to add to your bucket list.
Okinawa Beaches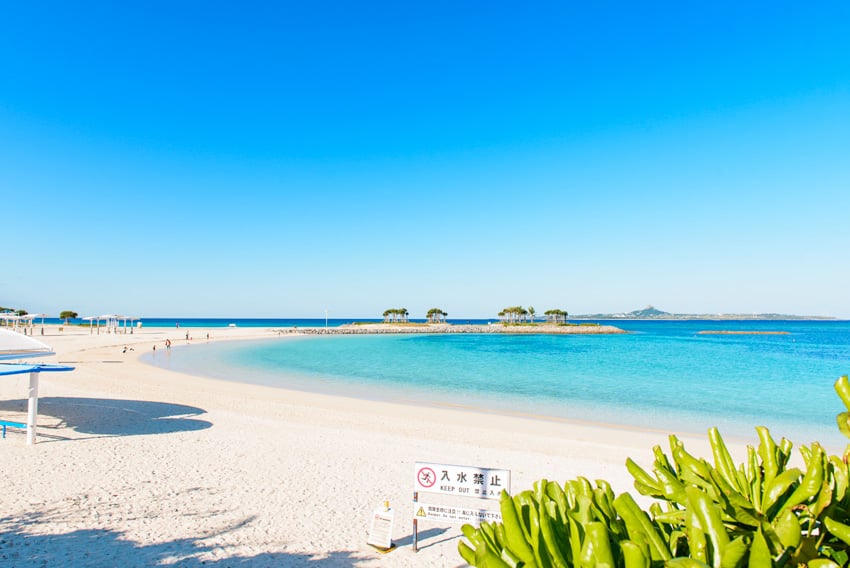 Okinawa, the southernmost Japanese prefecture, is arguably the locals' most beloved summer destination. Okinawa Island boasts some of the most picturesque beaches in the country, and there are more than a few options for those who look for relaxation away from crowds and those who prefer more active pastimes, like snorkeling and diving. We have picked the best Okinawa beaches below.
Emerald Beach
Emerald Beach, located in Motobu-cho, is likely the most well-known among the Okinawa Island beaches. A part of Okinawa Ocean Expo Park, It gets its name for its crystal clear, blue-green calm water (it got a grade A from the Japanese Ministry of Environment). The beach splits into three areas designated for swimming, resting, and viewing. Native Okinawan Village (an open-air museum), botanical garden, and Okinawa Churaumi Aquarium, the third largest aquarium in the world, are located close by, acting as additional elements of interest for those who prefer splitting their summer activities between the beach and cultural activities.
Cape Maeda / Maeda Point
Cape Maeda, or Maeda Point, is the one that lovers of active vacations flock to. Located on the west coast of Okinawa Island, in Onna Village, the cape is renowned for its underwater caves. Blue Cave is a particular favorite for its clear waters with a bright blue hue and biodiversity. The tropical fishes that dwell in the cave are used to people, so the divers have a better chance of exploring them up close than they do in most other places). There are multiple options for snorkeling and scuba diving tours in the Blue Cave, even for complete beginners. Those who prefer their activities a little more on the extreme side tend to entertain themselves with cliff jumping (often from the rocky cliffs near the Blue Cave) and kayaking. 
Zanpa Beach and Sunabe Seawall
Zanpa Beach of Yomitan-son is another spot famous for diving enthusiasts, while Sunabe Seawall of Chatan-cho is widely considered the surfing epicenter of Okinawa Island.
On the other hand, those who prefer secluded places with lesser tourist traffic tend to avoid Okinawa Island and veer toward smaller islands in the prefecture. 
For more tranquility, you might want to explore the beaches of the Yaeyama Islands. The Yaeyama Islands are the southwest and remotest part of Japan and are a well-beloved destination among those looking for "secret" beaches with lower tourist traffic. Though neither Nishihama Beach of Hateruma-jima nor Ida no Hama Beach of Iriomote-jima can be strictly classified as "off the beaten track destinations" anymore, they're both significantly more tranquil destination points than other Okinawa beaches on this list, with clear waters, quiet beaches, and well-preserved natural scenery. 
Shonan Kaigan Park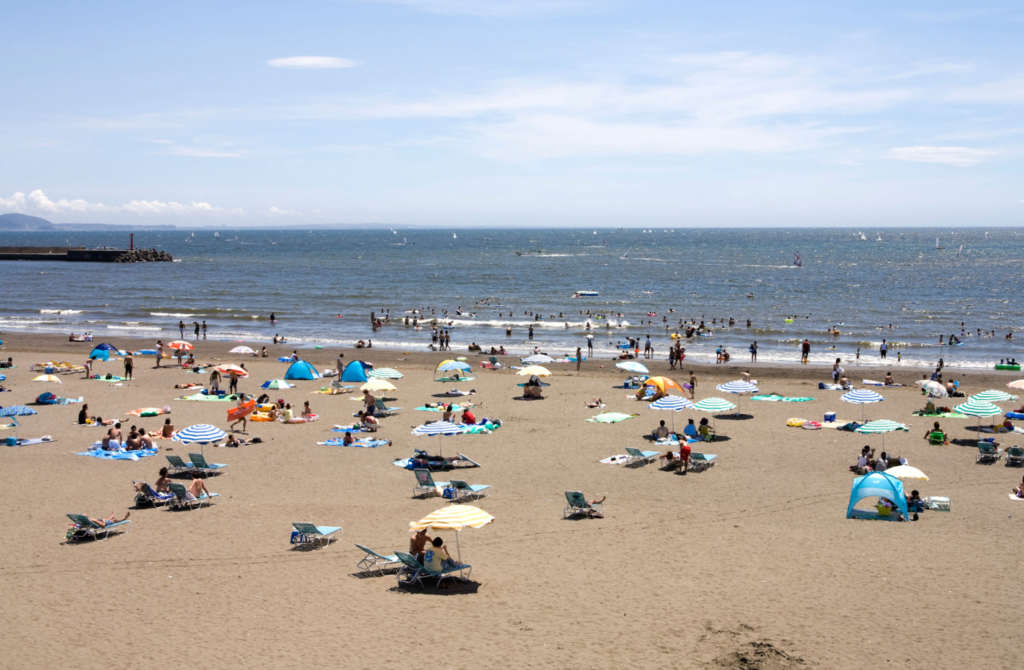 Shonan Kaigen Park is one of the most popular seaside destinations in Kanagawa Prefecture. Located in Fujisawa city, the park covers around 17 hectares, with the beach stretching over 1.2 miles along the coast. 
Shonan Kaigen is widely regarded as the destination for lovers of various water activities. Unlike the Okinawa Island beaches, the water is consistently rolling and swelling, creating favorable conditions for surfing, suitable for both beginners (when calmer) and more advanced surfers (when stormier). There are several surfing shops and schools along the coast where you can rent equipment and sign up for lessons. 
Shonan Beach
While surfing is what Shonan Beach is primarily known for, there are ample opportunities for those who prefer water activities of other sorts, kayaking and windsurfing being the other popular options among the visitors. On the other hand, if you wish to explore the underwater world, you're better off visiting other sites: Shonan Beach is not particularly well-suited for diving and snorkeling.
Shonan Kaigan is undoubtedly one of the most popular tourist destinations on the list, as it's easily reachable from Tokyo and has a well-developed infrastructure. There are various eating establishments, from small bars to restaurants, where people can enjoy a wide range of local foods and refreshments. A magnificent view of Mount Fuji from the beach attracts both locals and tourists in an equal manner, and organizing beachside picnics, barbecues, and parties is as common here as renting a surfboard.
Osaka Beaches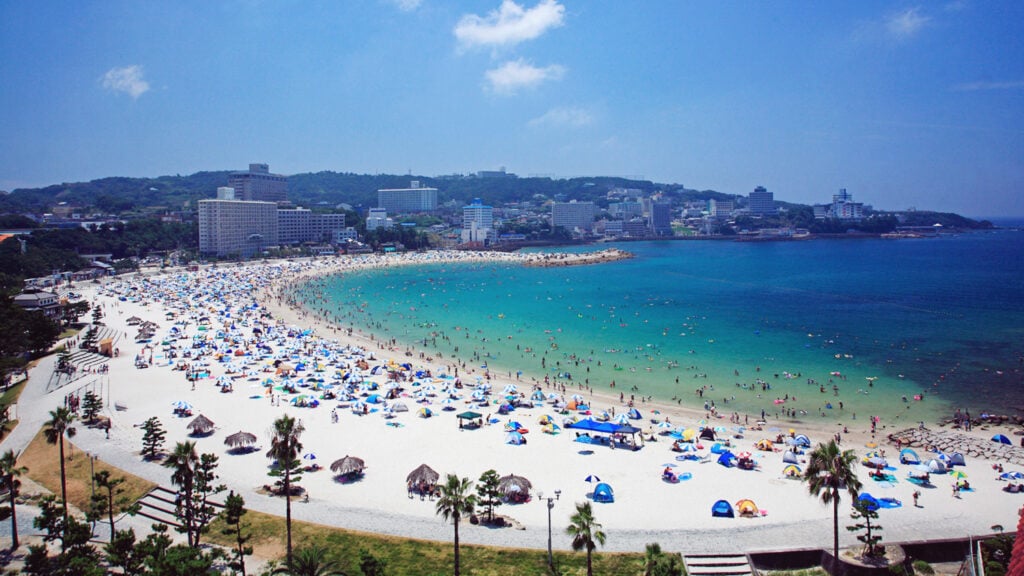 Shirahama Beach
Shirahama Beach, nestled in Wakayama Prefecture, is a stunning coastal attraction in Japan. It's a hot spot for locals and tourists alike, particularly during the sun-soaked summer months. The beach's defining features include its pristine, azure waters and its unique white sand, which was sourced all the way from Australia.
You will also be close to one of the best Japanese zoos Adventure Land – which is a cross between your traditional theme park and a zoological experience.
Getting to Shirahama Beach from Osaka
Whether you prefer train or bus, there are convenient options to reach Shirahama Beach from Osaka:
By Train:

Board the JR Limited Express at Shin-Osaka Station.
Disembark at Shirahama Station after approximately 2 hours and 30 minutes.
From Shirahama Station, a short 10-minute bus or taxi ride will take you to the beach.

By Bus:

Start your journey at the bus terminal located at JR Namba Station in Osaka.
Enjoy a 3-hour and 30-minute ride to Shirahama Bus Center.
From the bus center, the beach is just a short stroll away.
Please remember that travel times can fluctuate based on the time of day and traffic conditions. Always ensure to check the most recent schedules and fares prior to your journey.
Kamakura Beaches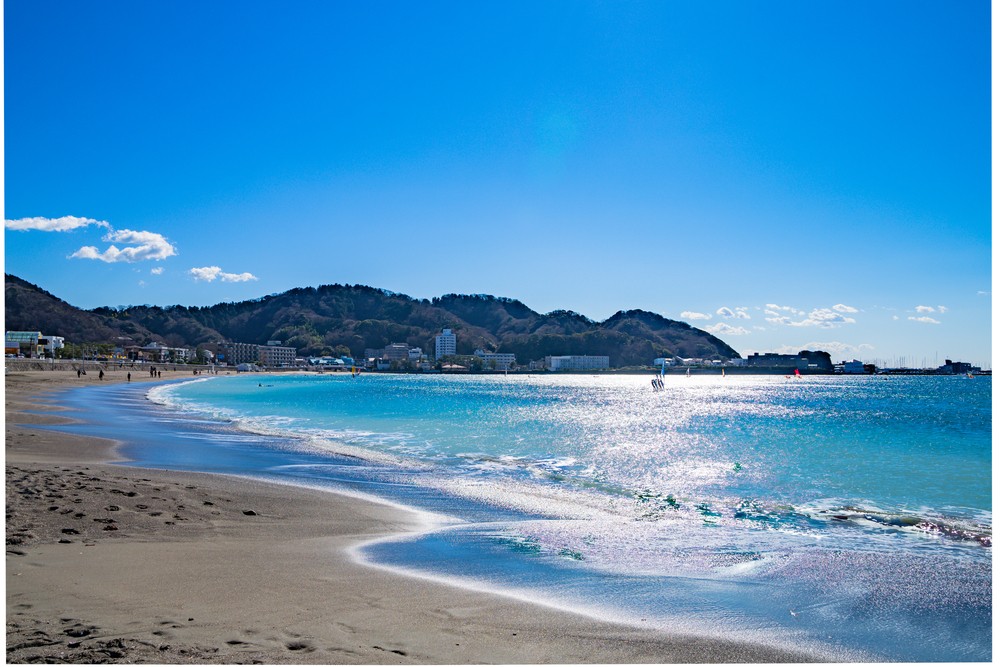 Are you planning to visit Japan at the height of the tourist season and are planning an itinerary around Tokyo? Then Kamakura beaches are a perfect option to get away from for a day, relax, and dive straight back into the busy city rhythm.
Yuigahama Beach
There are several beaches in Kamakura, with Yuigahama and Zaimokuza being the most famous and busiest. In truth, they could be regarded as one beach, with Zaimokuza starting where Yuigahama ends, and the two beaches collectively creating over half a mile stretch of golden coastline. The swimming season in Kamakura is short, spanning only July and August. Yuigahama and Zaimokuza are almost always crowded and bustling with activity.
Zaimokuza Beach
Yuigahama, specifically, is a particularly beloved sport among lovers of SUP (stand-up paddleboarding). Devoted surfers aren't the most common visitors, but the waves here are suitable for beginners. More advanced surfers tend to go further, to Zaimokuza.
That's not to say that Kamakura has no cultural hotspots of its own. The small coastal town used to be the political center of Japan during the Kamakura period (1185-1333) and there are plenty of reminders remaining. So if you're on limited time, visiting Kamakura Beach is a perfect opportunity to combine a seaside getaway with visiting a cultural site or two, like the famous Kamakura Daibutsu, a giant bronze statue of Buddha that stands at over 13 meters tall, or the Goryo-jinja Shrine (both around 15 minutes away from the Yuigahama Beach via bus).
Koshigoe Beach
Other notable beaches in Kamakura include Koshigoe Beach and Shichirigahama Beach, located between Koshigoe and Yuigahama.
Shichirigahama Beach
The latter is regarded as the least touristy among the Kamakura beaches and is mainly known among the locals as a prime fishing spot, so when visiting, don't be surprised if you see the coast lined with fisherman boats. Despite the lack of tourist facilities, it is still a convenient location for a short trip due to easy access via train. Local surfers flock to the spot during the high season due to consistent waves. However, the same rocky formations and deeper waters that attract the fisherman to the shore may constitute a hazard for beginner-level surfers, so it'd be wise to stay cautious.
Miyazaki Beaches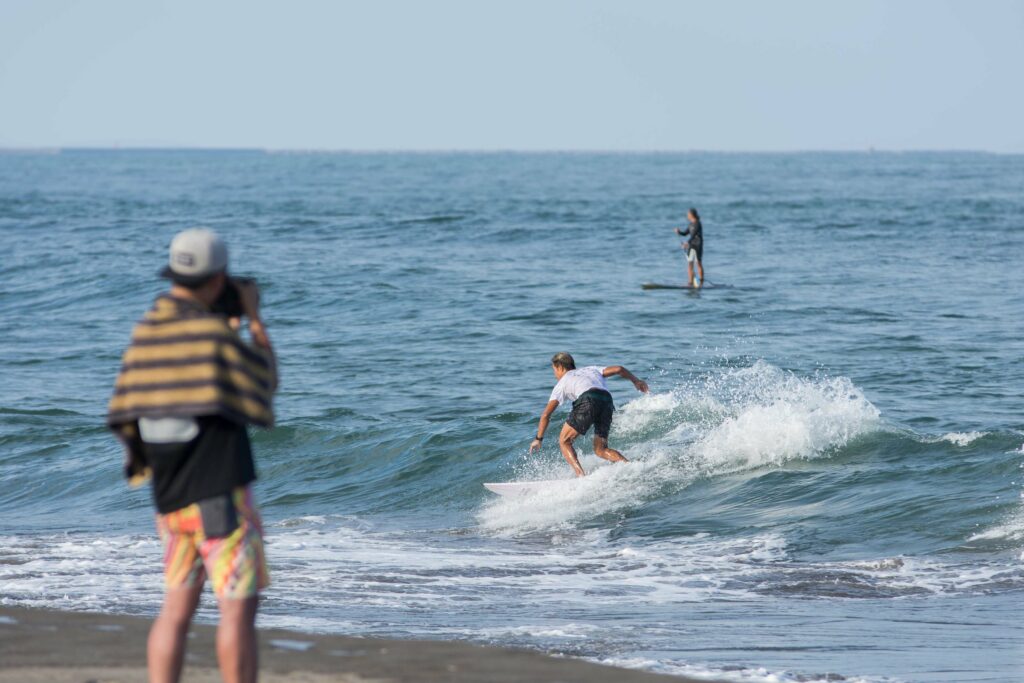 Located on the eastern coast of Kyushu, Miyazaki is known for its natural beauty and warm climate. The prefecture is particularly famous for its surfing culture but the coastline is dotted with a variety of beaches fit for more leisurely pastimes such as swimming and sunbathing as well.
Aoshima Beach
is the one that pops up most often when discussing Miyazaki beaches and for a good reason. The beach is part of Aoshima Nagisa Park, which provides visitors with various recreational facilities and amenities. Its soft white sand and clear blue waters are perfect for swimming and sunbathing, but with its consistent yet gentle rolls, it's also a great spot for beginner and intermediate surfers. The beach is adjacent to Aoshima Island Reef, known for its diverse marine life. The underwater visibility is generally favorable, providing a rewarding diving experience. Aoshima is not a primary location for divers. However, many visit to explore the reef's underwater environment with its tropical fish, corals, and other marine organisms.
Udo-jingū-wan Beach
is not exactly a beach, but a sliver of the coastal area near the Udo Shrine in Nichinan City, Miyazaki. Visitors go there not for recreational activities like swimming or sunbathing but to explore the rocky cliffs and enjoy the scenic views.
Kisakihama Beach
is the local surfers' favorite spot due to the consistent waves it receives throughout the year, especially during the typhoon season. The beach provides a mix of wave sizes, ranging from mellow to more challenging, suitable for both beginners and advanced surfers. Many international surfing competitions are held here, but the beach is a relatively unknown spot outside the surfer community.
Sakaematsu Beach
What Kisakihama is for surfers, Sakaematsu Beach is for divers. It's a relatively unknown spot among tourists, and even lesser known among those who aren't looking for diving spots not overrun by large crowds. Reaching Sakaematsu via public transport can be time-consuming, though its calm and clear emerald waters, variety of tropical fish, and well-preserved coral reefs are well worth the hassle of getting there.
Iki Island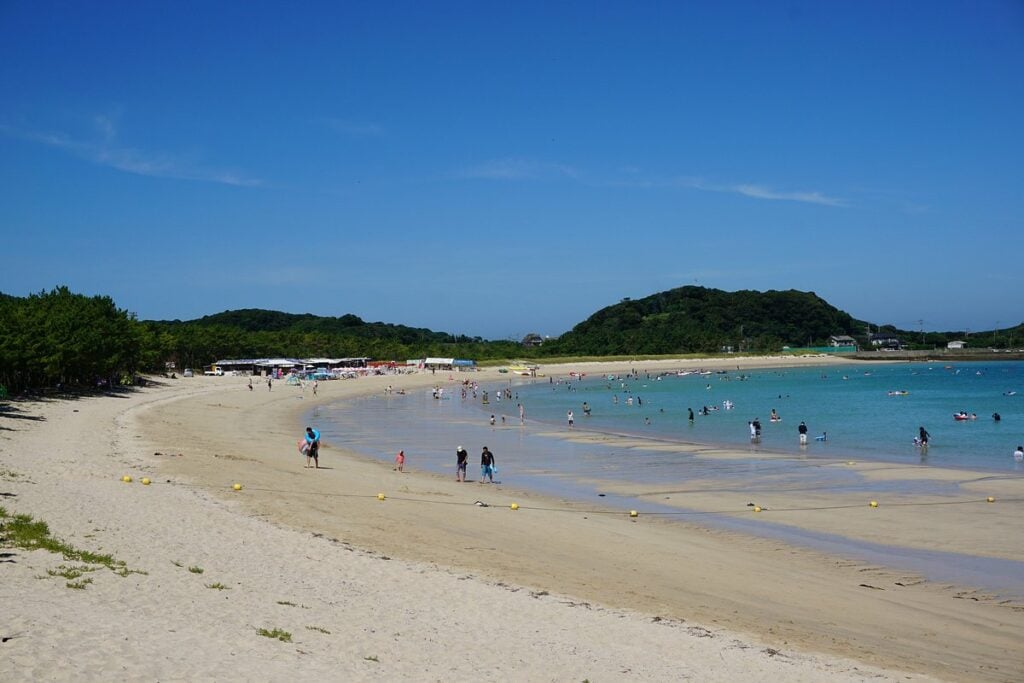 Those looking for an off-the-beaten-path beach experience should include Iki Island (or Iki-jima) of Nagasaki Prefecture in their itinerary. The home to some of the most pristine beaches in Japan, this island is famous for white sands (a rarity on Kyushyu), clear waters, beautiful views, and local dishes such as Iki beef and Iki squid.
Tsutsukihama Beach
is the most popular Iki-jima beach, a well-known destination among Japanese tourists, but a relative mystery to international travelers. Tsutsukihama Beach is largely regarded as a place for leisurely activities such as swimming and sunbathing. Yet, if you're looking for a surfing opportunity on Iki-jima, it's still your best option. The waves are gentle and low, though relatively consistent.
Nishikihama Beach
is often considered the most scenic beach on Iki-jima for its unique pinkish-purple shoreline. The sand mixes with crushed seashells here, giving it the signature bright hue. Nishikihama is a perfect choice for those who want to enjoy beautiful views (and take impressive photos), both seaside and underwater – it's the home to the only diving shop on the Iki-jima.
Iki Island has over a dozen other beaches spread across the coastline that vary in size, features, and popularity, but even the most famous among them are likely to offer you more of a local experience than most other beaches in Japan.
March 15, 2023

Are you considering teaching English in Japan? This article on Fly-JPN provides a detailed guide on how to make that

October 1, 2022

Immerse yourself in the world of thrill and excitement with this comprehensive guide to the best theme parks in Japan.

May 18, 2023

Japan is a treasure trove of unique and memorable souvenirs that reflect its rich culture and tradition. This guide provides