Featuring distinct cuisine, iconic futuristic architecture, and vibrant culture — the Land of the Rising Sun is on the travel bucket list of many. Japan is a country with a rich history spanning centuries, lush natural beauty, and a booming economy. No wonder so many people want to relocate here.
But, before packing your bags and booking your flight, be prepared to face the reality that Japan is an expensive country. It's a country striking the perfect balance between culture, economy, and innovation. And this doesn't come with a cheap price tag.
So, can you live in Japan cheaply? Yes, you can. We've compiled a guide to the cheapest places to live in Japan comfortably while also experiencing all that this great nation has to offer!
Which is the cheapest city to live in Japan?
Sapporo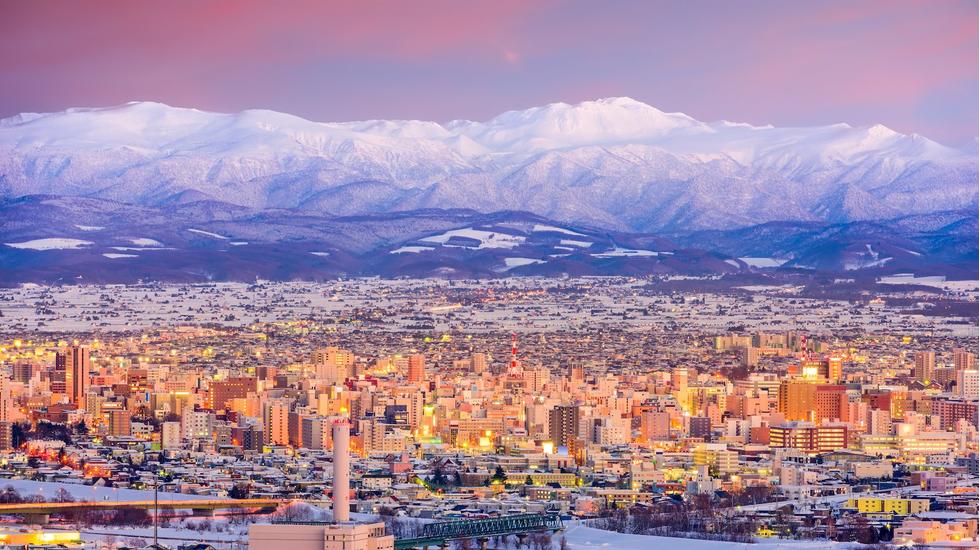 The largest city on Japan's second-largest island of Hokkaido, Sapporo offers a quaint life. Sharing its name with the oldest beer brand in Japan, the city is also a popular tourist destination.
What was once a small village has transformed into a thriving metropolitan and Japan's fifth largest city. Sapporo is Hokkaido's political and economic center and thus has a lot to offer its residents in terms of job opportunities as well as social life.
Although given the city's northern location, Sapporo boasts harsh winters, sometimes reaching sub-zero temperatures. But, the excellent skiing spots combined with the annual Sapporo Snow Festival more than make up for the city's reputation of being one of the coldest cities in Japan.
Sapporo features transportation systems, including the Japan Rail and subway system, which are reliable and inexpensive. This as well as the low rent makes Sapporo one of the cheapest places to live in Japan.
Residents in this area can thrive with a ~¥160,000 (~$1,140) monthly budget, of which ~¥56,000 (~$400) would go to apartment rent. The cost of essentials, utilities, groceries, and even tuition fees are far lower in this city.
Kyoto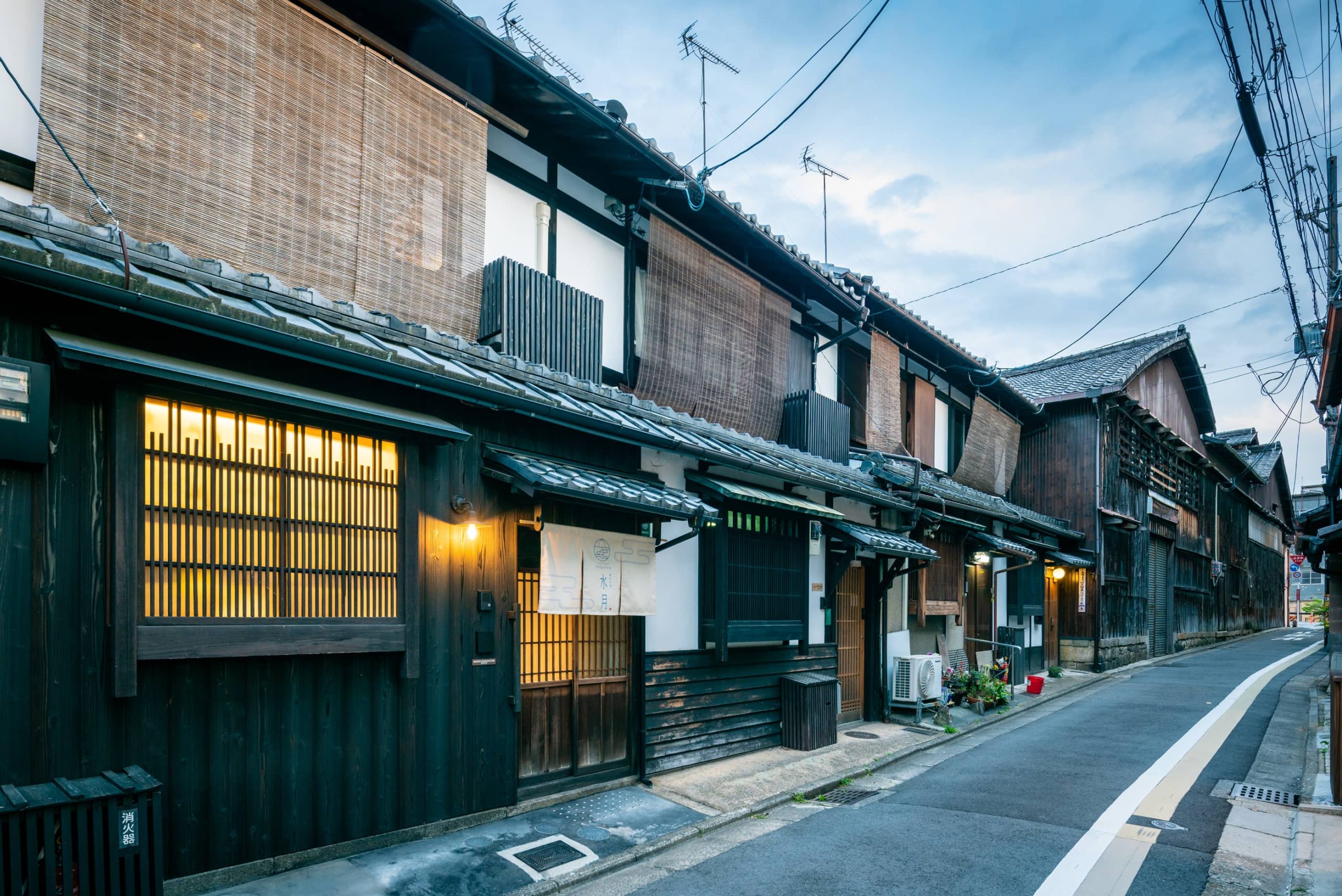 Pegged as the Capital of Peace and Tranquility (Heian-kyō), Kyoto is an old Japanese city and the cultural hub of Japan.
The city was home to numerous Japanese emperors, which is evident in the architecture of the city such as the Kyoto Imperial Palace. From impeccably curated gardens to traditional shrines to more than 2,000 Buddhist temples as well as Shinto shrines to 17 UNESCO World Heritage, there is no dearth of history and beauty here.
Despite all the natural and manmade beauty of Kyoto, the cost of living here is reasonable and practical.
The estimated living costs in Kyoto are ~¥190,000 (~$1,350) per month, with at least ~¥80,000 (~$570) spent on rent.
You may also like
Osaka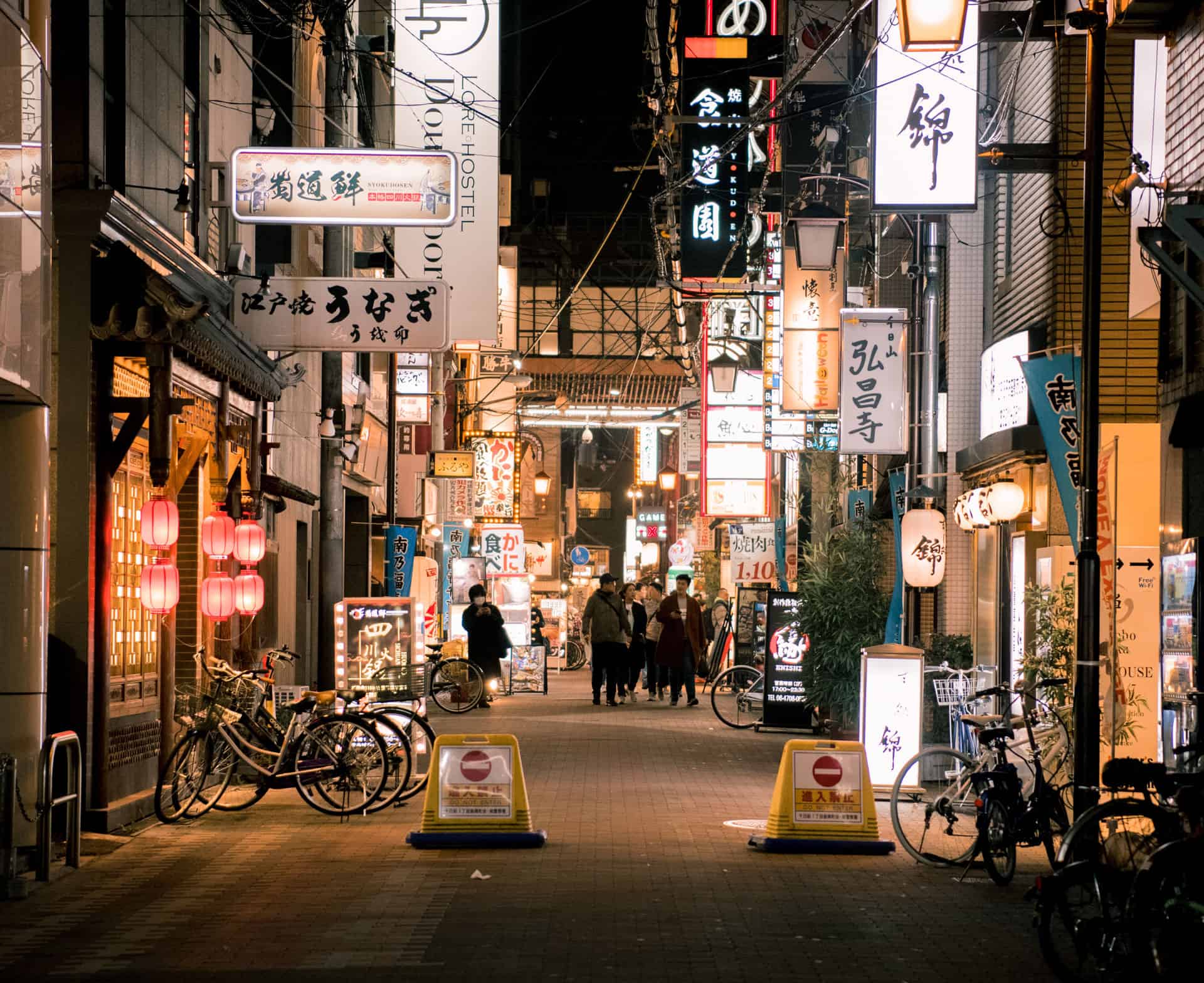 Osaka is where modern meets traditional. A mere 13-minute bullet train ride away from Kyoto, Osaka is a city that appeals to many foreigners because of the friendly people, the efficient transport system, and most importantly, the low living costs.
Ranked third among the most livable cities in the world after Vienna and Melbourne, Osaka is arguably the best place to live in Japan for expats and the younger population. Despite being a large city, Osaka offers plenty of quiet and relaxing places to unwind, like the Grand Front Osaka's Rooftop Garden, Utsubo Park, and Diamond Point.
The city also has a vibrant nightlife with many bars, karaoke rooms, manga cafes, and hip neighborhoods such as Amerikamura or the American Village. You will also always be gastronomically satisfied thanks to its diverse food culture. There's a reason the city is called the Nation's Kitchen.
The estimated cost of living in Osaka is similar to its neighbor Kyoto, which is about ~¥190,000 (~$1,350) per month.
You may also like
Naha
The capital of Okinawa Prefecture, Naha is among the smallest of the five main islands of Japan.
Another city in Japan that marries history with modern conveniences, walking through Naha is like being transported back in time and then back to the present, thanks to International Street.
Naha is more famous for being home to the Shuri Castle from the 15th-century Ryukyu Kingdom. But it is also well-known for sango-style dyeing — you'll be surprised with the number of tie-dye items you'll begin to accumulate.
You will also find yourself admiring the peaceful yet still lively vibe this city has despite being so isolated.
Living in the capital of Okinawa Island sees many residents spending more or less ~¥150,000 (~$1,065) per month. This is about forty percent cheaper than in central Tokyo.
Kawasaki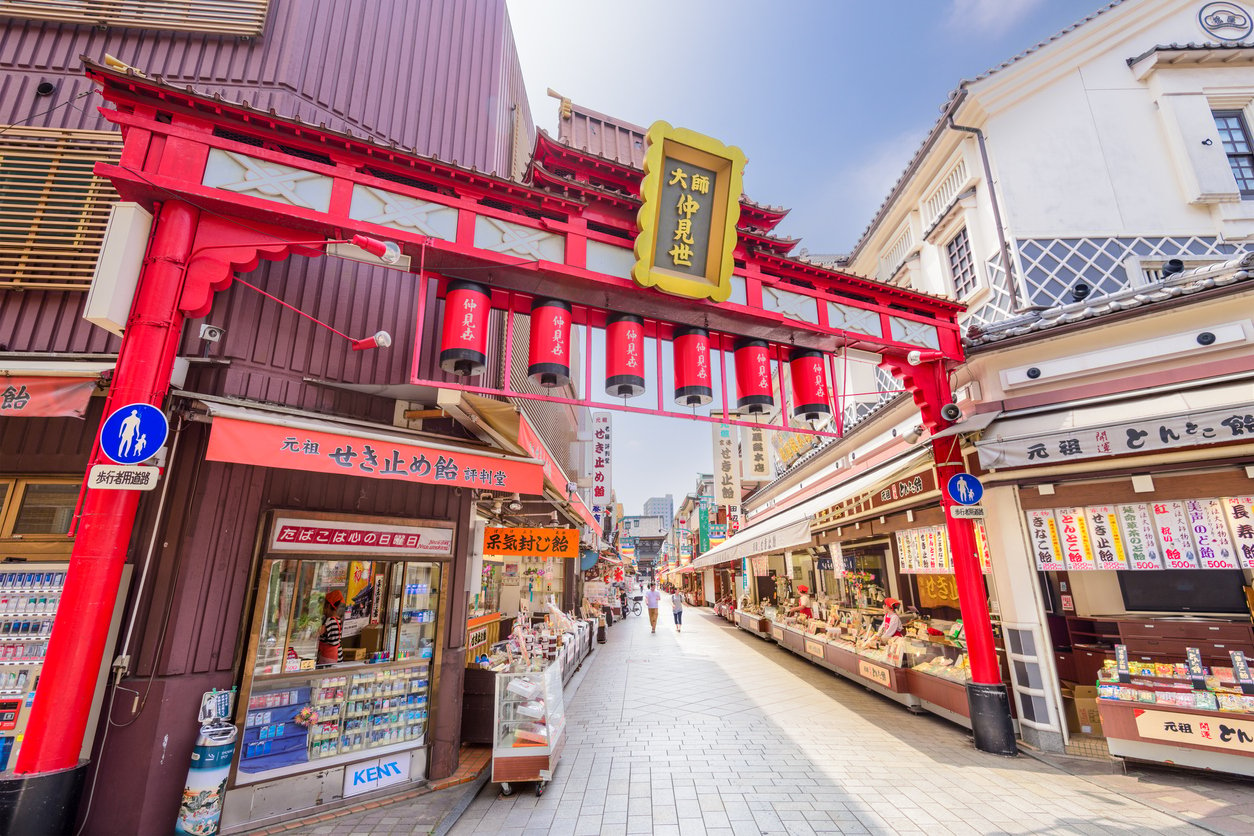 Located between Tokyo and Yokohama, Kawasaki is considered part of the greater Tokyo district. This is a dynamic city home to more than 1.5 residents and allows you to experience Tokyo without burning a hole through your pocket.
One of the most popular cities in Japan, Kawasaki is also renowned for its rich tradition and culture, as well as plenty of employment opportunities.
It's a riverside town that houses numerous museums and shrines while offering the many technological facilities of a big city. This makes the area quite inviting for expats and students who want to pursue higher education.
Setting base in Kawasaki is also easier on the wallet as apartments can almost be 50 percent less than in Tokyo. And an hour's worth of traveling to the Japanese capital is not a bad deal, especially if you are working with a ~¥165,000 (~$1,170) monthly budget.
Tsushima Island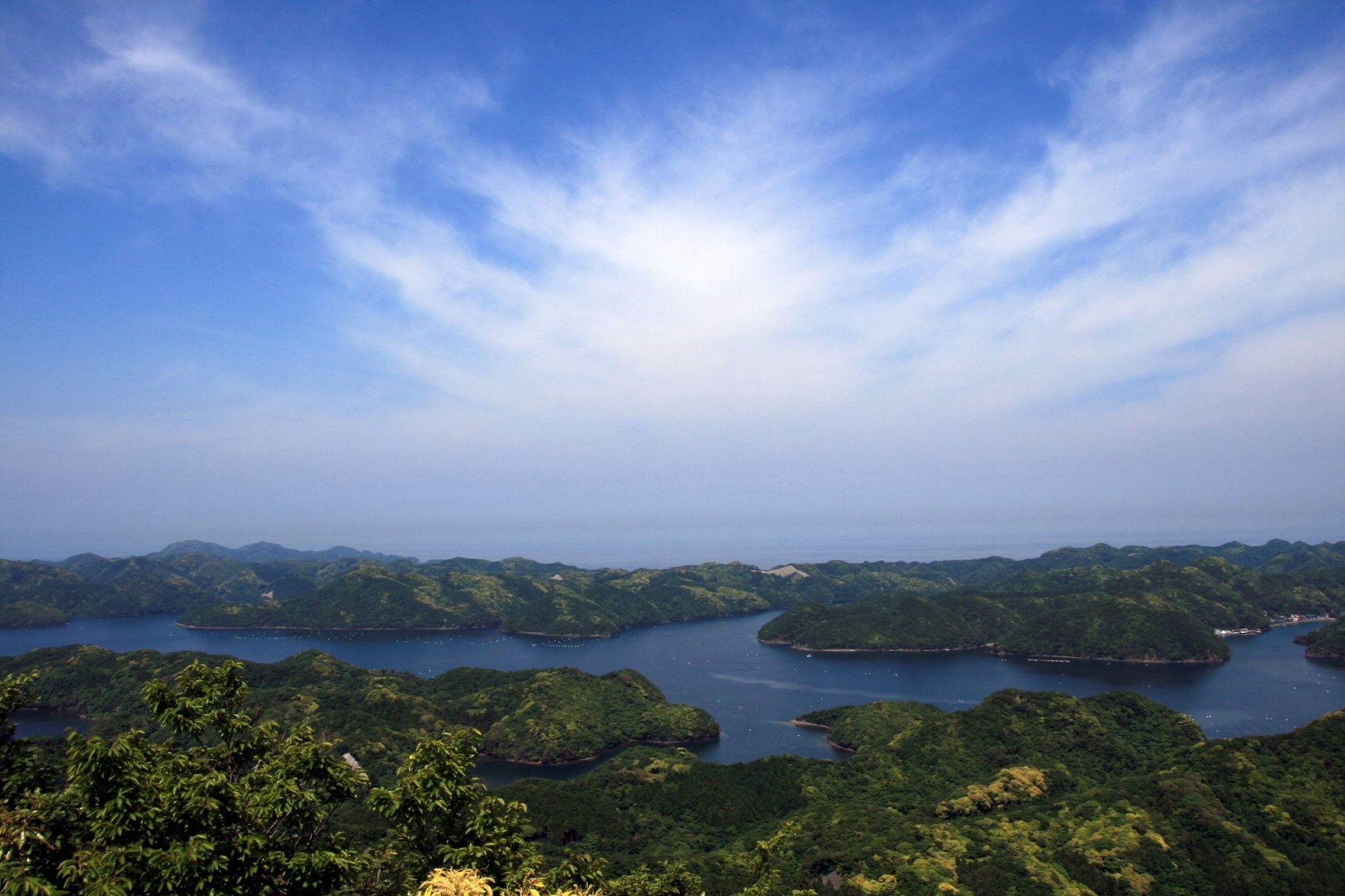 Tsushima Island is a charming island featuring stunning landscapes where you can experience the diverse natural beauty of Japan in all its glory.
Tsushima Island is a lush natural preserve, with more than 89% of its area covered by mountain forests. If you are looking for a quiet, peaceful lifestyle surrounded by natural beauty, Tsushima Island is the perfect pick for you.
Even the residents of the island primarily practice old-school techniques, especially when it comes to agriculture. The island is also a unique marriage of Japanese and Korean cultures, with life on the island significantly revolving around the sea.
The island's residents can get by comfortably with a monthly budget of ¥140,000 (~$1,000) per month. One-bedroom apartments have a monthly minimum fee of ~¥56,300 (~$400).
Fukuoka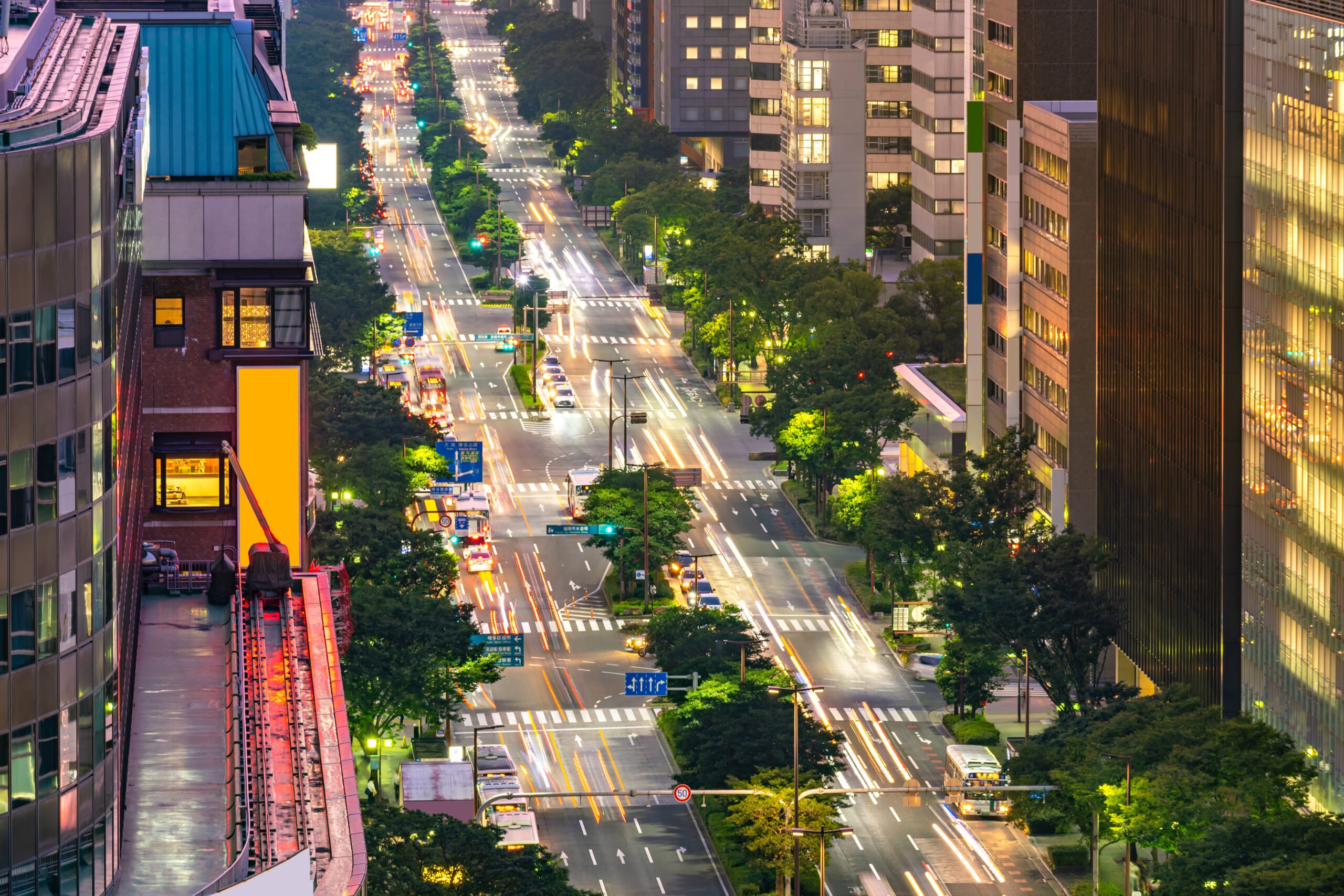 Kyushu island's most populous city, Fukuoka, merges the convenience of modern innovations with the tranquility of nature. The city is enclosed by mountains on three sides and Hakata Bay on the fourth.
With its scenic streets lined with cherry blossoms, sandy beaches, and numerous temples situated alongside modern architecture and shopping complexes, the city has a vibrant atmosphere that offers something to everyone.
Unlike the busy and overworked Tokyo salaryman, Fukuoka residents are not as stressed. This Kyushu city offers a comfortable and enjoyable way of life through its many facilities such as convenient public transport systems, large shopping malls, karaoke joints, and izakayas.
A city center apartment in Fukuoka costs a maximum of ~¥100,000 (~$700) per month, so a monthly income of ~¥130,000 (~$910) is sufficient to get you by comfortably with all your needs. The utilities, food, and entertainment cost are also cheaper by at least 25 percent in Fukuoka compared to what you'd usually pay in Tokyo.
Kamakura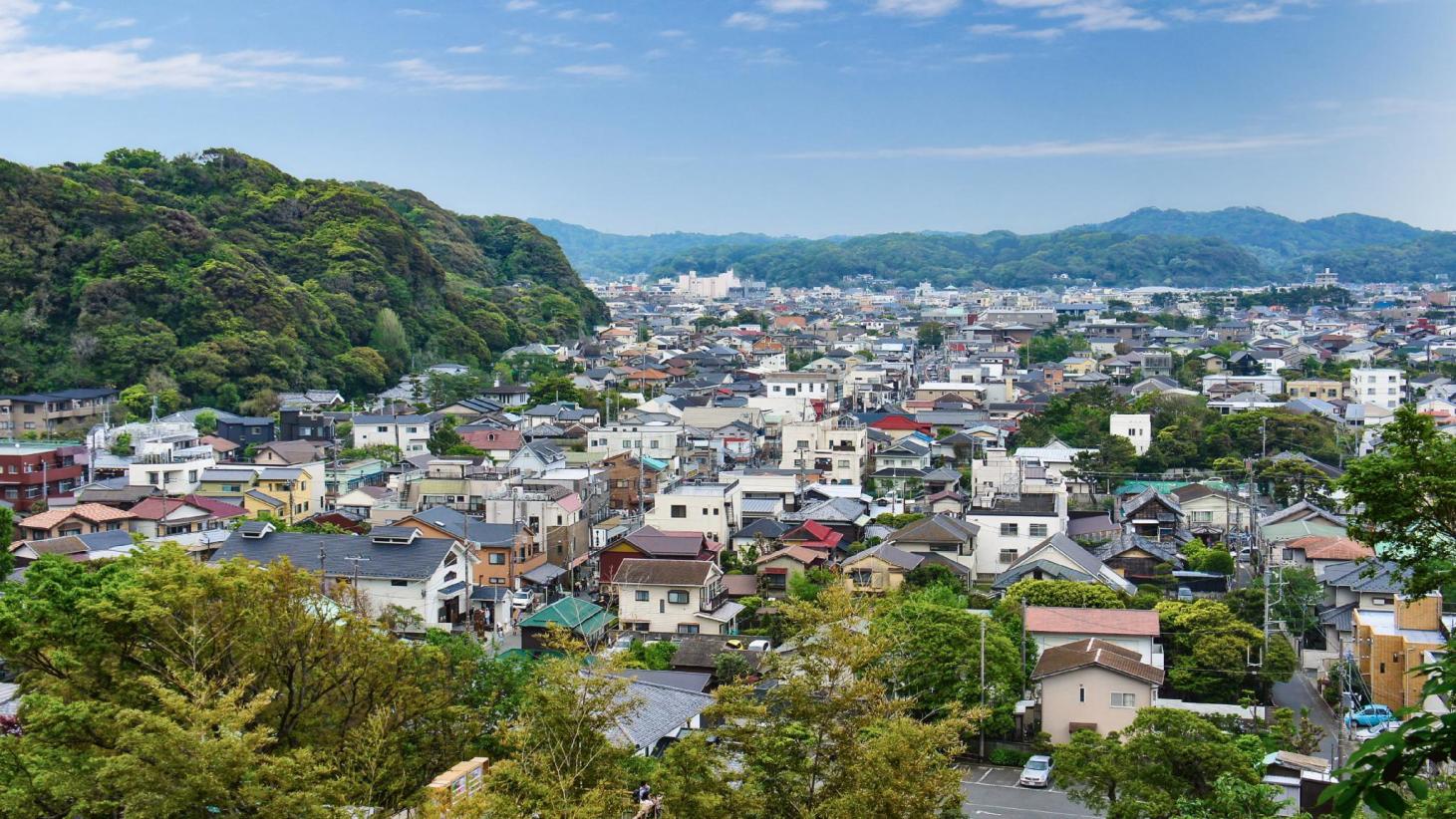 The picturesque town of Kamakura is known for its iconic bronze Great Buddha statue that stands 13meters tall. Beyond this massive structure, the seaside city is also a beautiful fusion of culture and natural beauty.
Kamakura, about 45 minutes away from Yokohama and Tokyo, allows you to make the most of your life in a uniquely preserved Japanese way.
Kamakura is home to a diverse population, so residents from other cities, the countryside, and expats will have an easier time adjusting to this place. There are plenty of cultural spots to explore along with natural hiking trails and sandy beaches to enjoy.
The cost of living in Kamakura is quite reasonable. You can have a minimum of ~¥150,000 (~$1,100) as a monthly budget and would still have enough for some entertainment and nature escapades.
Chiba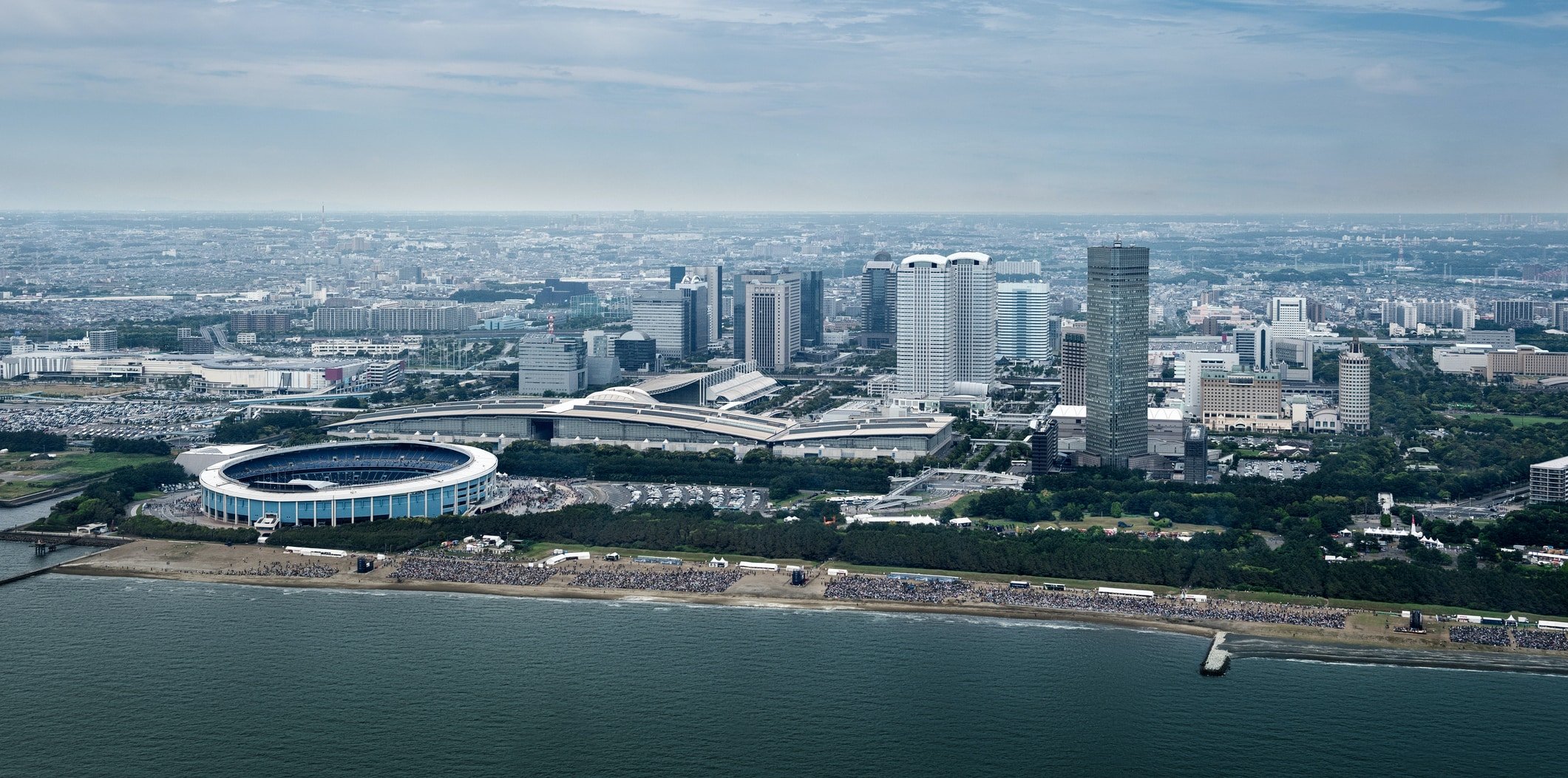 A magnet for foreigners, Chiba is the first "Japanese soil" you will see, feel, and experience, given that this is where the Narita International Airport is located.
Despite being the Chiba Prefecture's largest city, Chiba is not as crowded as Tokyo because most people automatically move on after arriving in Japan to other places. Only a lucky few decide to settle in Chiba. Chiba offers plenty of employment opportunities for immigrants while still enjoying an authentic Japanese experience.
You also get a variety of natural places to explore, including Kujukuri Beach, Minami Boso, Mt. Nokogiri, and Awamata Falls.
Apartment rentals are significantly cheap in Chiba, where you can rent a 25-square meter apartment for ~¥70,000 (~$490).
Yokohama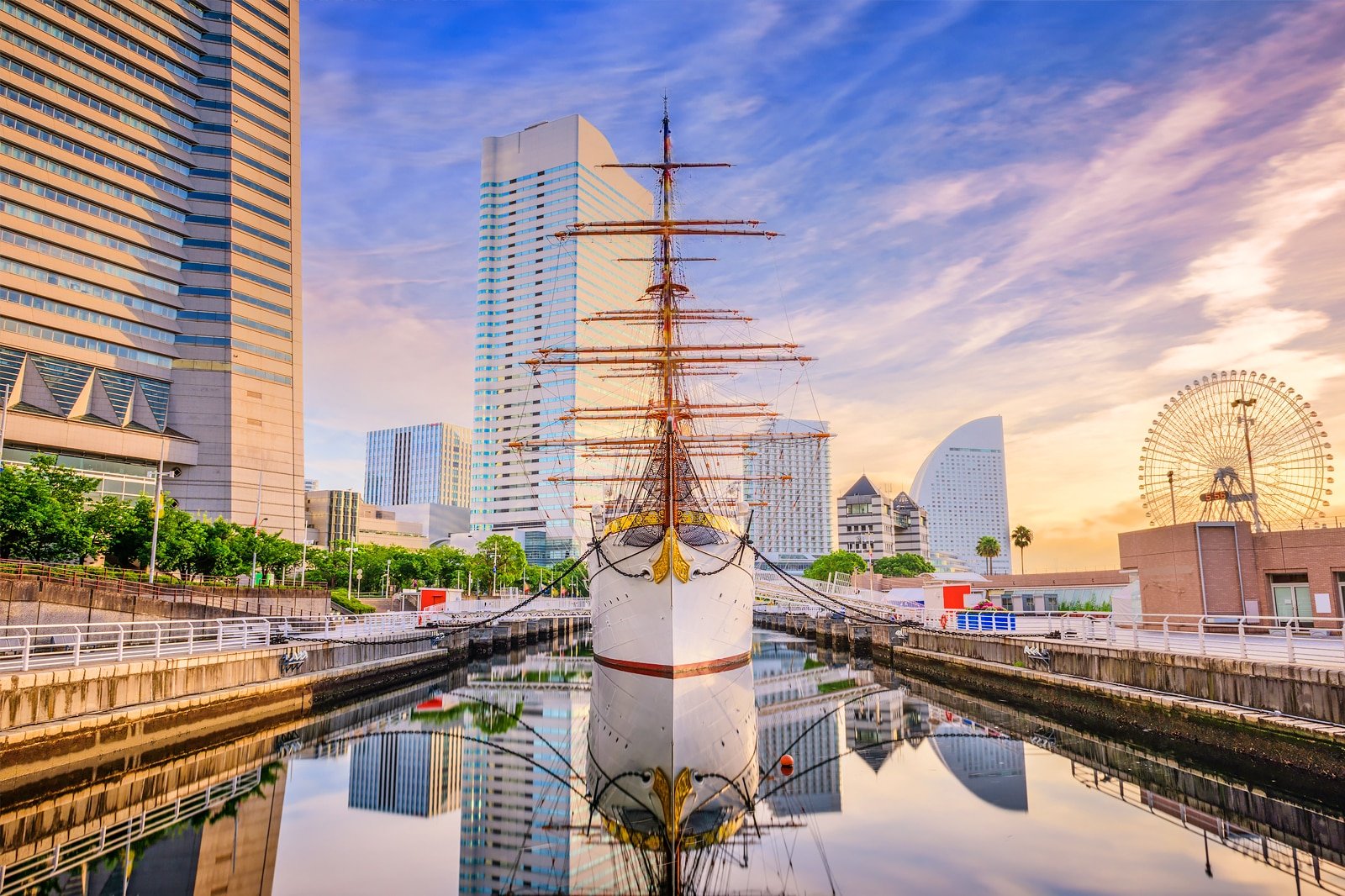 Yokohama is a relatively new city that is slowly becoming a place of choice for those who are after affordability and high quality of life, making it extremely inviting to both foreigners and Japanese people. It becomes an ideal base if you are after a balance of life, play, and work.
While it may not be as rich in history as the other cities in Japan, Yokohama has its own allure. There's a 160-year-old Chinatown to explore, stunning Japanese gardens to wander in, and awe-inspiring museums and galleries to inspire you.
Given the rapidly evolving economy and abundant job availability in the tech sector, Yokohama is arguably the best alternative to Tokyo.
The average cost of living in Yokohama for a single person is ~¥238,000 (~$1,700).
Cheapest Places To Live In Japan FAQ
What is the safest city in Japan?
According to ALSOK, a Japanese security company, the number of recognized criminal offenses in Tottori prefecture was the lowest across Japan in 2020. The highest number was 82,764 in Tokyo and the second was 68,351 in Osaka. Source.
Is Tokyo safer than New York?
Tokyo has a crime rate index of 23.97 compared to New York which has a crime rate index of 48.78, more than double. The overall chance of someone getting into trouble in New York is "Moderate" compared to Tokyo which is Low. Source.
Is the crime rate high in Japan?
The crime rate in Japan is the lowest it has been since the end of World War 2. Japan is one of the safest countries in the world. Overall crime is down 17.9% compared to 2020.  Source.
Is Tokyo safe at night?
The safety rating of night in Tokyo is rated high by Numbero. The score was set at 74.58 for walking alone, comparing this to a city like New York which is sitting at 48.50. Source.
Is Japanese hard to learn?
Japanese is one of the hardest languages to learn for western people. You will need to learn three "alphabets" and get used to the order of words being "backwards". Luckily there are many sources to learn Japanese online using apps, videos and zoom lessons.
How many murders in Tokyo per year?
There were 117 murders in Tokyo during 2021, if you consider the fact that Tokyo has a population of 13.96 million then the murder rate is very low. Source.
What do I need to do to move to Japan?
If you are thinking of moving to Japan then you will need to contact your local Japanese embassy to speak about getting a visa. The easiest visa would be a Working Holiday visa which gives you one full year to live in Japan. See our post here for more information on moving to Japan. How To Move To Japan
Is Japan safer than Singapore?
Tokyo ranks slightly safer than Singapore, both have a "low" danger rating given to them by numbeo. Tokyo's crime index is 23.97 whereas Singapore's crime index is 27.17. Source.
Is Osaka cheap to live in?
To live comfortably in Osaka you need around $1350 per month for rent, bills and food. Osaka is actually ranked as the third most liveable city in the world. You can read more here.
Is Osaka good for foreigners?
Osaka is very foreigner friendly, as of 2019 2.8% of the population of Osaka are foreign. The Osaka government has a great guide on How To Live In Osaka for foreigners with information about health care, education and support networks.  Source.
How expensive is it to live in Kyoto?
Kyoto is known as being expensive but if you take a look at the cost it's actually quite cheap. A 1DK (dining kitchen) apartment costs around $500 per month, granted this will not be a very nice apartment size wise and most likely very cold in the winter and hot in the summer. A more average apartment 3LDK (living, dining & kitchen) will cost around $1750 – utilities in Kyoto cost around $140 (gas, water, electricity).
Can foreigners live in Kyoto?
Kyoto has a foreign population of 0.76% which is just below the national average of 0.85. If you are considering moving to Kyoto then you will find life easier than other prefectures due to the large amount of English signage. Kyoto is an extremely popular prefecture to visit for tourists.
Do they speak English in Osaka?
English is not really spoken much in Osaka or Japan. If you need assistance with paying bills or visa help then the Osaka government does have an English hotline you can call which can assist you. Most large hospitals have staff that speak English, as do some dentists etc.
Is Osaka better than Tokyo?
People in Osaka are much more laid back than Tokyo, Osaka is famous for being full of warm people and actually most of the comedians from Japan come from Osaka. Is Osaka better than Tokyo? It really depends on your personal preferences in life. Do you prefer a more friendly, approachable environment? Then Osaka is better.
What is the average salary in Osaka?
The national average salary in Osaka is around $35,000 per year. On average men earn around $11,926 more than women per year. Source.
How much does an apartment cost in Osaka?
This would depend on the size of the apartment, on average a 2DK (dining kitchen) will cost around $11,200 per year or $933 per month. You can get a cheaper bigger place by going with government housing which offers fantastic apartments aimed towards families. A 3LDK (living, dining, kitchen) from UR would cost about the same. The downside being these apartments tend to be a little older and not terribly close to train stations. Source.
How much does it cost to live in Sapporo?
Sapporo in Hokkaido is ranked the cheapest place to live in Japan. To live comfortably in Sapporo you would need around $1140 per month which would cover rent, food and utilities. You can read more about the cost of living in sapporo here
Why do people move to Osaka, Japan?
Osaka is a fun laid back city, it's not as big or as busy as Tokyo but has all the things you can expect from a modern city in Japan. The transport is great, it's relatively flat which makes it easy to walk around like in New york city. There is also a rich history in Osaka as it was originally the capital of Japan.
Is Osaka cheaper than Tokyo?
Yes, it's perhaps no surprise but the capital of japan is the most expensive city to live in. A 2DK (Dining, Kitchen) in Shinjuku  could cost you around $87000 per year. A smaller 1KD (Kitchen, Dining) would set you back around $11,500 per year. The cheapest part of Tokyo (Hinode-cho, Nishitama-gun)  would be around $10,000 per year or $833 per month. Please note, Hinode is on the very edge of Tokyo, the commute by train would be 1 hour 36 minutes. Source.
How much money do I need to bring to Japan?
We covered this in our post How Much Does a Trip To Japan Cost? For a comfortable two weeks stay you would need around $4000 to fully enjoy everything and not worry about having enough money to eat, shop and explore.
Is Osaka or Kyoto better?
People in Kyoto are known to "look down" on those who live in Osaka. This is a very old issue that dates back to the times when both Osaka and Kyoto played major parts in the unification of Japan. Is Osaka better? It's more modern, has better transport but Kyoto has charm, temples and it's right next to one of the biggest freshwater lakes in the world – Lake Biwako. As both cities are so close to each other (1 hour by train) it's really hard to judge them.
Should I live in Osaka or Tokyo?
You should first look at your budget, most people don't pick a city based on what they like, they choose a city because of work, school or family. Look at the cost of living in Osaka and Tokyo then make a decision based on what you can afford. After all, there is no point living somewhere and not having enough money to go outside and enjoy the city.
Is Tokyo better than Kyoto?
Both are great cities and completely different, Tokyo is huge (biggest city in the world) and is busy. Kyoto is small, laid back and traditional. The question of which is better really depends on what your lifestyle is like. Both are connected to high speed rail, I would recommend visiting both before deciding on which one you prefer.
Is Osaka cheaper than Kyoto?
Kyoto is slightly cheaper than Osaka, the average Kyoto apartment costs $500 whereas Osaka costs $933 per month. That being said, Kyoto does not have the same railline as Osaka so if you decide you live in Kyoto you may need to purchase a car or motorcycle. Source.
How much is a train ticket from Osaka to Tokyo?
A ticket from Shin Osaka station to Shibuya is $103 – this is one way and would take 2 hours and 48 mins. The total distance traveled is 496.6 km.
Is Kobe cheaper than Osaka?
Kobe is cheaper than Osaka with the average 2DK (Dining, Kitchen) apartment only costing $4000 per year compared to $11000 in Osaka. Source.
Is Osaka a good place to live?
Osaka is ranked the third most livable city in the world to live in, with its great transport, safe streets and excellent food Osaka is a good place to live. Source.
Can you live in Japan cheaply?
It really depends on the city you chose to live in, Japan can be both cheap and expensive. If you can earn around $1500 per month then most places in Japan are livable. Please understand if you are living in Japan you must also factor in local taxes, income taxes and health taxes which all depend on how much you make.
Japan is an advanced country. It's not a coincidence that the cost of living is so high. But it doesn't mean you can't travel there without going broke. On the other hand, traveling to Japan can be affordable if you're smart about spending your money and where you stay.
Here are some ballpark figures to help you plan your trip:
Flights – ¥114,130 (From California) ~ $792 (use skyscanner to check the latest price)
Accommodation – ¥5300 ~ $36per night
Transportation – ¥25,000~$173(trains and busses are relatively cheap)
Food – ¥13,500 ~$93 per day
Based on these figures, you'll spend about ¥157,930 or $1,150 on your first day plus around $114 for every additional day. If you spend seven days in Japan, your trip will come to a little less than $2,000.
Can I move to Japan without a job?
Japan has very strict immigration policies, to move to japan you would first need a visa approved by the Japanese embassy in your home country. The easiest visa to get that will let you move to japan without a job is a working holiday visa. This visa is handed out to people under the age of 30 who have $3000 saved up. The idea of this visa is that you come to japan for a full year and are free to work anywhere and travel. Reach out to your local embassy for more information 
Can I go to Japan only speaking English?
Yes but you might find it hard off the beaten path, I would recommend bringing along google translate or some phrase books to help you out. Learning simple phrases like "where is this" can also help greatly.
Can you survive in Japan with English?
You can but you will find it difficult when it comes to doing anything official such as paying taxes, going to the ward office to get documents etc. Even though all Japanese study English in junior high school they tend to not speak it very well or understand accents.
Can I get a job in Japan if I don't speak Japanese?
There are many developer jobs available for people who do not speak english, these are normally start up companies looking for software developers. There are also manual labor jobs available which mostly involve packing up food or other items for shipment.
How hard is it for a foreigner to get a job in Japan?
It really depends on your skill set, if you can speak English and have a degree (any degree) you can teach English at most places. If you speak Japanese then you shouldn't really have much difficulty finding a job, most retail places are always advertising for help.
How can I legally live in Japan?
With a correct visa, do not come to japan without a visa, you will be detained at the airport and forced to fly back on an expensive flight, fined for the illegal entry and banned. Speak to your local embassy on the best visa for you to gain entry. You can find your local embassy here.
Can you live in Japan without citizenship?
Yes you can live in japan without citizenship as a student or someone on a working holiday visa.
What jobs can I get to move to Japan?
Popular jobs for foreigners in japan are
English Teacher
Office Worker
Warehouse Work
Working Online
Supermarkets
It really depends on your skill set and Japanese language skills.
Can I live in Japan without a degree?
You do not need a degree to live in Japan, degrees are only needed for certain jobs such as teaching English and working in universities. Many people live comfortably in Japan without higher education.
How much is the minimum wage in Japan?
As of 2021 the national minimum wage in Japan is $6.52 – like America minimum wages are set by prefectures (states) so depending on where you live it could very well be higher. Source.
How many hours do you work in Japan?
The average working hours in Japan are 45 hours a week per week. This was found by a survey of 3000 people conducted by Nikkei Computer in 2019. This means most Japanese people work full time. Source.
What is a good salary in Japan?
The national average salary in Japan depends on your age group:
20 – 29 years old – $23,000 per year
30 – 39 years old – $30,660 per year
40 – 49 years old – $35,221 per year
Over 50 years old – $43,009 per year
A large percentage of the people in their 20s are part time due to studying at university. Source.
How can I get a job in Japan?
What sort of job do you want in Japan? If you would like to teach English (one of the easiest jobs to get) then all you need is a degree in your home country (any degree) and to apply to the JET program. If you are a software developer or web developer then I would recommend searching for developer jobs in Japan in English.
Is it cheaper to live in Japan or the USA?
Japan is cheaper than the USA. From March 2022, America's consumer price index has been rising by over 8% every month. Meanwhile, Japan's consumer price index has been rising by around 2% for the last three month. (AUG 2022)
Is 10000 yen a lot of money in Japan?
10,000 yen is $70.16 as of September 2022. If you are looking at traveling to Japan on a budget then I would recommend checking out our blog post here.
What is a good salary for Tokyo?
Tokyo is an expensive city, as the national average salary is set up around $30,000 per year. I would recommend aiming for this much at the very minimum to live comfortably in Tokyo.
How much is a home in Japan?
The price of course depends on the city, size and age of the house. As of 2020 the average price of a custom built house with land is $238,549. A pre-built house comes in a bit higher at $318,899. Please note, even though the custom built house is cheaper on paper this does not include fees for architects and assumes you own the land already (land has taxes). Source.
Where Is The Cheapest Place To Buy A House In Japan?
If you want to buy a house in Japan, steer clear of big cities like Tokyo and Kanagawa. The three top places you want to consider are Kagawa, Yamaguchi, and Nagano.
Kagawa is Japan's smallest prefecture, with the average cost for a house starting at ~¥109,000 (~$995) per square meter. In Yamaguchi, you can find a house for a minimum of ~¥97,959 (~$695) per square meter. And finally, Nagano offers the cheapest option at ~¥38,400 (~$271) per square meter.
Is Japan cheaper than California?
Comparing a state to a country is difficult, for example Tokyo is one of the most expensive cities in the world but California doesn't even come up in the top 50. That being said, daily things such as food, transport and alcohol are cheaper in California. Source.
Is Japanese healthcare free?
Japanese healthcare is not free, Japanese pay taxes for National Health Insurance which covers the cost of 75% of any medical bill. The tax depends on your yearly income. The average Japanese person pays around $245 per month in health care taxes.
Where is the cheapest rent in Japan?
The cheapest rent in japan as of 2022 is found in the Miyazaki prefecture, the average rent cost around $273 per month. Source.
Where do foreigners live in Japan?
Foreigners live all over Japan, the highest percentage of foreigners is unsurprisingly in Tokyo. Source.
Tokyo – 16.3%
Osaka – 13.0%
Aichi – 7.6%
Hyogo – 6.3%
Is it hard to live in Japan as a foreigner?
Japan is one of the safest countries in the world, you can live easily as a foreigner with minimum Japanese. You can shop, travel and live without much difficulty at all.
How long can a foreigner live in Japan?
This would depend on your visa, for example if you are from the EU then you get by default 90 days on your visa, this can be extended at the immigration office to another 90 days. To extend your visa you need to bring with you proof of money to support yourself and also write down why you want to extend your visa (traveling more etc).
What city in Japan has the most foreigners?
Tokyo has the most foreigners in Japan with a percentage of 16.3% (213,000). Source.
Can Foreigners Purchase A House In Japan?
Yes, any person with monetary means can purchase property in Japan, regardless of their nationality. There are no restrictions or residency requirements, and although the process is more complicated, the country offers various financing options.
Is Japan A Good Place To Live In?
Japan is one of the best places in Asia to settle in and call home. It is a practical country that lives with tradition while also moving forward with technological advancements. Japan strikes the perfect balance of maintaining and upholding culture while embracing the conveniences of innovation. Additionally, it is also a safe place to live in, especially for families.
Japan is a place where tradition and culture thrive alongside futuristic architecture and a high standard of living. And while Japan is an expensive country, it is still comparatively affordable to neighboring Singapore and even Hong Kong.
Depending on your lifestyle and preferences, Japan has a lot to offer in terms of comfortable and cheap living spaces. The country's many facilities, conveniences, and rewarding experiences, however, make living in Japan worth it for expats and locals alike!
And finally, if you are thinking about moving to japan then the cheapest place to live in japan is the city of Sapporo in Hokkaido – the northern part of Japan.