Embark on a stress-free journey through Japan with the best pocket wifi options in 2023. This comprehensive guide on Fly-JPN explores the benefits of pocket wifi over SIM cards, offering seamless internet access for travelers. It delves into the top five pocket wifi providers, including Sakura Mobile, Japan Wireless, iVideo, H.I.S, and Ninja Wifi, comparing their coverage, speed, battery life, and customer service. The article also provides a detailed guide on how to rent pocket wifi in Japan, considering factors like data limit, number of devices, rental duration, battery life, and compensation fee for loss or damage. Stay connected and make the most of your adventure with the best pocket wifi in Japan.
Wifi In Japan
Attention travelers! Are you ready to unlock the secrets of stress-free travel in Japan? Imagine exploring the bustling streets of Tokyo or the serene gardens of Kyoto without worrying about losing your way or missing out on the latest travel tips. You might think that staying connected on-the-go is difficult or expensive, but fear not!
With a little insider knowledge, you too can experience seamless internet access throughout your journey. Forget the hassle of buying a sim card or relying on patchy café wifi, and discover the ultimate solution for unlimited internet access – pocket wifi rental in Japan !
In this article, we'll reveal everything you need to know about Japan's wireless pocket wifi, so you can stay connected and make the most of your adventure. Get ready to embark on a journey of uninterrupted internet bliss!
What Is Pocket Wifi?
Pocket wifi is a small device that works exactly like a wifi router at your home. The only difference is that pocket wifi devices are portable, which means you can carry them around during traveling and keep all your devices connected to the Internet.
These devices are handy and can spread the signals to at least a 10-15 meters radius around them. Also, they are chargeable, so you don't need to carry around any cables.
Pocket Wi-Fi Vs SIM Card
Factors To Consider
Duration of your trip: The length of your stay in Japan may affect your choice between pocket Wi-Fi and SIM cards, as rental fees and data usage needs may differ.
Number of devices requiring internet access: Consider how many devices you need to connect to the internet when choosing between pocket Wi-Fi and SIM cards.
Budget and cost of each option: Compare the costs of renting a pocket Wi-Fi device and purchasing a SIM card to find the most budget-friendly option.
Convenience and ease of use: Determine which option is more convenient and easier for you to use during your trip.
Renting A Pocket Wi-Fi In Japan
Advantages
Connect multiple devices simultaneously: Pocket Wi-Fi devices allow you to connect multiple devices, such as smartphones, tablets, and laptops, making them ideal for families or groups.
No need to unlock your smartphone: Renting a pocket Wi-Fi does not require unlocking your phone, as it would when using a local SIM card.
Easy pick-up and return process: You can rent and return pocket Wi-Fi devices at airports, electronic stores, and tourist information centers, or even have them delivered to your hotel.
Reliable and fast internet connection: Pocket Wi-Fi devices generally provide a stable and high-speed internet connection throughout Japan.
Disadvantages
Daily rental fees: The cost of renting a pocket Wi-Fi can add up, with daily fees ranging from ¥500 to ¥1,500.
Need to keep the device charged: You will need to keep the pocket Wi-Fi charged, which can be inconvenient during a long day of sightseeing.
Carrying an additional device: Renting a pocket Wi-Fi means carrying an extra device with you throughout your trip.
Purchasing A SIM Card In Japan
Advantages
No extra device to carry: A SIM card goes directly into your smartphone, so there's no need to carry an additional device.
Access to local mobile networks: A SIM card connects you to local mobile networks, ensuring reliable coverage and fast internet access.
Various data plans to choose from: You can select a data plan that meets your needs, whether you require minimal or heavy data usage.
Pay only for the data you need: With a SIM card, you only pay for the data you plan to use, which can be more cost-effective than pocket Wi-Fi for some travelers.
Disadvantages
Requires an unlocked smartphone compatible with Japanese networks: To use a SIM card in Japan, you must have an unlocked smartphone that is compatible with Japanese mobile networks.
Limited to one device: A SIM card can only be used in one device, typically your smartphone, unlike a pocket Wi-Fi that can connect multiple devices.
May lose access to your regular phone number during your trip: When using a local SIM card, you may lose access to your regular phone number, which can be inconvenient for receiving calls or messages.
Recommendations For Different Types Of Travelers
Solo travelers vs. groups or families: Solo travelers may find a SIM card more suitable, while pocket Wi-Fi might be more cost-effective for groups or families who need to connect multiple devices.
Short-term vs. long-term stays: Travelers on short trips may prefer pocket Wi-Fi for convenience, while those on extended stays may find SIM cards more cost-effective in the long run.
Light vs. heavy internet users: Light internet users might benefit from a SIM card with a smaller data plan, while heavy users may find a pocket Wi-Fi device more suitable for their needs.
Both renting a pocket Wi-Fi device and purchasing a SIM card have their benefits and drawbacks when traveling in Japan. It is essential to consider factors such as your trip's duration, the number of devices you need to connect, your budget, and the level of convenience you require. By carefully evaluating these factors, you can choose the option that best suits your needs and preferences, ensuring a seamless and enjoyable trip to Japan.
Why Should You Rent A Pocket Wifi Device In Japan?
While capturing Instagram-worthy photos is a must, your smartphone is also essential for navigating, booking transportation, translating languages, and more. You can't do most of these tasks without an internet connection. And as most tourists don't get sim cards, using mobile data is not an option.
In this situation, pocket wifi devices can be really helpful. You don't even need to buy these devices, as they will be of no use to you after your tour. You can simply rent pocket wifi devices for the duration that you are staying in Japan. This way, you can make sure you have consistent internet access. Thus, renting a pocket wifi device in Japan can make your trip more convenient, cost-effective, and enjoyable.
The Best Pocket Wifi For Japan
When you're new to a place, it can be challenging to determine what items to purchase. Likewise, finding the best wifi router in Japan can be a frustrating experience, particularly if you lack knowledge about them. But don't worry, we've got you covered. Here are the top 5 Japan wireless pocket wifi devices.
| Features | Japan Mobile | Sakura Mobile | iVideo | H.I.S | Ninja Wifi |
| --- | --- | --- | --- | --- | --- |
| Network Coverage | Limited | Nationwide | Nationwide | Limited | Limited |
| Internet Speed | High-speed 4G LTE | High-speed 4G LTE | High-speed 4G LTE | High-speed 4G LTE | High-speed 4G LTE |
| Battery Life | 10 hour | 15 hour | Up to 8 hour | 10 hour | Up to 9 hour |
| Data Usage Limit | Limited | Unlimited (for short-term plans) | Limited (based on the plan you choose) | Unlimited | 3GB/day |
| Price | Expensive | Relatively expensive | Affordable | Affordable | Affordable |
| Customer Service | Irresponsive | 24/7 customer support in English | Responsive | Irresponsive | Responsive |
| | | | | | |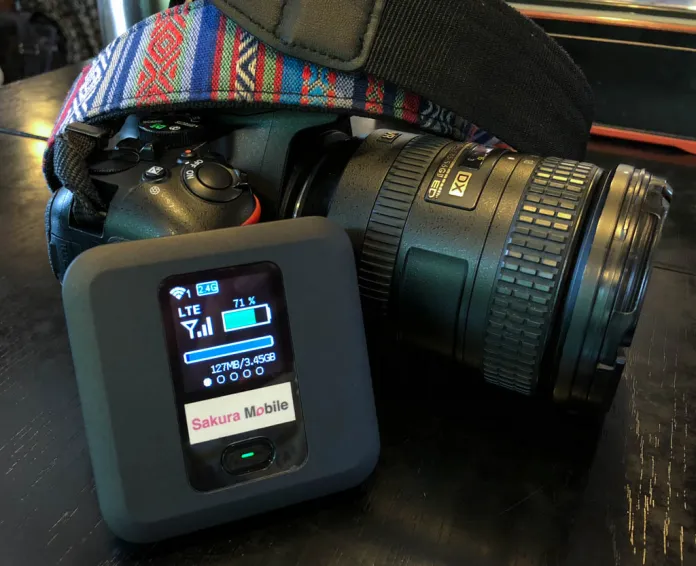 Looking for a wireless service provider that understands your internet needs while traveling in Japan? Look no further than Sakura!
With a range of cost-effective solutions, Sakura offers short-term and long-term plans based on your requirements. And if you're worried about communication barriers, don't be. They provide responsive customer support in English, so you can communicate your queries and issues without any hassle.
Under the short-term plans, you can rent their wifi devices for any duration from 2 days to 90 days. And if you plan to rent it for more than 90 days, you can opt for their long-term plans. What's more, Sakura allows 15 connections simultaneously, making it the best option compared to its potential competitors available in the market.
While they charge a compensation fee if you lose or damage their devices, you can cover these costs with optional insurance. So, you don't have to worry about any extra expenses. Their short-term plan actually provides unlimited data usage, where you have as much data as you want without any restrictions.
With a battery life of 15 hours, their devices don't require frequent charging, providing you with uninterrupted internet access on the go. Don't let internet connectivity woes bring down your Japan trip. Choose Sakura and enjoy a hassle-free experience!
Pros
Responsive customer service
Can connect 15 devices simultaneously
Offers optional insurance
15-hour battery life
Cons
Limited data usage for long-term plans
Might be a bit expensive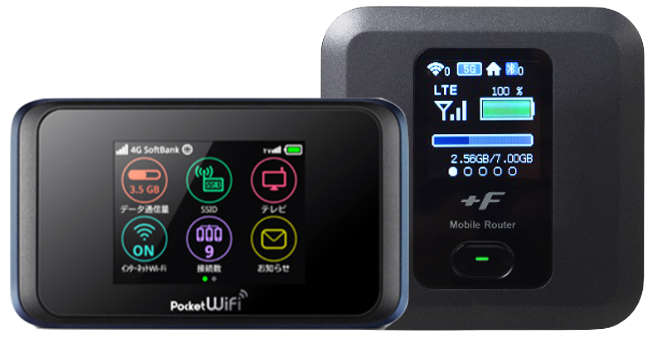 One of the most popular portable Wi-Fi devices on the market today is Japan Wireless. What sets it apart from the rest is its unlimited 4G LTE data usage plans, allowing you to browse the internet without any restrictions. The device also boasts a battery life of approximately 10 hours and can be conveniently picked up and returned at airports, hotels, and post boxes.
It's worth noting, however, that different users have different needs, and the 10-hour battery life may not be sufficient for everyone. Some users have reported limited coverage in certain parts of Japan, and there have been complaints about difficulties reaching Japan Wireless' customer service team.
Despite these issues, Japan Wireless offers lightning-fast data speeds and extensive coverage, making it a great option for anyone looking to stay connected while exploring Japan. What's more, there are no cancellation fees if you need to cancel your order before shipping.
Overall, Japan Wireless is a fantastic choice for travelers who want to stay connected while on the go in Japan.
Pros
No data limits
Affordable
No cancellation fee before shipping
Fast data speed
Cons
10-hour battery life
Coverage issues in certain parts
Difficulty in reaching customer service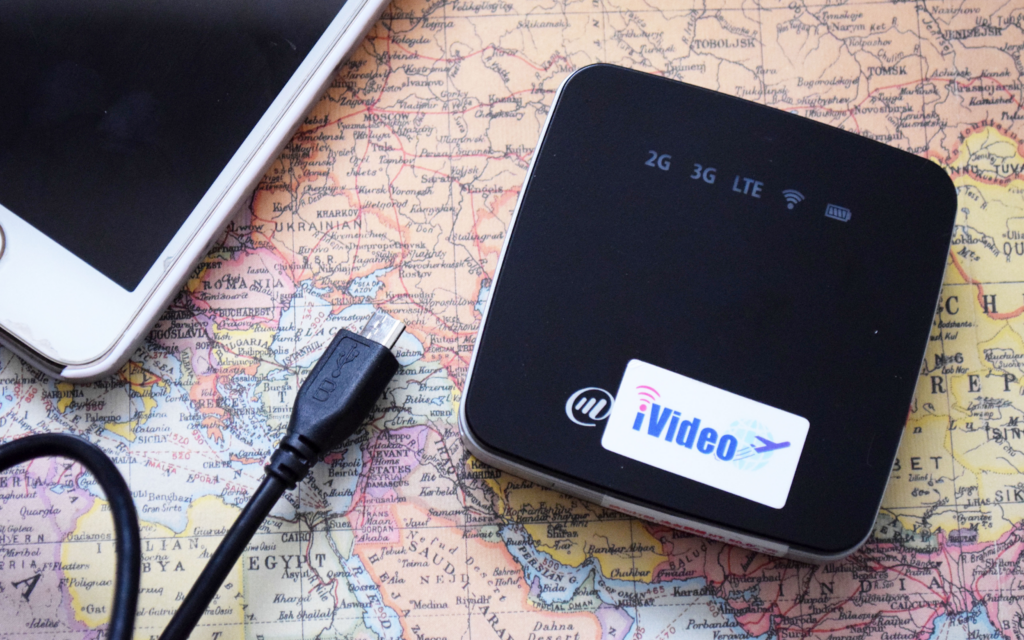 For those seeking an affordable means of staying connected during their visit to Japan, iVideo's Softbank network devices may seem like a promising option. With consistent high-speed internet and a flexible booking policy that allows cancellations without fees, it's easy to see the appeal.
However, it's important to keep in mind that some users have experienced limited coverage in certain areas of Japan, particularly in more remote locations. In addition, while the website is user-friendly and provides an easy way to calculate the monthly rate, some customers have reported issues with connection drops and battery life when using iVideo's pocket wifi devices.
Furthermore, it's worth noting that iVideo's devices do have data limits, and once you reach a certain threshold, you may experience slower internet speeds.
Despite these minor issues, iVideo is a fantastic option for staying connected in Japan. So why not give it a try and see for yourself?
Pros
Affordable price
Can be canceled anytime
High-speed internet
Hassle-free booking
Cons
Connection drops
Limited data usage
Insufficient battery life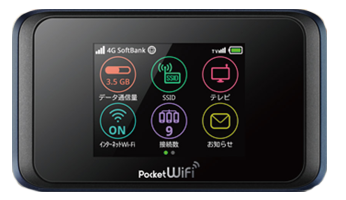 Looking for reliable internet access during your entire trip to Japan? H.I.S. offers pocket wifi devices and sim cards that might just do the trick. With the ability to connect up to 10 devices at once, it's a great option for group travel or family vacations. Plus, the battery life is a solid 10 hours, and there are plans available for different needs, including basic and premium options. The premium plan even includes insurance coverage for loss and damage!
However, it's important to note that H.I.S. devices do have their limitations. Users have reported limited coverage in rural areas, so if you plan on exploring off-the-beaten-path destinations, you may want to consider other options. Additionally, some customers have noted a slow response time when it comes to H.I.S. customer service.
On the bright side, H.I.S. makes pickup and return easy, with the option to collect the device from their office or have it delivered to your hotel. And returning the device is a breeze with a prepaid envelope provided for your convenience.
Overall, H.I.S. could be a solid choice for staying connected during your travels in Japan, as long as you're aware of its limitations and plan accordingly.
Pros
Unlimited internet access
187 Mbps Speed
Simultaneously connect 10 devices
Offers insurance for loss/damage
Cons
Limited coverage in rural areas
10 hours battery life
Slow response rate of customer service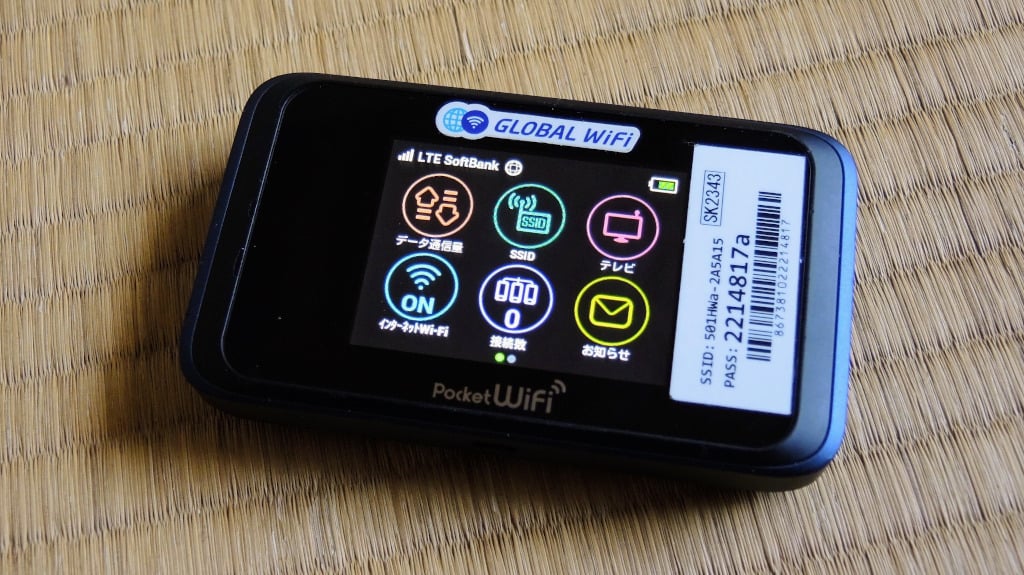 For travelers in Japan, Ninja Wifi is a reliable brand that offers pocket wifi devices. With pickup and return available at nearly every airport for free, they make it easy to stay connected while exploring. The devices utilize the Softbank network and provide high-speed 4G LTE internet with impressive download speeds of up to 1875 Mbps and upload speeds of up to 37.5 Mbps, according to the provider.
They charge a compensation fee if you lose the device or damage it. Besides, it offers only 5 connections at a time. So, if you are traveling in a group of more than 5 people, you will need to explore other options. Additionally, while the battery life can last up to 9 hours under normal use and charging, users have reported that the device needs frequent charging. If you require internet access for extended periods and do not have ample time to charge the device, Ninja Wifi may not be the best fit for you.
Users have experienced connection drops when using Ninja Wifi. It can be really frustrating when working on important tasks. So, a Ninja Wifi device might not be a good choice if your Japan trip is a workcation. Furthermore, there is a data limit of 3GB per day, after which the internet speed will start to slow down. Therefore, it is crucial to estimate your data needs before choosing such a device, as not all of them may meet your requirements.
Pros
High-speed 4G LTE internet
Uses Softbank network
Responsive customer support
Cons
9 hours battery life
Daily data limit
Frequent connection drops
Charge compensation fee
How To Rent Pocket Wifi In Japan
With so many options available, you can easily get confused about what's best for you. Fret not; we are here to help you decide. All you have to do is ask several questions, and by answering those questions, you can figure out the best available option.
What's The Data Limit?
Firstly, check the data limit. Though most pocket wifi devices offer unlimited data, the unlimited is not actually "unlimited" as there are certain restrictions. So, make sure you have checked all the necessary information about the data limit before renting a device.
Secondly, not all users have the same data requirements. If you watch more video content, you will require more data. So, look out for options that can fulfill your data needs.
How Many Devices Can Be Connected To It Simultaneously?
If you are traveling solo, you don't need to ask that. However, if you are traveling in a group or with family, it is a very crucial question, as everyone needs internet access. Inquire about the features of the device, including its connectivity. Make sure that it allows enough connections to fulfill your needs.
What Is The Duration Of The Rental?
The rent of the device is paid per day, so you have to keep track of the duration of the rental. Most people don't realize it, but the day that they have to return the device is usually included in the duration, which means they have to pay the rent for that day as well. The same goes for the day you pick up the device.
You have to manage finances very diligently when traveling. So, make sure you are carefully calculating the rental duration, as misconceptions may lead to problems in the budget.
How Long Is The Battery Life?
The battery life of different devices varies. Depending on the adventures that you are planning to make during your travel, you might need a device with longer battery life. So, keep this factor in mind.
If you can't find a device with good battery life, you can always get a mobile battery. However, that's just another thing to carry around in your bag, and it's better to keep the luggage as minimum as possible.
How Much Is The Compensation Fee For Loss Or Damage?
Accidents can happen to anyone. There is a probability that you can lose or damage the device, and for that, the providers charge a compensation fee. Most people don't read the description carefully, and neither do they ask for such details. However, knowing what you will be charged in case of damages is important.
If you are mindful enough, you can get insurance in most cases. Resultantly, you can enjoy peace of mind while traveling with this device.
Conclusion
Ready to make your Japan travel experience even better? Getting a Japan wireless pocket wifi is definitely the way to go, and we've given you the top options to consider above. Out of all 5, our favorites were Sakura Mobile and Ninja Wifi. Sakura Mobile offers affordable short-term and long-term plans, complete with English customer support and the ability to connect up to 15 devices simultaneously. Their short-term plans even come with unlimited data usage, perfect for heavy internet users. Ninja Wifi is also a great option, with competitive pricing, flexible rental periods, and no data usage restrictions.
Still have questions or concerns about a particular product or pocket wifi in general? Don't hesitate to drop a comment below. We're always here to help you make the best decision and ensure that your Japan adventure is a truly unforgettable one. So, go ahead and get connected with the world – anytime, anywhere, with a Japan wireless pocket wifi!