Discover the vibrant district of Akihabara, Tokyo's tech paradise, with this comprehensive guide. From exploring Akihabara Electric Town's electronics shops to experiencing unique maid cafes, there's plenty to keep you entertained. Don't miss out on visiting iconic landmarks like Radio Kaikan and Yodobashi Camera, or shopping for anime goods at Mandarake and Gamers. Whether you're an anime lover, a gamer, or an electronics enthusiast, Akihabara has something for everyone
Top 10 Things to Do in Akihabara
1. Explore Akihabara Electric Town
Akihabara, also known as Akiba, is a district in central Tokyo famous for its many electronics shops and otaku culture. It's a paradise for electronics enthusiasts, with hundreds of shops ranging from tiny one-man stalls to large electronics retailers. You can find everything from the newest computers, cameras, televisions, mobile phones, electronics parts, and home appliances to second-hand goods and electronic junk.
---
2. Visit Yodobashi Camera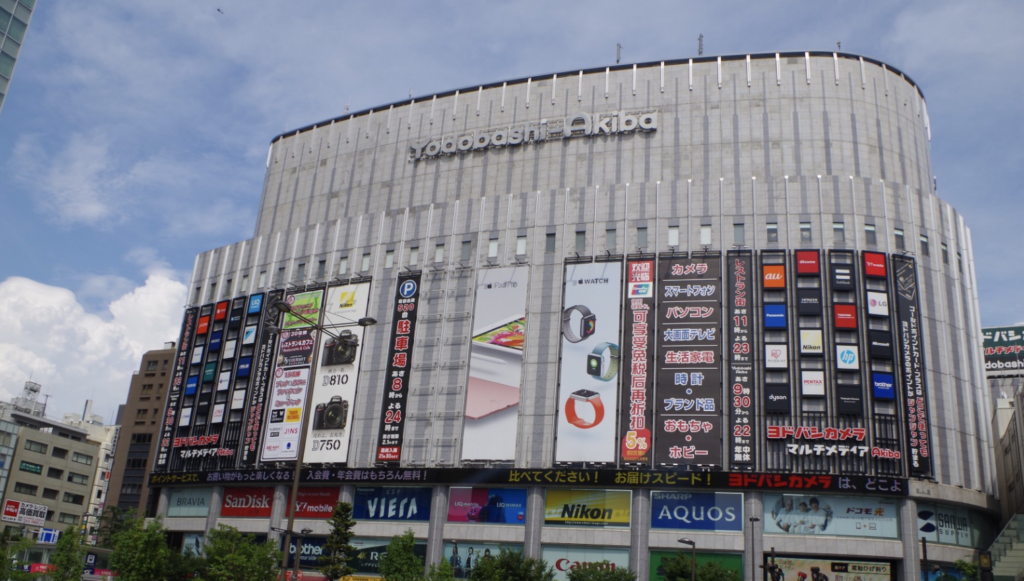 Yodobashi Camera is a huge electronics store just next to Akihabara Station. It offers one-stop shopping for computers, games, watches, and cameras, and sells tax-free and international models. More info
Directions from Akihabara Station: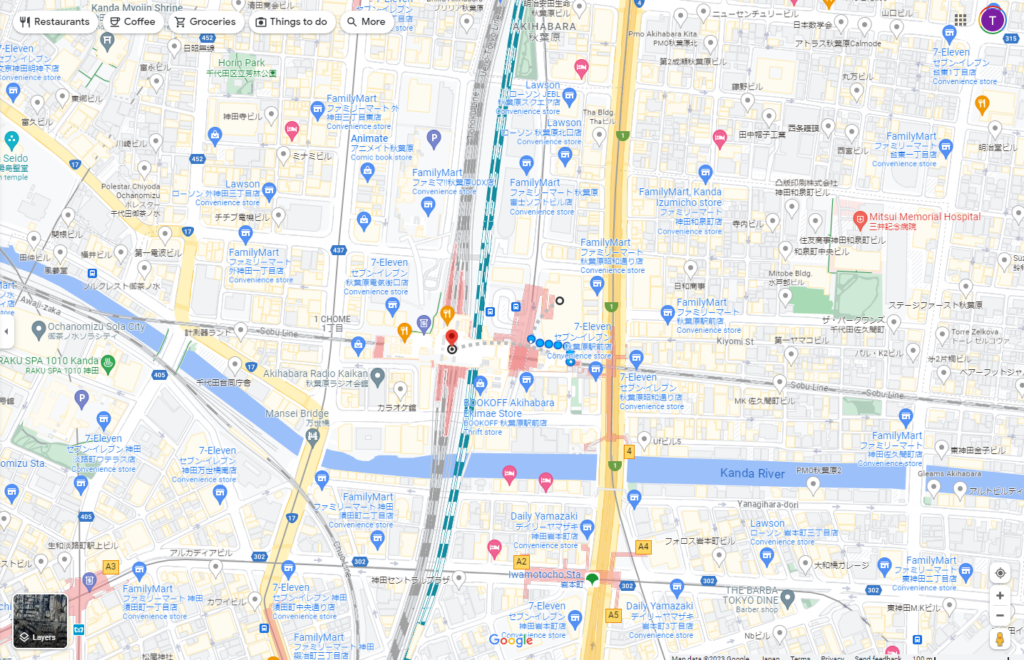 ---
3. Experience Maid Cafes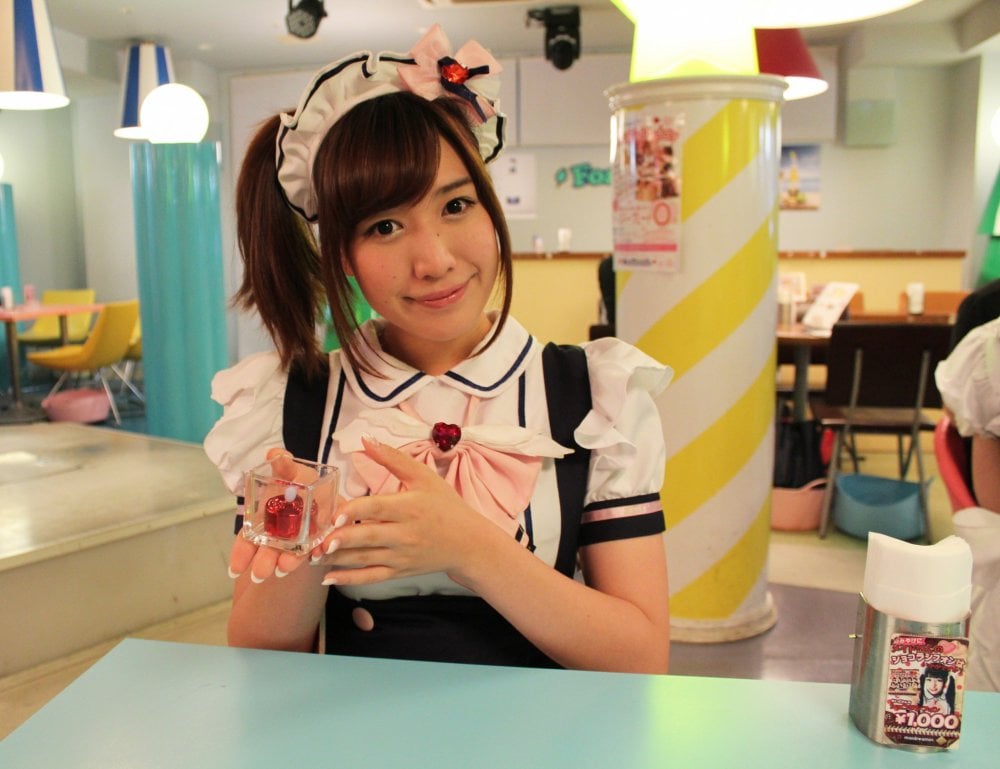 Maid cafes are cosplay-themed restaurants where guests are served by waitresses who are typically dressed as French maids. In addition to serving food, the maids engage in conversation and games with the customers and treat them with the respectful language due to the master of a house.
Here are three great cafes you should check out if you are in Akihabara.
Maidreamin: Known as the largest maid cafe chain in Akihabara, Maidreamin offers a unique experience with their maids performing live shows.
Cure Maid Café: This is one of the oldest maid cafes in Akihabara. It's known for its calm and relaxed atmosphere, a contrast to the usually energetic and lively vibe of other maid cafes.
@Home Cafe: This cafe is popular for its friendly and interactive maids. They offer various services like games, live performances, and picture taking.
Directions from Akihabara Station: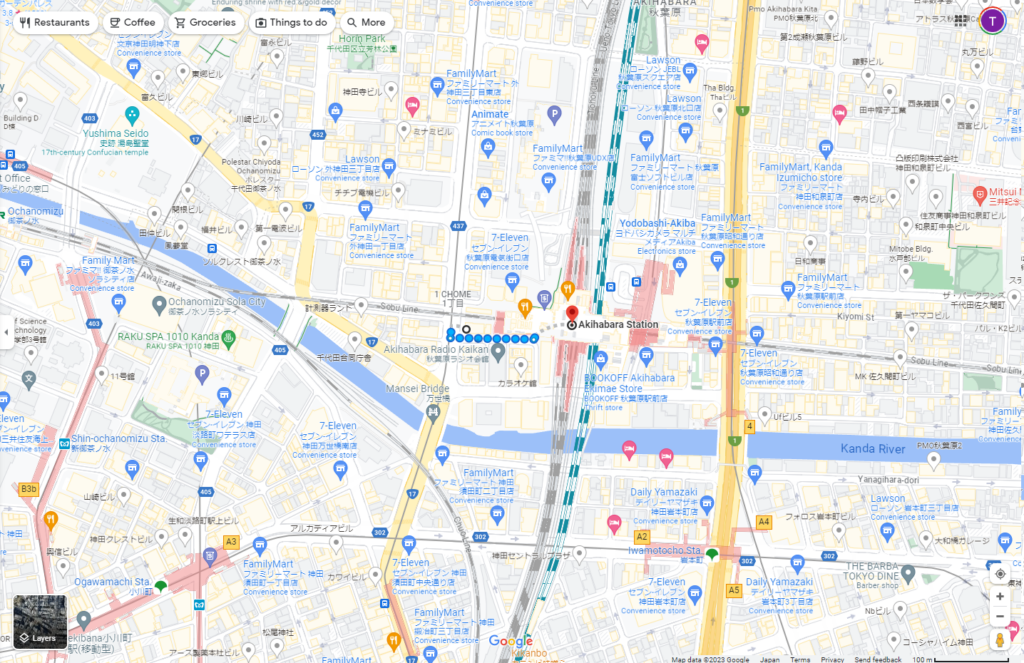 ---
4. Shop at Don Quijote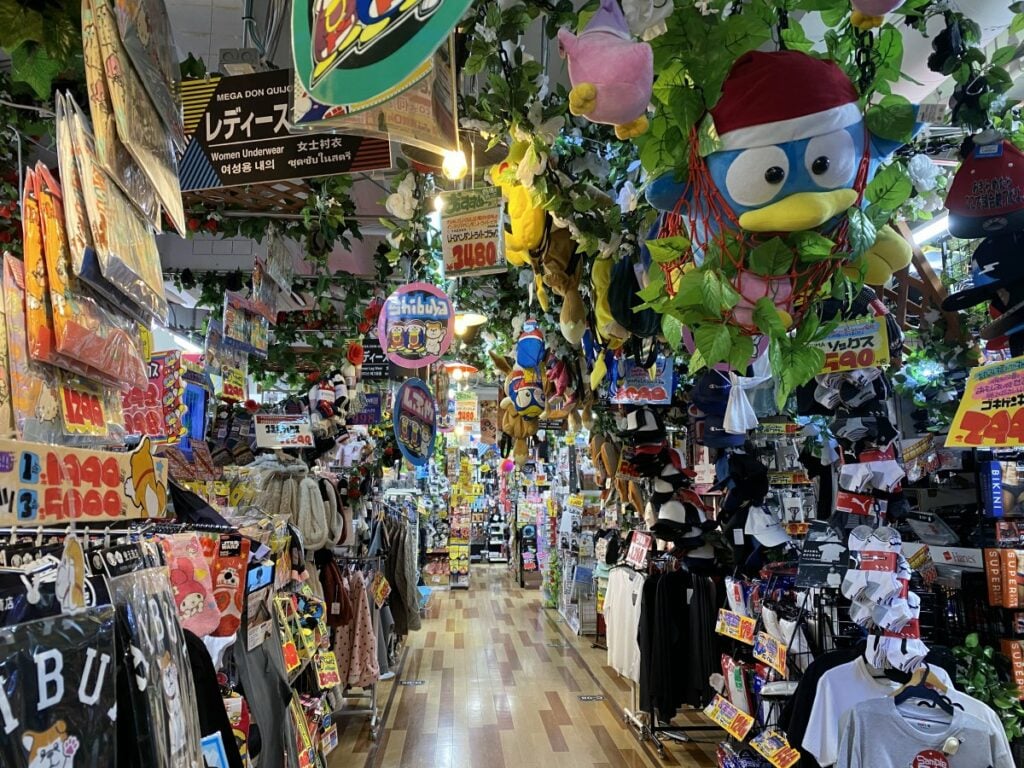 Don Quijote is a discount store chain that carries everything from groceries and toys to electronics and high-end fashion goods. The Akihabara branch is home to the girl pop group AKB48, who perform daily shows at their theater on the 8th floor of the store. Donki (as its known locally) is also a great place to buy souvenirs for your friends and families as they sell lots of strange, unique things from unusual candy to cute clothes and gadgets.  More info
Directions from Akihabara Station: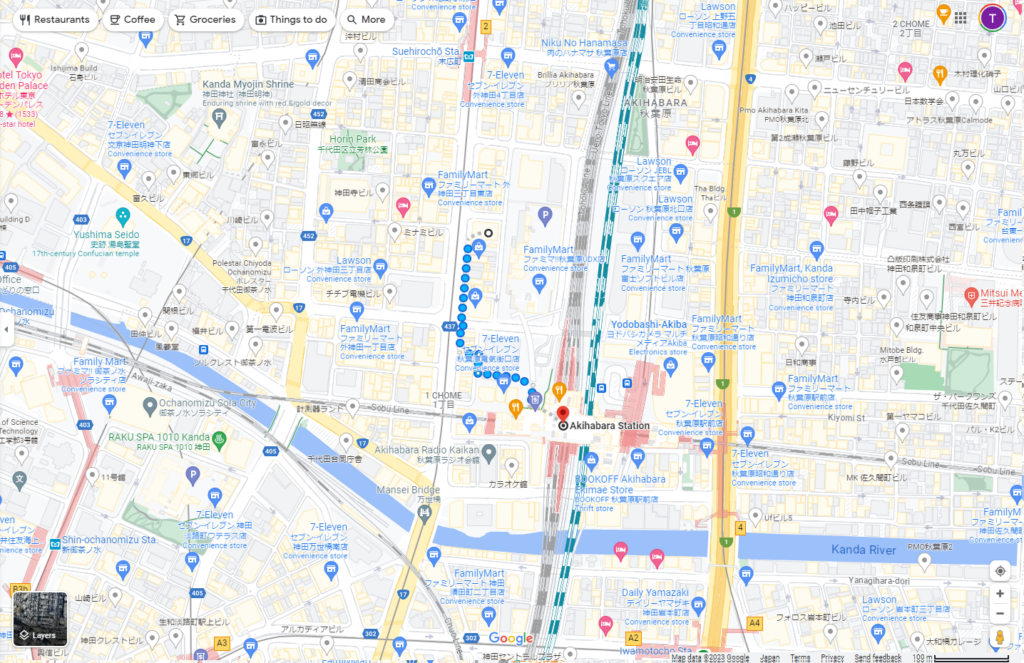 ---
5. Visit Radio Kaikan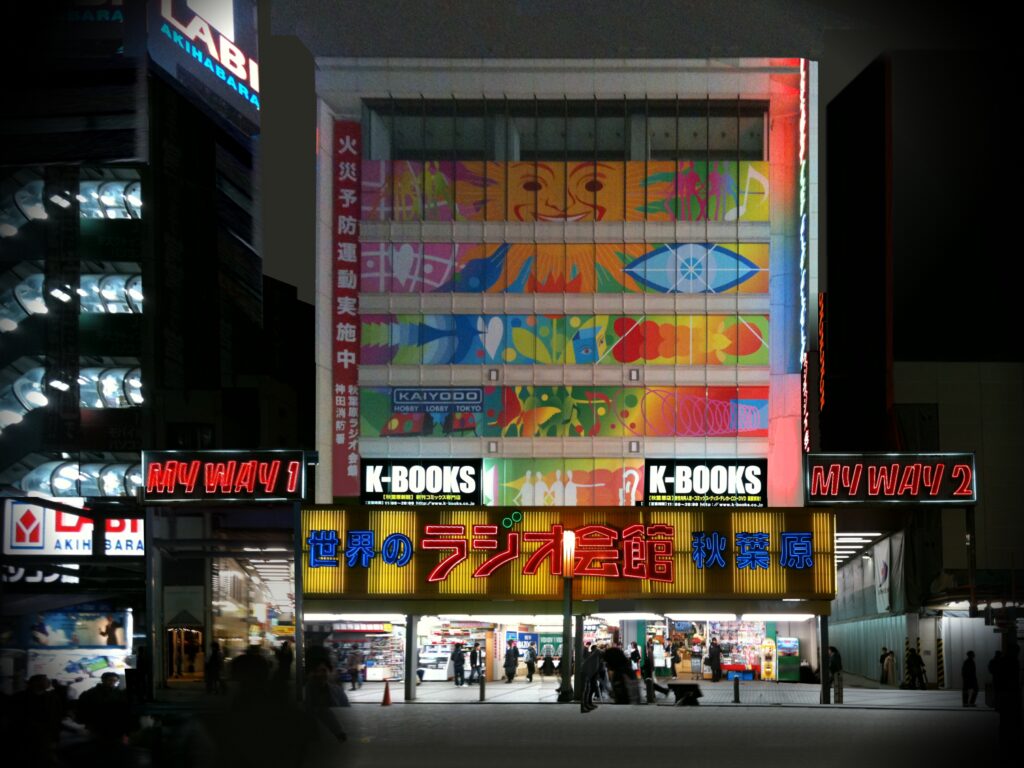 Radio Kaikan is one of Akihabara's iconic landmarks, and features more than 30 stores selling electronics and other anime-related goods. Some of the famous stores include K-Books, Kaiyodo, and Volks which sell all kinds of manga, models, toys, trading cards, figurines, and collectibles. More info
Directions from Akihabara Station: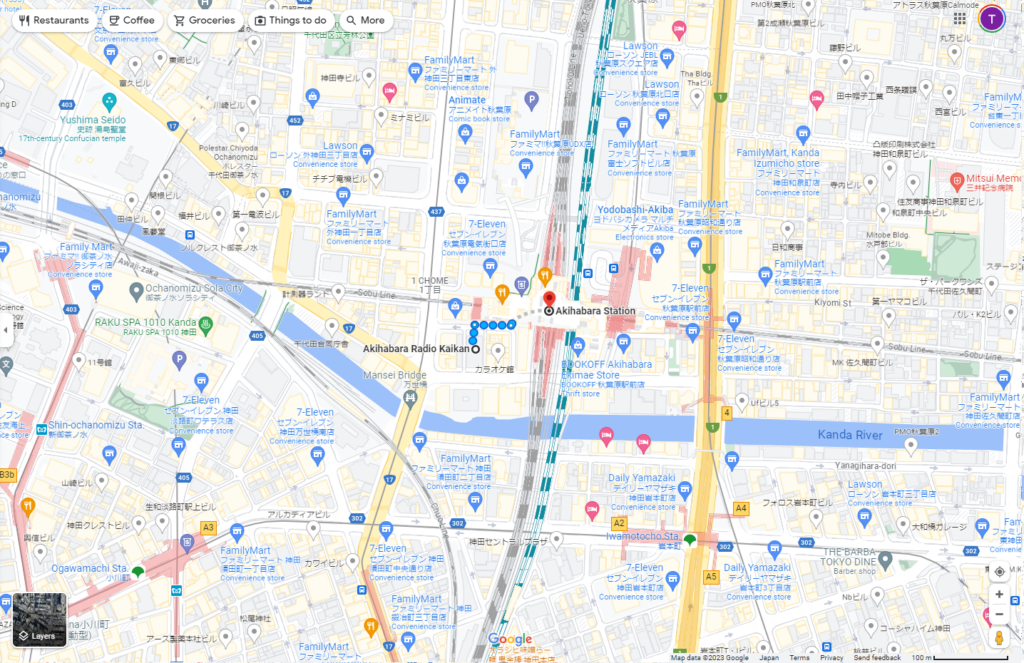 ---
6. Check out Super Potato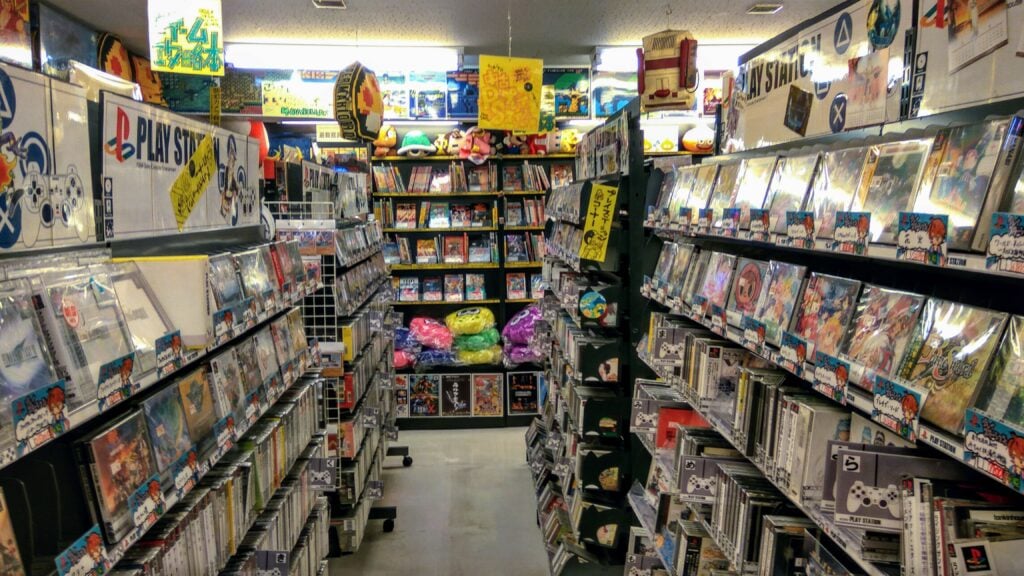 Super Potato sells all types of video games and video game consoles, and specializes in retro systems and games. Here you can find practically every game system ever produced along with a huge selection of used game cartridges, discs, and game accessories. More info
Directions from Akihabara Station: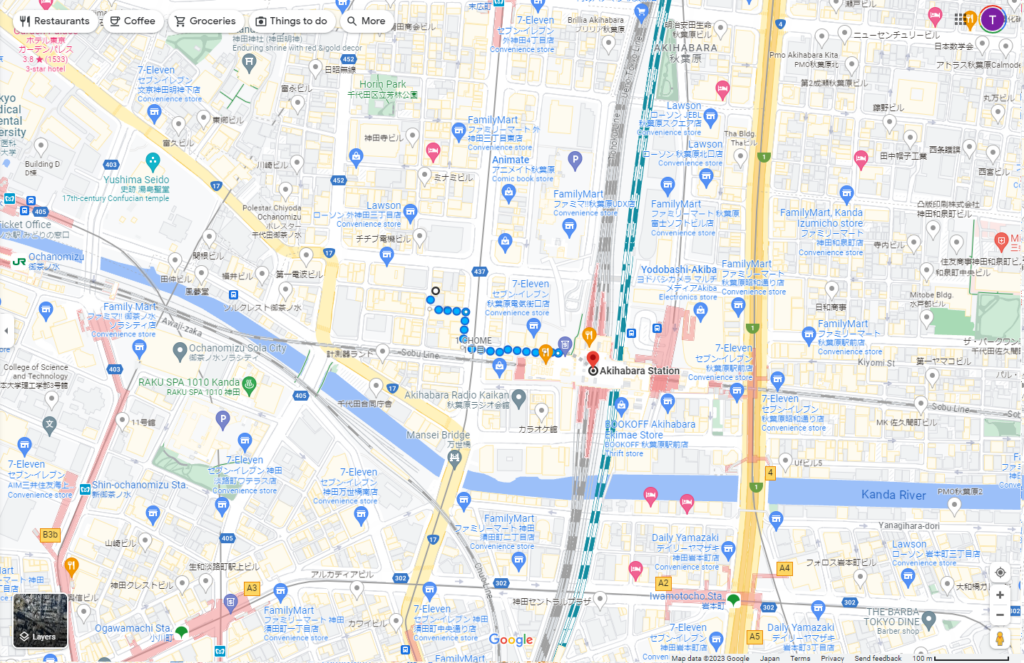 ---
7. Visit Gamers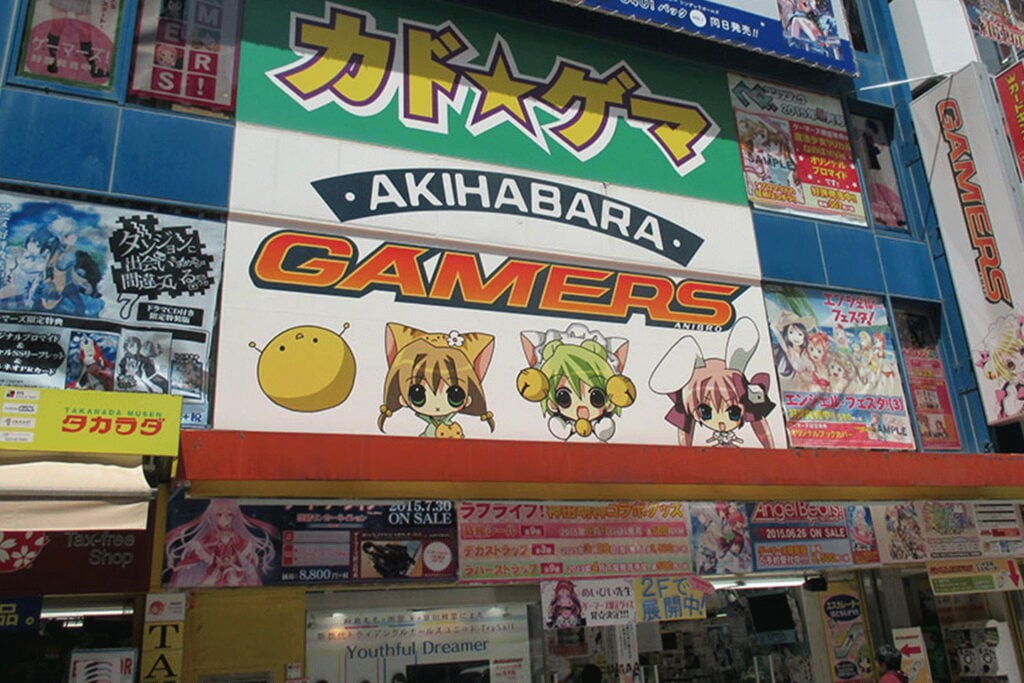 Gamers sells a wide range of anime and manga-related goods including movies, video games, CDs, stationery, software, and character goods. More info
Directions from Akihabara Station: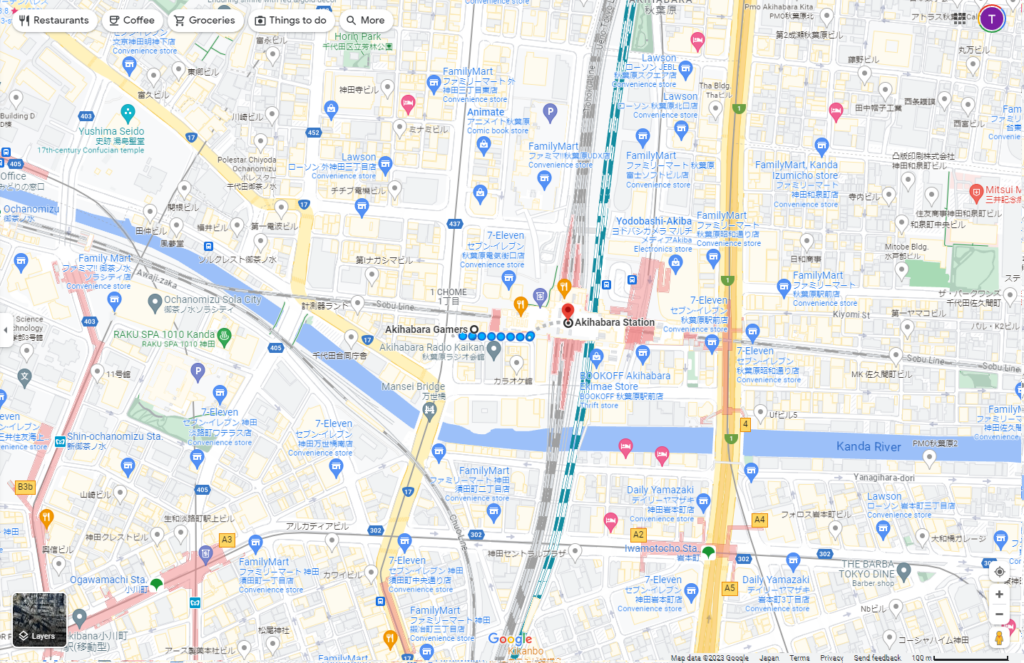 ---
8. Explore Mandarake

Mandarake operates a large store in Akihabara. Specializing in pre-owned goods, it is agood place to find rare manga, figurines, dolls, posters, CDs, toys, and other types of manga-related goods. More info
Directions to Akihabara Station: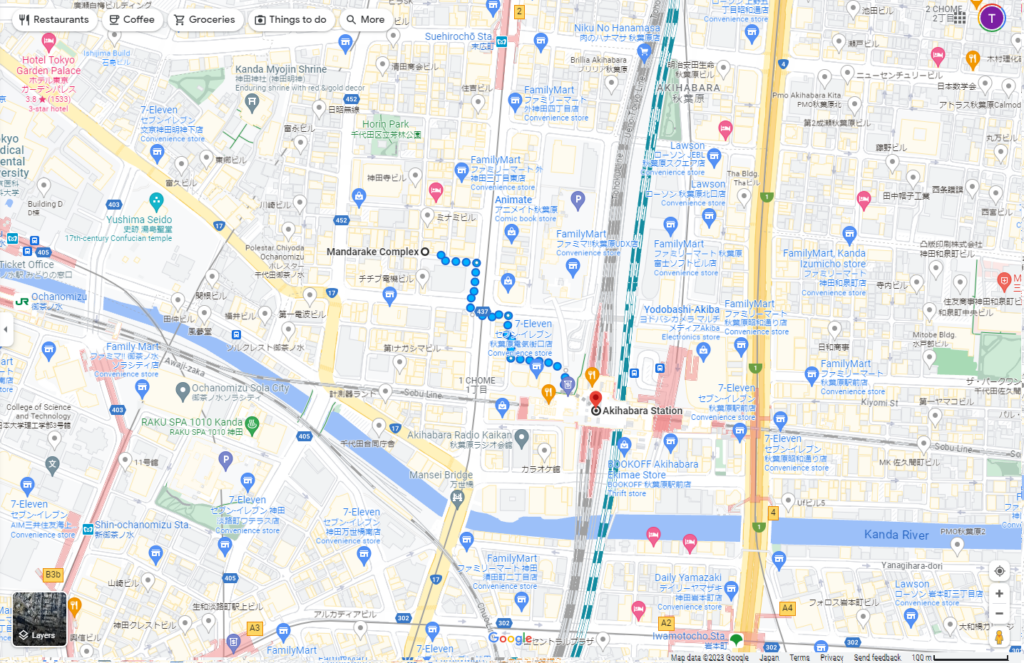 ---
9. Visit Sofmap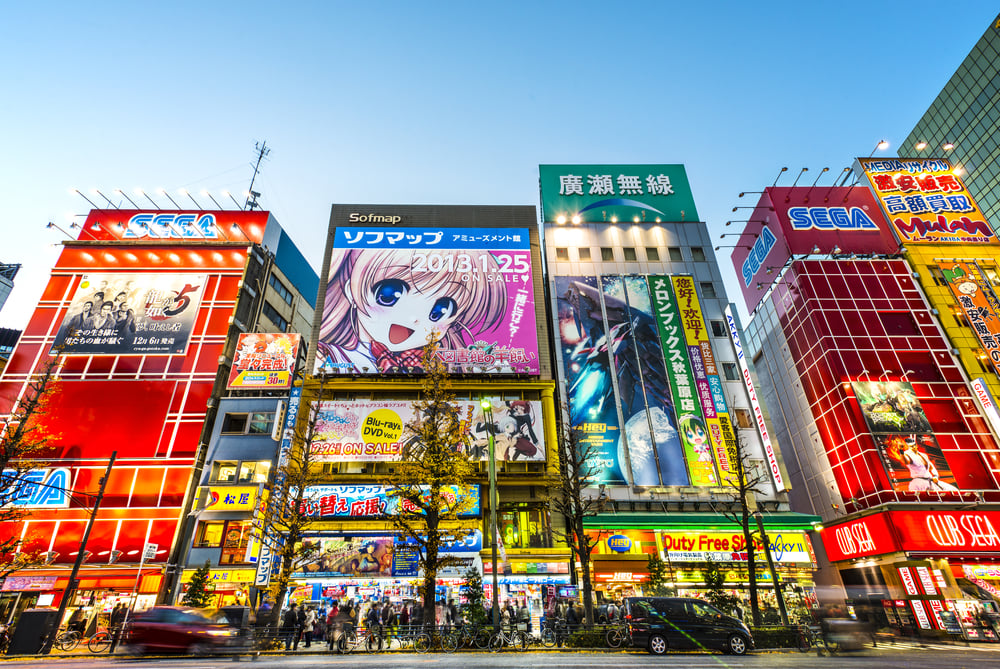 Sofmap operates several shops around Akihabara. Most of the shops are specialized in one type of product, such as computers, software, and amusement. More info
Directions to Akihabara Station: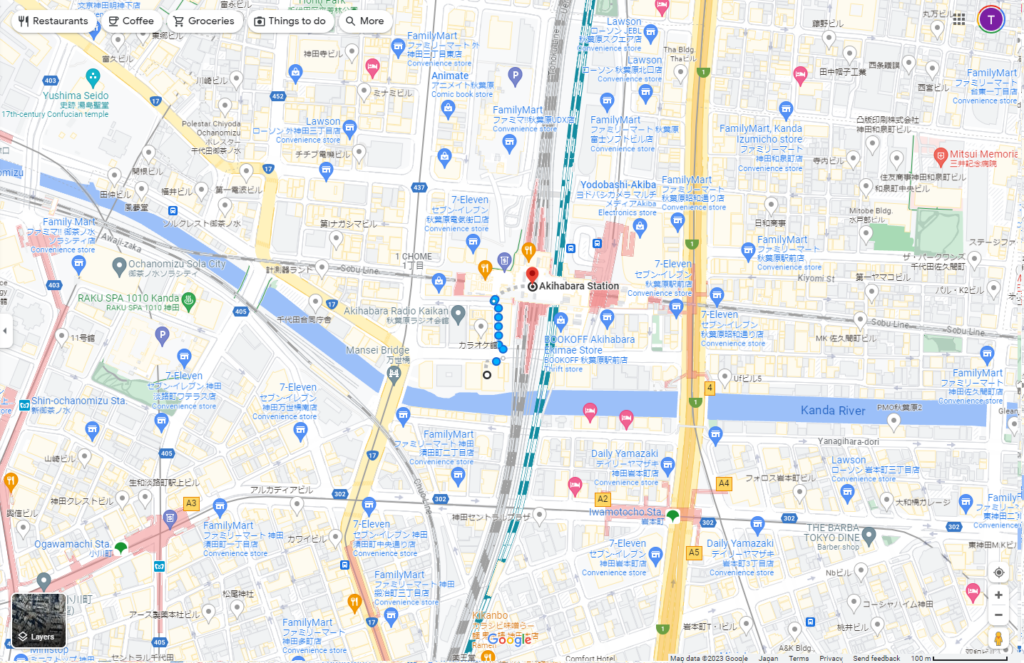 ---
10. Check out Laox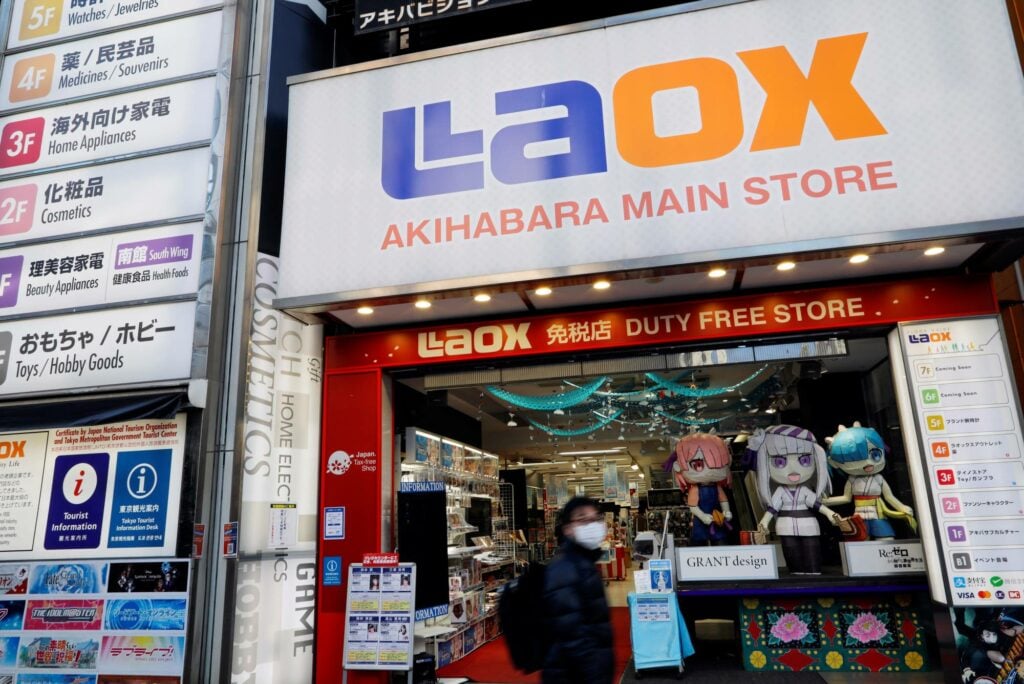 Laox offers hobby and game-related products in addition to electronics, souvenirs, and lifestyle goods. The Akihabara main store is one of the few Laox stores that have survived the corona pandemic. More info
Directions to Akihabara Station: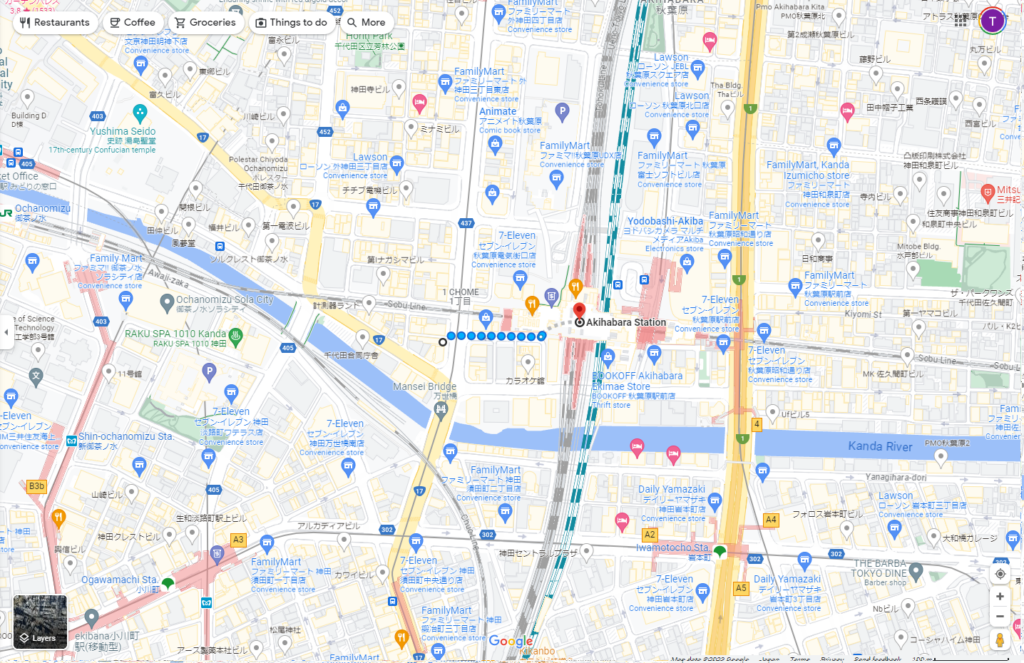 Akihabara is a vibrant district that offers a unique blend of electronics, anime culture, and unique dining experiences. Whether you're an electronics enthusiast, a fan of anime and manga, or just looking for a unique cultural experience, Akihabara has something to offer. Enjoy your visit!
The History of Akihabara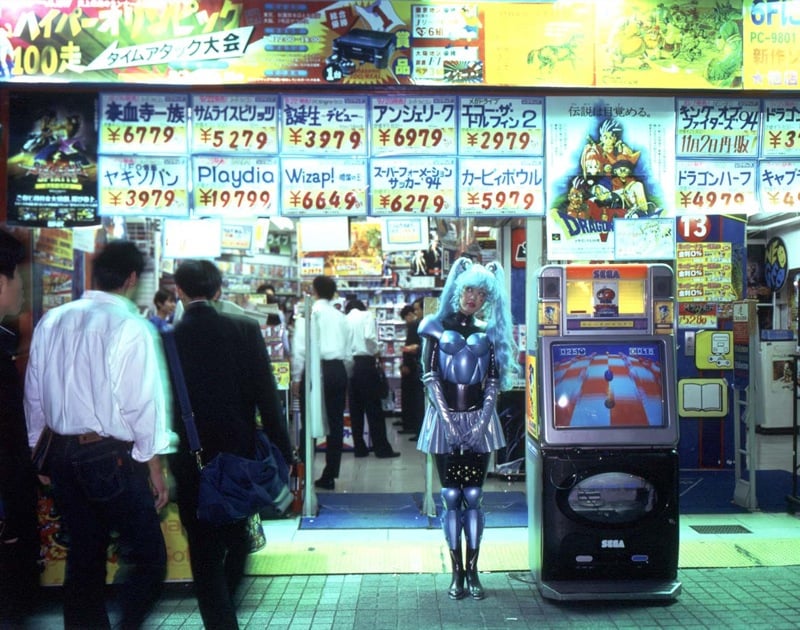 Akihabara, also known as "Akiba" after a former local shrine, is a district in central Tokyo that is famous worldwide for its strong ties to Japanese otaku culture, particularly anime and video games.
The area's transformation began in the aftermath of World War II. Akihabara became a bustling market for household electronic goods, earning it the nickname "Electric Town". The district was filled with shops selling radios, televisions, and other electronic devices, making it a go-to destination for tech enthusiasts.
In the 1980s, as Japan's economy boomed, the focus of Akihabara started to shift. The advent of personal computers sparked a new wave of interest in electronics. Many stores in Akihabara began selling PC parts, which attracted a new demographic of consumers: tech-savvy youths and hobbyists. These individuals were often fans of anime and manga, which led to an increase in the number of stores selling these products.
The 1990s and early 2000s saw Akihabara evolve further to cater to its new customer base. Stores selling anime, manga, and video games began to dominate the district. Maid cafes, where waitresses dress up in maid costumes and act as servants, also started to appear, offering a unique blend of food service and cosplay that became a hallmark of Akihabara.
The district's reputation as a hub for anime and gaming culture was cemented when it became a setting in popular anime and video games. Titles like "Steins;Gate" and "Love Live!" featured Akihabara prominently, attracting fans from around the world who wanted to visit the real-life locations seen in their favorite series.
Today, Akihabara is considered a mecca for otaku culture. Its streets are lined with stores selling anime merchandise, manga, video games, and electronics. It's also home to events like anime conventions and cosplay gatherings, making it a vibrant, dynamic destination for fans of Japanese pop culture.
How to Get to Akihabara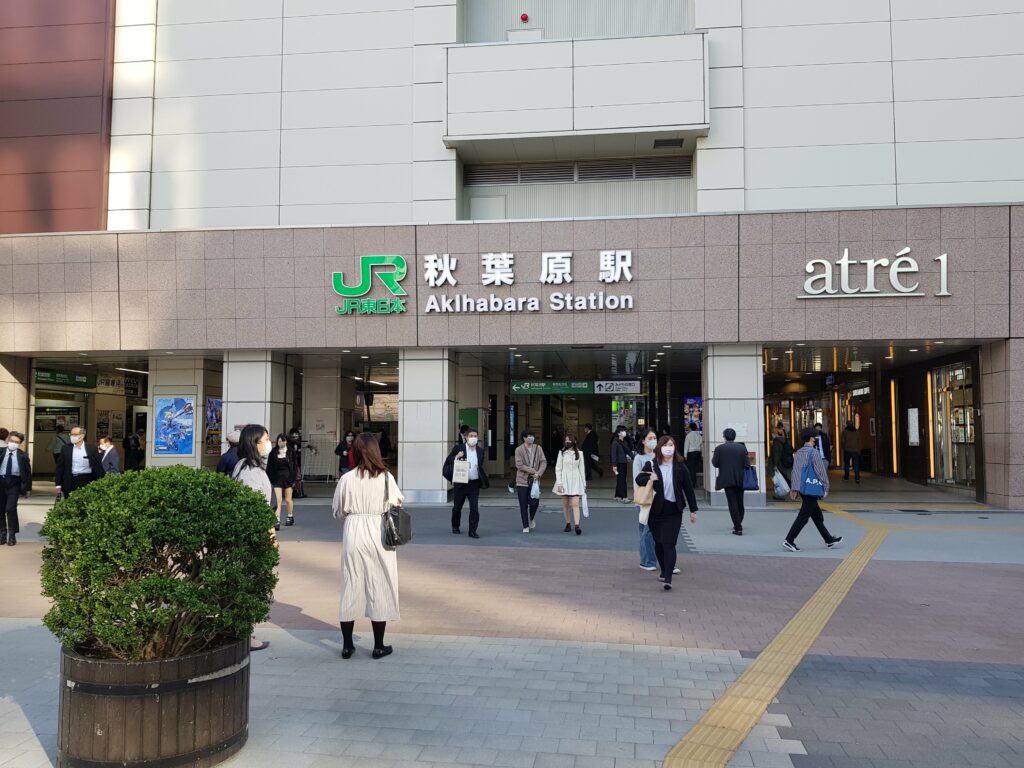 Akihabara Station is served by the JR Yamanote Line, JR Keihin-Tohoku Line, JR Sobu Line, the Tsukuba Express, and the Hibiya Subway Line. Here's how to get there from major stations in Tokyo:
From Tokyo Station: Akihabara is two stations north of Tokyo Station by JR Yamanote Line or JR Keihin-Tohoku Line.
From Shinjuku Station: Take the JR Chuo Line from Shinjuku to Ochanomizu and transfer to the JR Sobu Line for one more station to Akihabara.
Map of Akihabara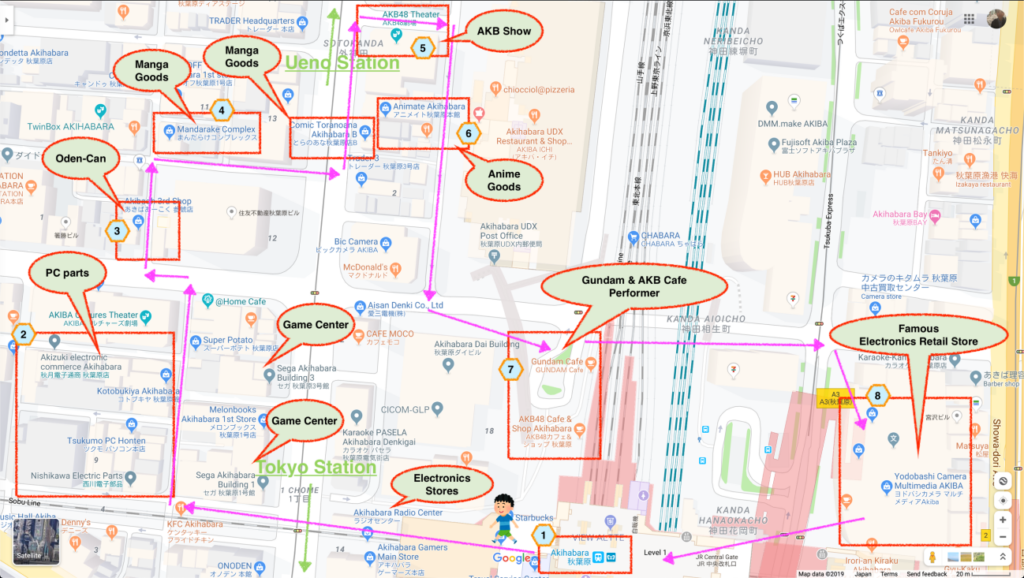 Resources
Whether you're an anime lover, a gamer, or an electronics enthusiast, Akihabara has something for everyone. Enjoy your visit to this unique district in Tokyo!