Nestled amidst Japan's picturesque mountainous landscape, the Hakone region is known for its serene environment, awe-inspiring views, and an assortment of hot springs, known as onsen. If you've found yourself daydreaming of a calming, rejuvenating experience, a trip to the Hakone Onsen might be just what you need.
Whether you're a seasoned onsen enthusiast or a curious first-timer, Hakone offers a variety of hot springs to suit every preference. From the communal baths that encourage socializing to the private onsen in Hakone, perfect for a peaceful soak, this region is a haven for anyone seeking relaxation and respite.
Hakone Onsen, or Hakone Hot Springs, refers to the numerous thermal spas located in the town of Hakone in the Ashigarashimo District, Kanagawa Prefecture, Japan. It's a region that's steeped in history, with the first hot spring in the area reportedly opened in 738 during the Nara period by a Buddhist priest. The area's popularity grew after the warlord Toyotomi Hideyoshi rested there after conquering Odawara. During the Tokugawa shogunate, hot water from Hakone was regularly presented to the shogun in Edo (modern-day Tokyo) and the area prospered as a stop along the Tōkaidō Road​.
The Hakone area has at least twenty hot spring resorts and is part of the Fuji Hakone Izu National Park. It's situated about 90 km southwest of Tokyo and 60 kilometers east-southeast of Mt. Fuji, making it one of the most popular hot spring resorts in central Japan​. There are several renowned onsens in Hakone that are worth mentioning:
Hakone Yumoto Onsen: This is now a group of hot spring resorts close to the Hakone Tozan Railway's Hakone-Yumoto Station. The waters of these springs are generally clear with a pH of 8.8 and fountainhead temperatures averaging 52 °C, but ranging from 18.5-82.7 °C​​.
Tōnosawa Onsen: A small group of hot springs directly north of Hakone-Yumoto and Tōnosawa stations. This area is known for its clear, alkaline waters and according to legend, it was discovered in 1604 by a Buddhist priest, who reputedly used it to help heal the sick​.
Miyanoshita Onsen: A small cluster of hot spring facilities just two stops west of Tōnosawa Station on the Hakone Tozan Railway. Some of the springs feature salt water, which is said to be effective for some ailments​​.
Dōgashima Onsen: Located two stops west of Tōnosawa Station on the Hakone Tozan Railway. Allegedly discovered by the 14th-century zen master Musō Soseki at the bottom of a valley, two hotels exist in this area that are accessible by private monorail cable cars and ropeways​.
Sokokura Onsen: A 10-minute walk west of Miyanoshita Station on the Hakone Tozan Railway. The slightly salty hot springs of this spring are said to be helpful in alleviating neuralgia, joint pain, and coldness​1​.
Hakone Onsen: A Dip into Tradition
As you step into a Hakone onsen, you're not just dipping your toes into warm, comforting water. You're immersing yourself in a rich, time-honored tradition that dates back centuries. Hot springs are an integral part of Japanese culture, known for their healing properties and the tranquillity they offer. The Hakone region, with its abundance of volcanic activity, boasts some of the best onsen in Japan.
Hakone Yumoto: Gateway to Relaxation
The journey to relaxation often begins at Hakone Yumoto. This small town, with its nostalgic charm and welcoming atmosphere, is the gateway to the Hakone region. It's here that you'll find a variety of onsen, both large and small, each offering a unique experience. Steaming baths set against a backdrop of lush greenery, a treat to your senses, and a testament to Hakone Yumoto's long-standing onsen culture.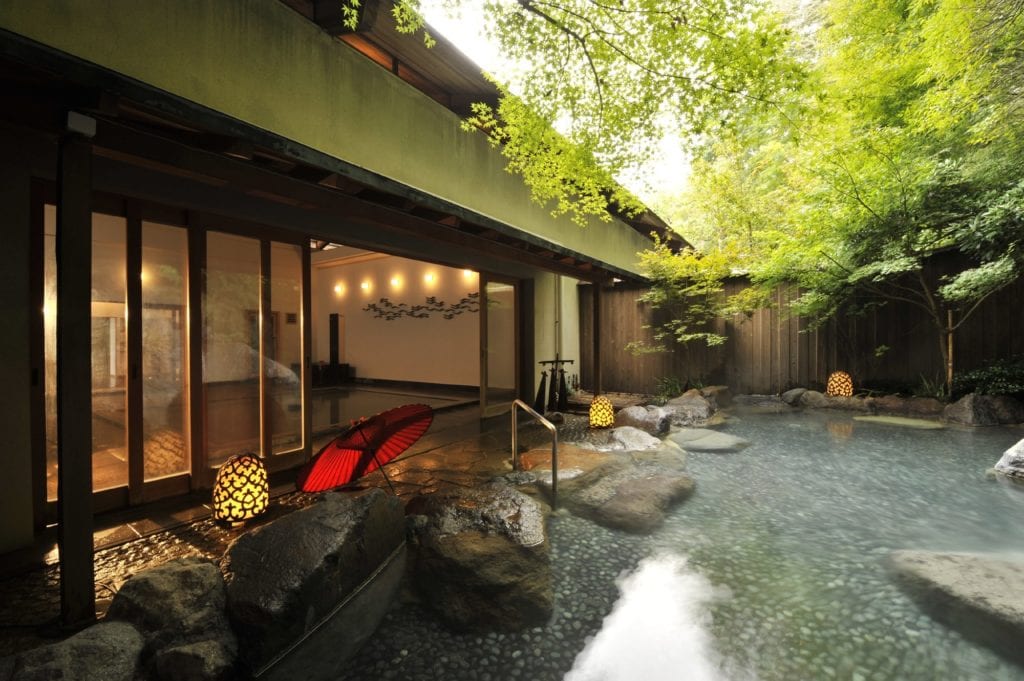 Tenzan Onsen: An Immersive Experience
Among the many hot springs in Hakone, Tenzan Onsen stands out with its exquisite design and inviting ambiance. As you enter, you'll be greeted by a stunning landscape garden and a complex of beautiful wooden buildings. With several outdoor and indoor baths of different temperatures, you can choose your ideal setting for relaxation. Tenzan Onsen is not just a dip in a hot spring; it's an immersive experience that harmoniously blends nature and tradition.
Onsen Near Tokyo: A Convenient Getaway
Situated less than 100 kilometers from Tokyo, Hakone's onsens serve as an easily accessible getaway for city dwellers and tourists alike. A quick train ride can transport you from the hustle and bustle of Japan's capital to a world of serenity and relaxation. So, if you're looking for an onsen near Tokyo, the Hakone region should undoubtedly be on your list.
Private Onsen Hakone: An Intimate Escape
For those seeking a more personal experience, a private onsen in Hakone can offer an intimate escape. These onsens allow you the luxury of enjoying the hot spring bath in solitude or with loved ones, without any interruptions. Several ryokans (traditional Japanese inns) in Hakone provide rooms with private onsens, ensuring your comfort and privacy.