A Comprehensive Guide to Universal Studios Japan
History of Universal Studio Japan
Universal Studios Japan, often abbreviated as USJ, is one of the four Universal Studios theme parks around the globe. It opened its doors in Osaka, Japan's third-largest city, in 2001. Since then, it has grown to become the fifth most-attended theme park worldwide, attracting millions of visitors each year with its unique blend of thrilling rides, immersive experiences, and world-class entertainment.
What's Inside Universal Studio Japan
Universal Studios Japan is home to a wide variety of attractions that cater to all ages and interests. Here are some of the highlights:
The Wizarding World of Harry Potter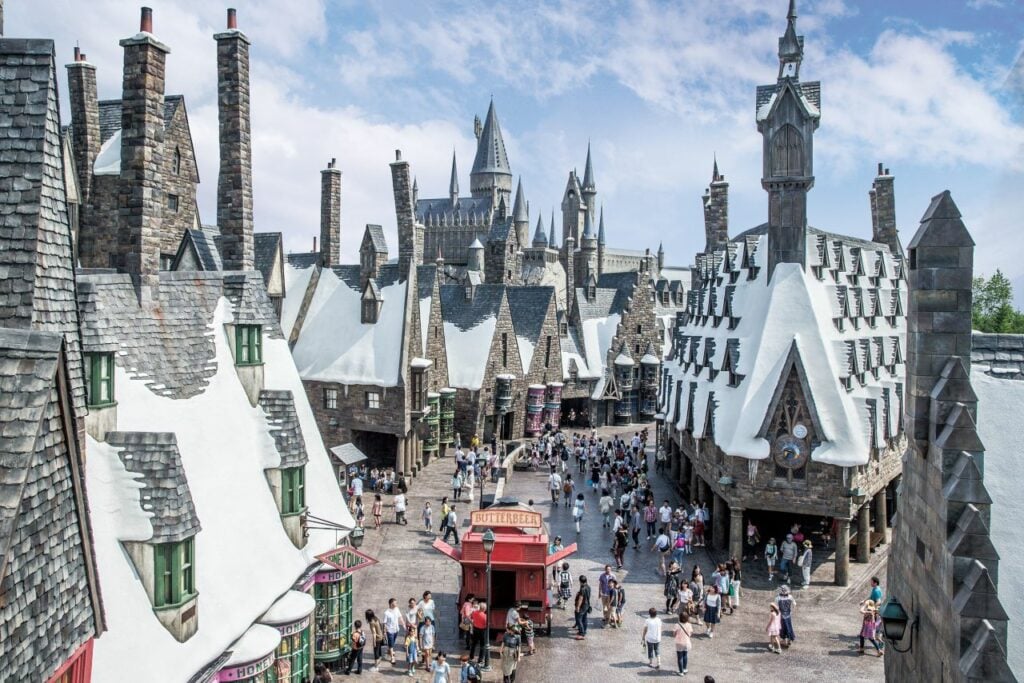 The Wizarding World of Harry Potter is one of the most popular areas in Universal Studios Japan. This magical world brings to life the beloved universe created by J.K. Rowling, allowing fans to step into the enchanting world of Hogwarts and Hogsmeade.
Attractions
Here are some of the main attractions you can expect to find:
Hogwarts Castle: The iconic Hogwarts Castle is a sight to behold. Inside, you'll find the thrilling ride, "Harry Potter and the Forbidden Journey," which takes you on a magical journey through the Harry Potter universe.
Hogsmeade: This charming village is filled with shops and eateries straight out of the Harry Potter books and films. You can visit shops like Honeydukes, Ollivanders, and Zonko's Joke Shop.
Flight of the Hippogriff: This family-friendly roller coaster offers a fun ride and a fantastic view of the park.
Magical Creatures: Universal Studios Japan recently introduced a new experience where visitors can encounter magical creatures from the Harry Potter universe. You can learn how to approach a Hippogriff, meet a cheeky Niffler, see a fluffy Pygmy Puff, and even witness a freshly hatched baby dragon1.
Dining
Three Broomsticks: This rustic tavern serves traditional British fare and offers a variety of Wizarding World beverages, including the famous Butterbeer.
Hog's Head: Attached to the Three Broomsticks, this pub serves a variety of drinks, including Butterbeer and Pumpkin Juice.
Shopping
Ollivanders: Here, you can experience the magic of a wand choosing its wizard.
Honeydukes: This sweet shop offers a variety of magical confections, including Chocolate Frogs and Bertie Bott's Every Flavour Beans.
Dervish and Banges: This shop sells magical items and equipment, including Quidditch supplies and Hogwarts clothing.
Minion Park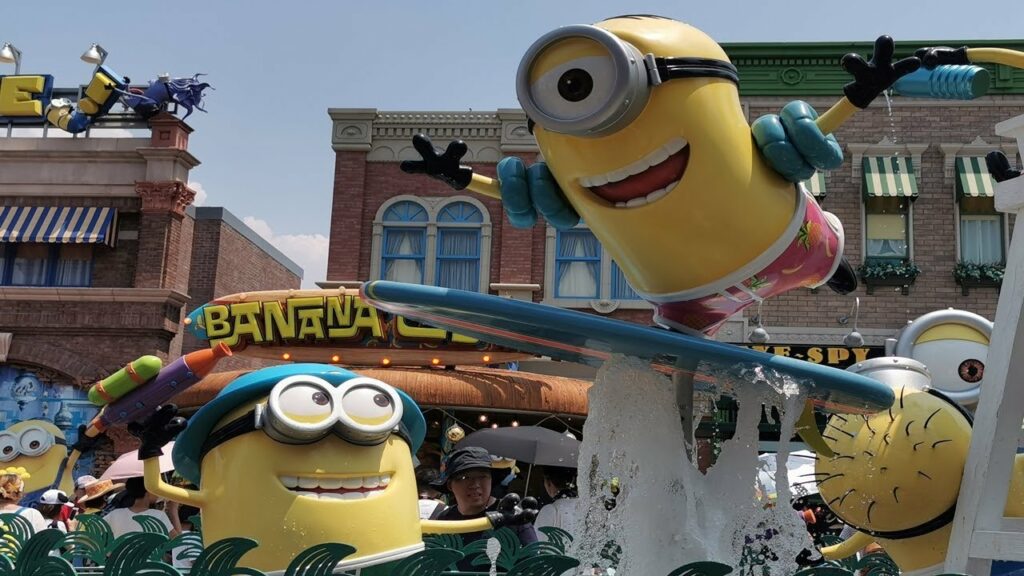 Minion Park at Universal Studios Japan (USJ) in Osaka is a popular themed area dedicated to the lovable characters from the "Despicable Me" franchise. Here's a brief guide on what you can find there:
Despicable Me Minion Mayhem: This is the main attraction of Minion Park. It's a 4D motion simulator ride where you'll join the Minions on a heartwarming and hilarious adventure. You'll be turned into a Minion and go through "Minion training" before embarking on a wild ride through Gru's super-villain laboratory.
Minion Goods Shops: There are several shops in Minion Park where you can buy Minion-themed merchandise. These include clothes, toys, stationery, and more. The "Sweet Surrender" shop is particularly popular for its Minion-themed sweets and snacks.
Minion-themed Food and Drink: There are several food and drink options in Minion Park. The "Delicious Me!" restaurant serves Minion-themed meals, and there are also several snack stands where you can buy Minion popcorn buckets, banana-flavored soft drinks, and other Minion-themed treats.
Minion Photo Opportunities: Throughout Minion Park, you'll find plenty of opportunities to take photos with your favorite Minions. There are several life-sized Minion statues scattered throughout the park, and you can also meet and take photos with Minion characters during the park's character greeting times.
Minion-themed Shows and Parades: Minion Park often hosts special shows and parades featuring the Minions. These are a lot of fun and provide another great opportunity to interact with the Minions.
Remember, Minion Park is very popular, so it can get crowded, especially on weekends and holidays. It's a good idea to arrive early and plan your day to make the most of your visit.
Please note that the information might change, so it's always a good idea to check the official USJ website or other reliable sources for the latest updates before your visit.
Jurassic Park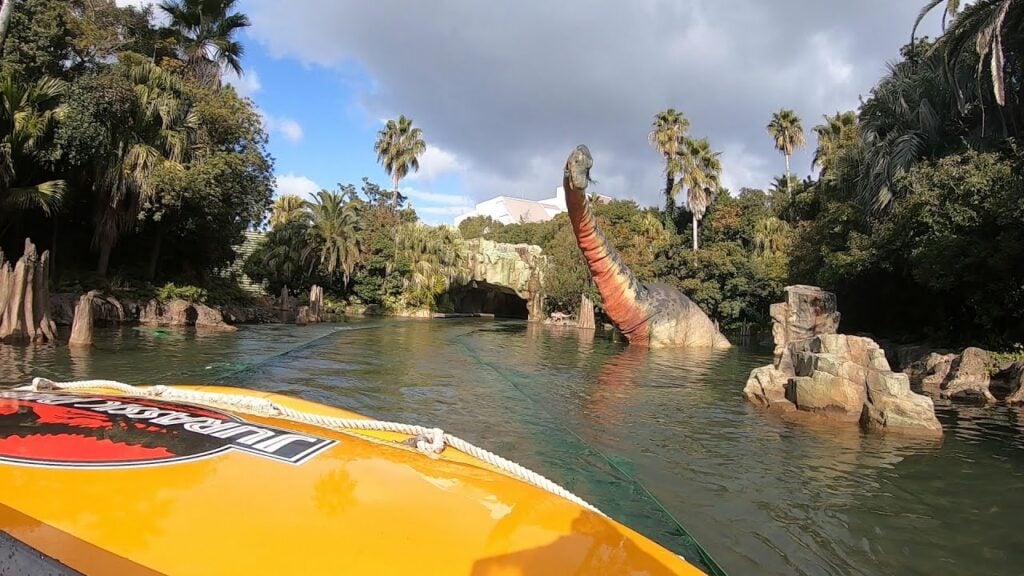 Jurassic Park at Universal Studios Japan (USJ) in Osaka is a thrilling and immersive experience that brings the iconic movie franchise to life. Here's a short guide on what you can expect:
Jurassic Park: The Ride: This is the main attraction of Jurassic Park. It's a water-based amusement ride that takes you on a journey through a dinosaur habitat. The ride starts off peacefully, but things quickly take a turn as you encounter a T-Rex and plunge down an 85-foot waterfall.
The Flying Dinosaur: This is a roller coaster that simulates the experience of being grabbed by a Pteranodon and flown around the park. It's one of the most intense rides at USJ and offers stunning views of the park.
Jurassic Park Discovery Center: This is an interactive educational center where you can learn about dinosaurs and paleontology. It features exhibits on dinosaur fossils, DNA extraction, and even a "hatchery" where you can see a dinosaur egg hatch.
Food and Shopping: There are several themed restaurants and shops in the Jurassic Park area. You can enjoy a meal at the Jurassic Park Restaurant, which serves a variety of dishes in a jungle-like setting. For shopping, there's the Jurassic Outfitters store where you can buy dinosaur-themed merchandise.
Raptor Encounter: This is a live show where you can meet and interact with a "real" Velociraptor. It's a fun and exciting experience, especially for kids.
Remember, the attractions can be quite popular, so it's recommended to plan your visit in advance and consider using the Express Pass to skip the lines. Enjoy your prehistoric adventure!
Super Nintendo World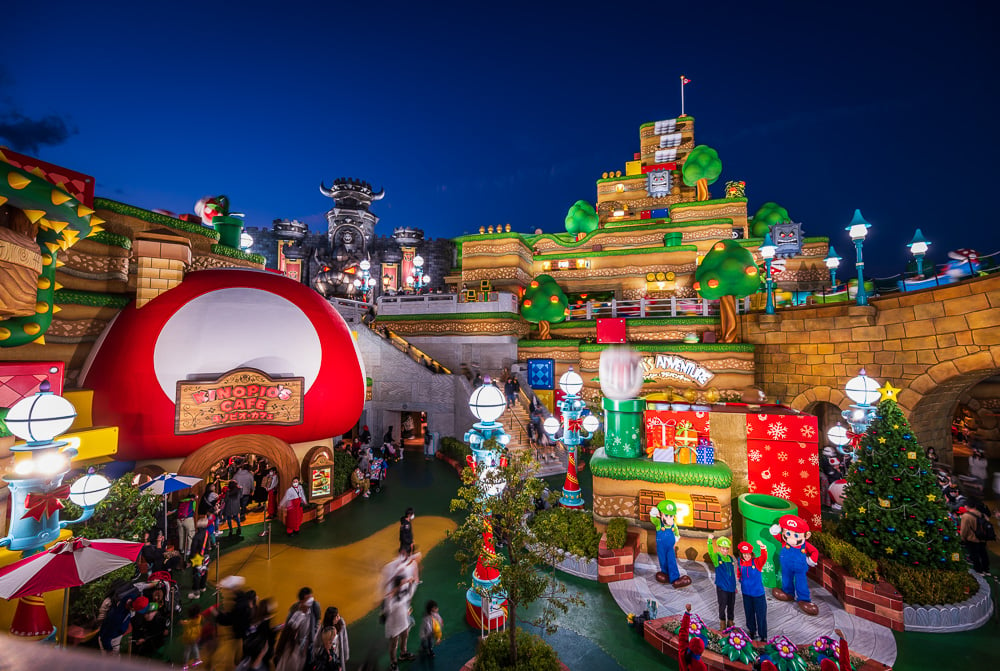 Super Nintendo World is a themed area at Universal Studios Japan (USJ) in Osaka. It's a must-visit for any fan of the iconic video game franchise. Here's a brief guide:
Mario Kart: Koopa's Challenge: This is the main attraction of Super Nintendo World. It's an augmented reality (AR) ride where you can race against Mario characters. You'll wear an AR headset and ride in a kart, experiencing the world of Mario Kart in real life.
Yoshi's Adventure: This is a family-friendly ride where you can ride on Yoshi's back and go on a treasure hunt. It's a gentle ride that offers great views of the entire Super Nintendo World.
Power-Up Bands: These wristbands allow you to interact with the park. You can collect virtual coins, compete in challenges, and even battle bosses. They're linked to a smartphone app that keeps track of your score.
Themed Areas: The park is designed to look like you've stepped into a Mario game. You'll find familiar settings like Peach's Castle and Bowser's Fortress. There are also plenty of photo spots with iconic characters and items.
Dining and Shopping: There are themed restaurants and shops in the park. Kinopio's Cafe serves food inspired by the Mario games, and you can buy merchandise at shops like Mario Motors and 1-UP Factory.
Shows and Entertainment: There are also various shows and entertainment throughout the day. You might see characters like Mario, Luigi, and Princess Peach walking around the park.
Remember, Super Nintendo World is part of Universal Studios Japan, so you'll need a USJ ticket to enter. It's recommended to buy your tickets in advance as the park can get very busy.
How to Get to Universal Studio Japan
Universal Studios Japan is conveniently located and can be easily accessed by various modes of transportation:
Train: The park is just a five-minute walk from Universal City Station on the JR Yumesaki Line.
Bus: There are direct buses to USJ from Kansai International Airport and Osaka (Itami) Airport.
Ferry: The Captain Line ferry offers quick access to USJ from Osaka Aquarium Kaiyukan in the Tempozan Harbor Village of Osaka.
Universal Studio Japan Operating Hours and Days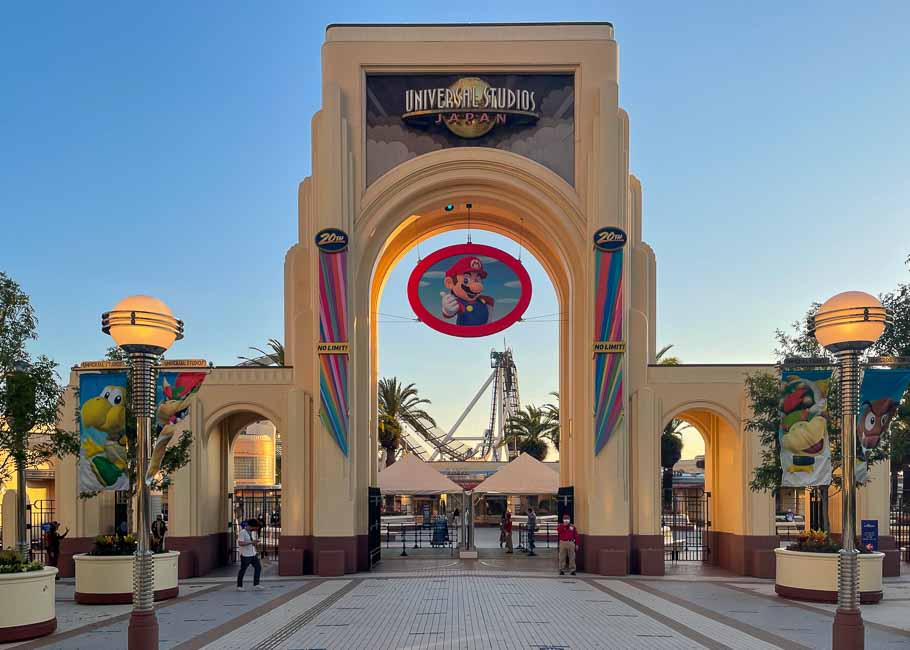 The park's operating hours vary depending on the season and day of the week. It's recommended to check the official Universal Studios Japan website for the most accurate and up-to-date information.
Ticket Prices for Universal Studio Japan
The cost of admission to Universal Studios Japan depends on the type of ticket and the visitor's age. Here are the general prices:
1-Day Pass – Adult: ¥8,200 to ¥8,900 (¥8,400 if purchased online)
1-Day Pass – Child: ¥5,400 to ¥6,200
1.5 Day Pass – Adult: ¥13,100
1.5-Day Pass – Child: ¥8,600
2-Day Pass – Adult: ¥16,200
2-Day Pass – Child: ¥10,000
Please note that prices may vary depending on the day and season. It's also possible to purchase an Express Pass, which allows you to skip queues on certain rides.