Immerse yourself in the world of thrill and excitement with this comprehensive guide to the best theme parks in Japan. From the magical realms of Tokyo Disneyland and Universal Studios Japan to the adrenaline-pumping rides of Fuji-Q Highland Amusement Park, this article takes you on a journey through the most exhilarating attractions Japan has to offer. Discover the interactive gaming experience at Tokyo Joypolis, the cuteness overload at Sanrio Puroland, and the diverse attractions of Yomiuriland. Whether you're a thrill-seeker, a fan of iconic characters, or simply looking for a fun-filled day, these theme parks promise unforgettable experiences. So, if you're planning your next adventure, don't miss out on the "theme parks in Japan" for a trip of a lifetime.
Our Top 6 Japan Theme Parks
From the shores of Okinawa to the rugged coastlines of Hokkaido, Japan is a country full of unexpected wonders, and Japanese theme parks are no exception.
Japan is rife with many theme parks and water parks, each with unique features worth visiting. Here, you'll find some of the best amusement parks in Japan, from the world's first Disneyland (outside of the United States) to fictional universes like the Wizarding World of Harry Potter and Sanrio Puroland.
Let's dive in!
Tokyo Disneyland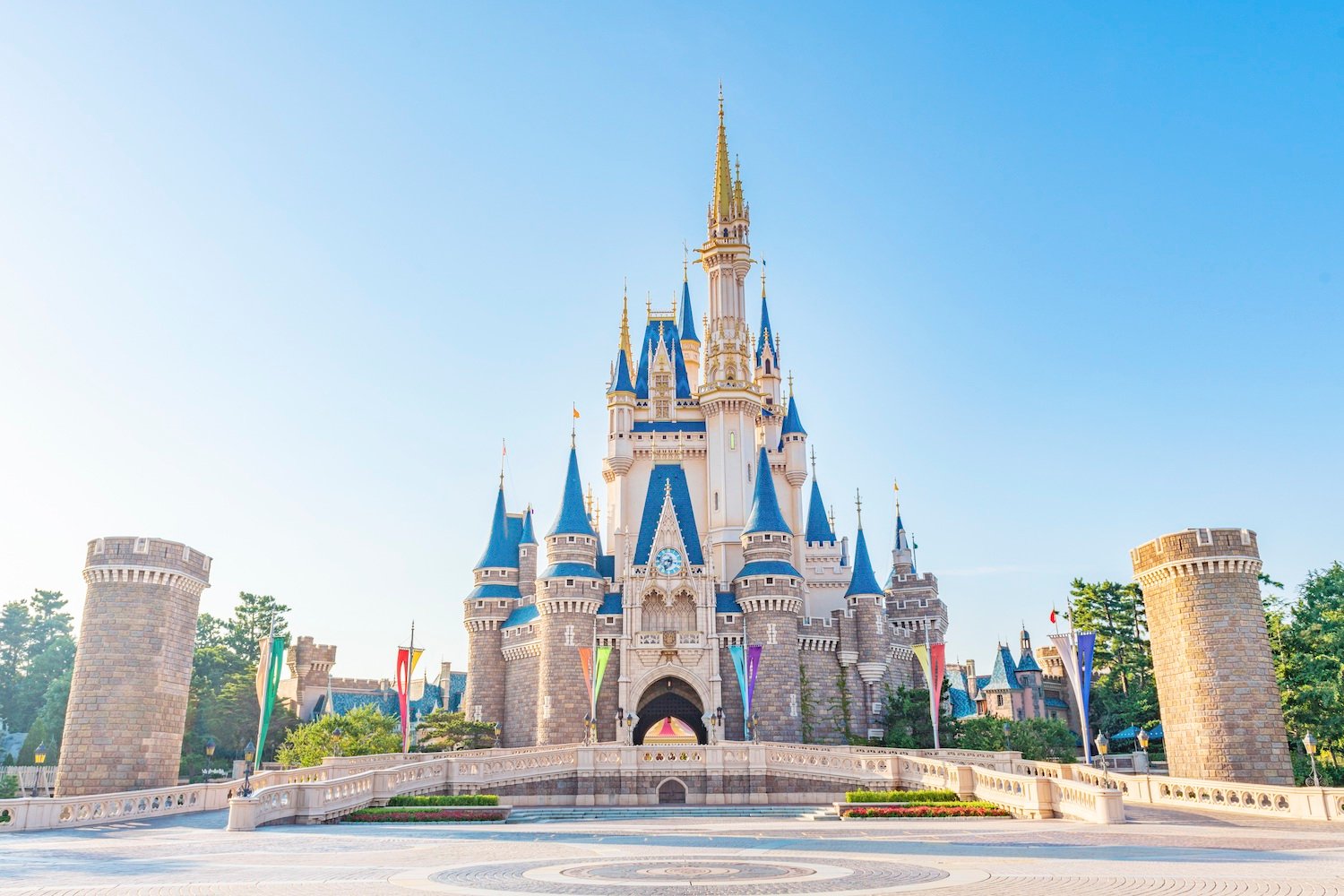 We of course had to kick this post off by mentioning one of the biggest Tokyo amusement parks – Disneyland!
There are two parks within Japan's Disneyland: Tokyo Disneyland and Tokyo DisneySea. Both parks offer rides, shows, parades, and other events that will give you a magical experience.
There is nothing like going to Disneyland. Located in Urayasu, Japan's Disneyland is the oldest Disney park outside the US. It opened in 1983, and this Japanese theme park has been attracting millions of visitors from all over the world ever since.
World Bazaar
The World Bazaar is all about Disney's history. There's a double-decker Omnibus that you can ride around the plaza to see the sights, and the Penny Arcade is filled with nostalgic arcade games that take you back to the good old days.
Adventureland
On your journey through Adventureland, climb aboard trains, ships, treehouses, and cruises and go on expeditions on different terrain!
Westernland
Westernland is all about the Wild West. Buckle up because you're in for a treat! The Shootin' Range is an authentic cowboy experience, and you can watch animated bears play hillbilly songs at Country Bear Jamboree.
Critter Country
At the ol' Critter Country, adventurers and thrill-seekers line up to go through tunnels and down a steep drop on log jam at Splash Mountain. The Beaver Brothers will also lead you through a river in the Beaver Brothers Explorer Canoes.
Fantasyland
Get to know your favorite Disney characters and their stories. Explore walk-in attractions and rides that will tell you more about what happens to Snow White, Cinderella, and other characters, and how they found their happily ever afters.
Toontown
Find the hidden Mickey in Toontown, where you can play interactive games. You can paint, meet your favorite characters, and ride Gadget's Go Coaster.
Tomorrowland
At Tomorrowland, you can enjoy the world of Star Wars, fight alongside Buzz Lightyear, and play hide-and-seek with Sully from Monsters Inc.
Book your tickets to Tokyo Disneyland here.
Universal Studios Japan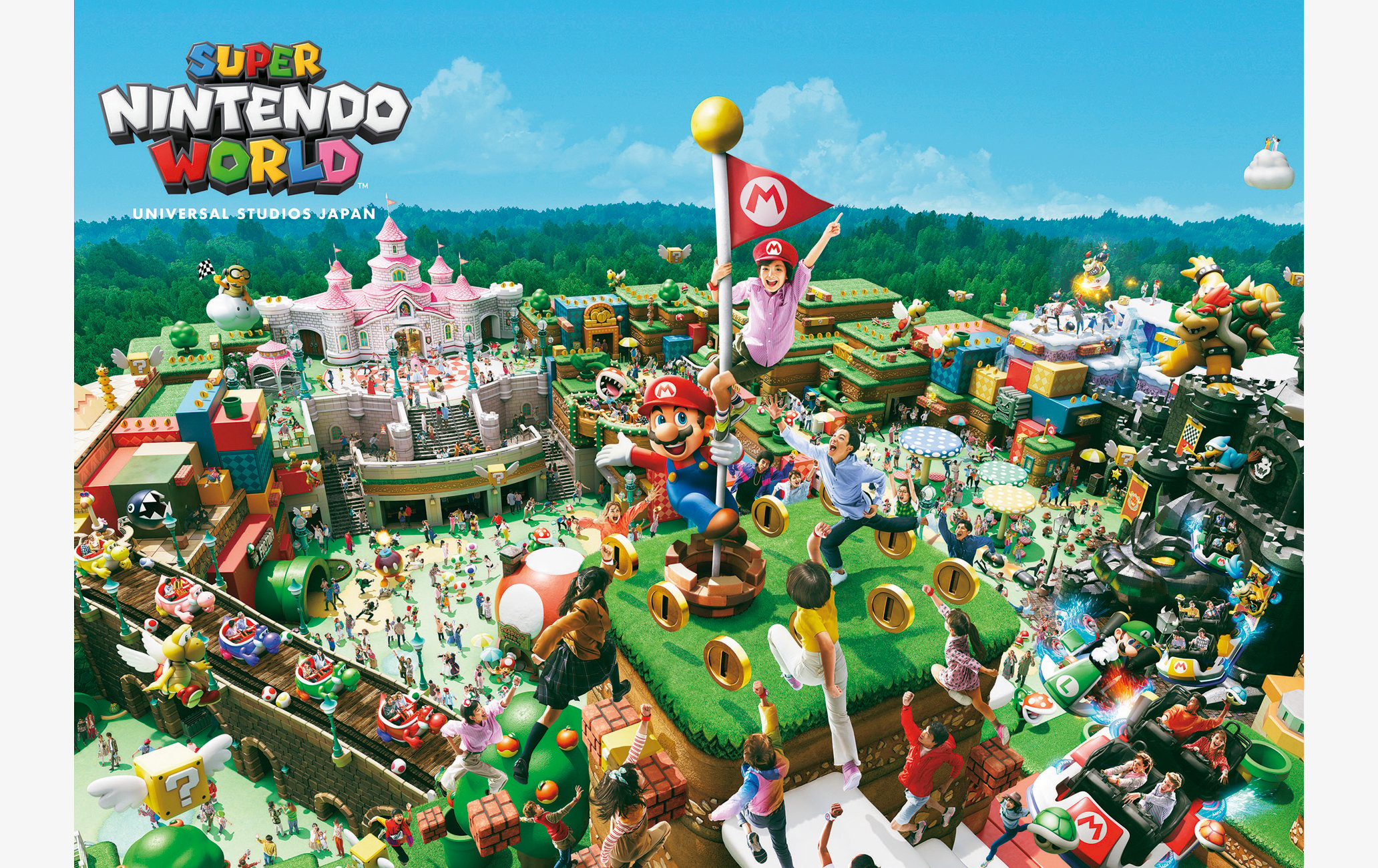 Universal Studios Japan in Osaka is one of the most popular amusement parks in Japan. It is famous for its film and TV-related rides and attractions, including the Wizarding World of Harry Potter. If you are a bit of a thrill seeker and are looking for a Japanese roller coaster experience then you cannot go wrong with USJ.
SUPER NINTENDO WORLD
Everything at the SUPER NINTENDO WORLD is interactive, so the whole area can be your playground! Experience Super Mario in real life, and get a matching Power-Up Band to earn points, coins, and digital stamps on the app.
The Wizarding World of Harry Potter
This is one of the most popular attractions across all Japanese theme parks. Magic is everywhere in the faithful replications of the fictional universe. Enter the Hogwarts castle to see moving paintings, walk through Hogsmeade to have a glass of butterbeer and explore its many magical shops, and enjoy lunch and dinner at the Three Broomsticks or Hog's Head, with fictional menu items brought to delicious life.
Minion Park
Enjoy the mayhem with the Minions at the world-class Minion Park. Despicable Me: Minion Mayhem is a fun roller coaster for kids (102 cm or taller), while POP-A-NANA and Delicious Me! The Cookie Kitchen are full of treats that you can enjoy at the park or bring home as souvenirs. Rest assured, there are also many Minion-related merch shops throughout the streets.
Jurassic Park
Walk through the jungle carefully because ancient, reptilian beasts watch from afar. The most savage predators lurk from the shadows, so don't make sudden movements! There are also ancient oceanic sea beasts that swim in the depths.
Hollywood
Some famous Hollywood landmarks are replicated in this area, with various rides, attractions, restaurants, and shops that are all about the glitz and glamor. This is the best place to end the day so you can enjoy the Universal Spectacle Night Parade: The Best of Hollywood.
Book your tickets to Universal Studios Japan here.
Fuji-Q Highland Amusement Park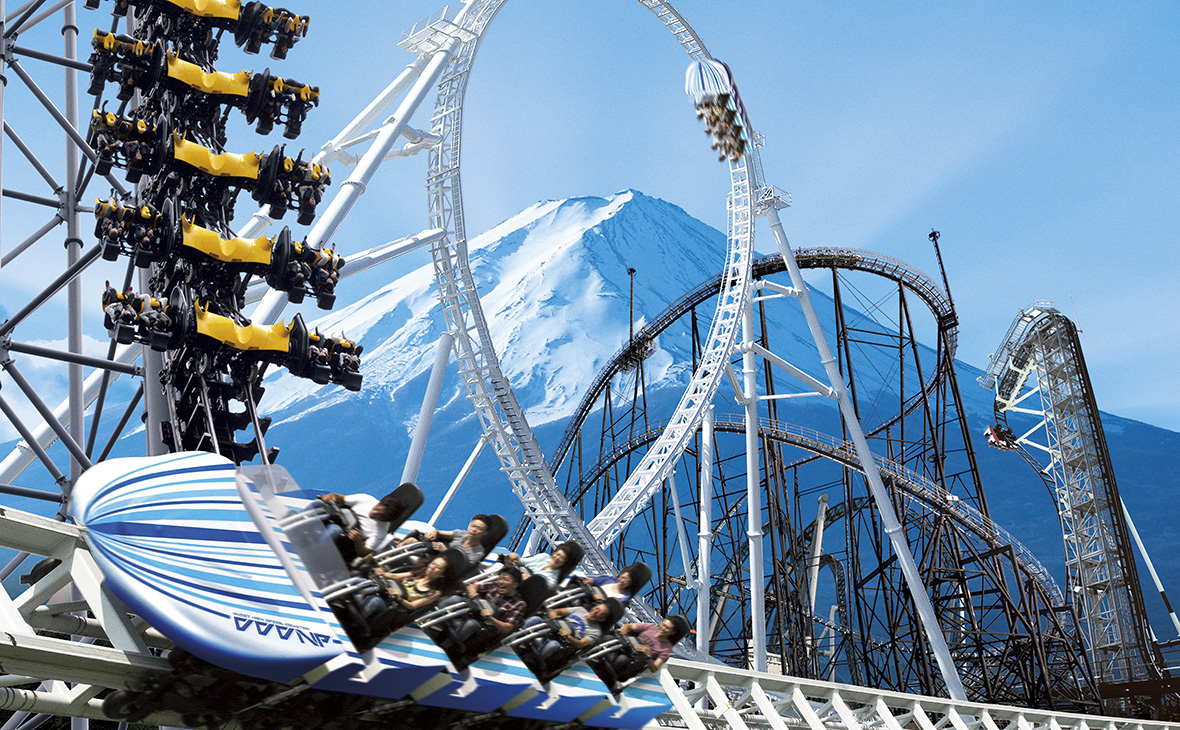 Fuji-Q Highland is located near the base of Mount Fuji, where thrill seekers can enjoy Japanese roller coasters and other rides for a much-needed adrenaline rush! It's also one of the best locations to see Mt Fuji up close.
This Japan theme park is in Fujiyoshida, and it opened in March 1968. Today, it has the craziest rides that accelerate and drop in a matter of seconds! The amusement park is famous for its many roller coasters, but there are many other attractions and rides that will fill your day.
If you're looking for a fun place to visit in Japan, you should certainly consider Fuji-Q Highland. So if you're a thrill-seeking adventurer, check these rides out:
Tentekomai – Sky Roller
The planelike ride with a tower height of 32 meters can be hair-raising! Dubbed one of the scariest theme park attractions in Japan, this thrilling ride is rigged with controls so you can spin and pilot yourself in various directions as the ride moves forward. Rotate your "aircraft" every which way to feel the wind in your face.
Takabisha
Named the steepest roller coaster in the world, Takabisha drops at a thrilling 121 degrees! Its maximum speed reaches 100 kilometers per hour.
Eejanaika
If your stomach can't take spins and turns, avoid this ride at all costs. People call Eejanaika a "4th dimension" roller coaster because it has the highest number of revolutions in the world—a whopping 14!
Fujiyama
Fujiyama is a classic roller coaster, and it holds a place in the hearts of many as the best roller coaster in the world. Reaching speeds up to 130 kilometers, the King of Roller Coasters is certainly worth a try.
Red Drop Tower
Experience true weightlessness on this ride that takes you up to 52 meters and drops you down at maximum speeds of 65 km/h. Whew!
Tokyo Joypolis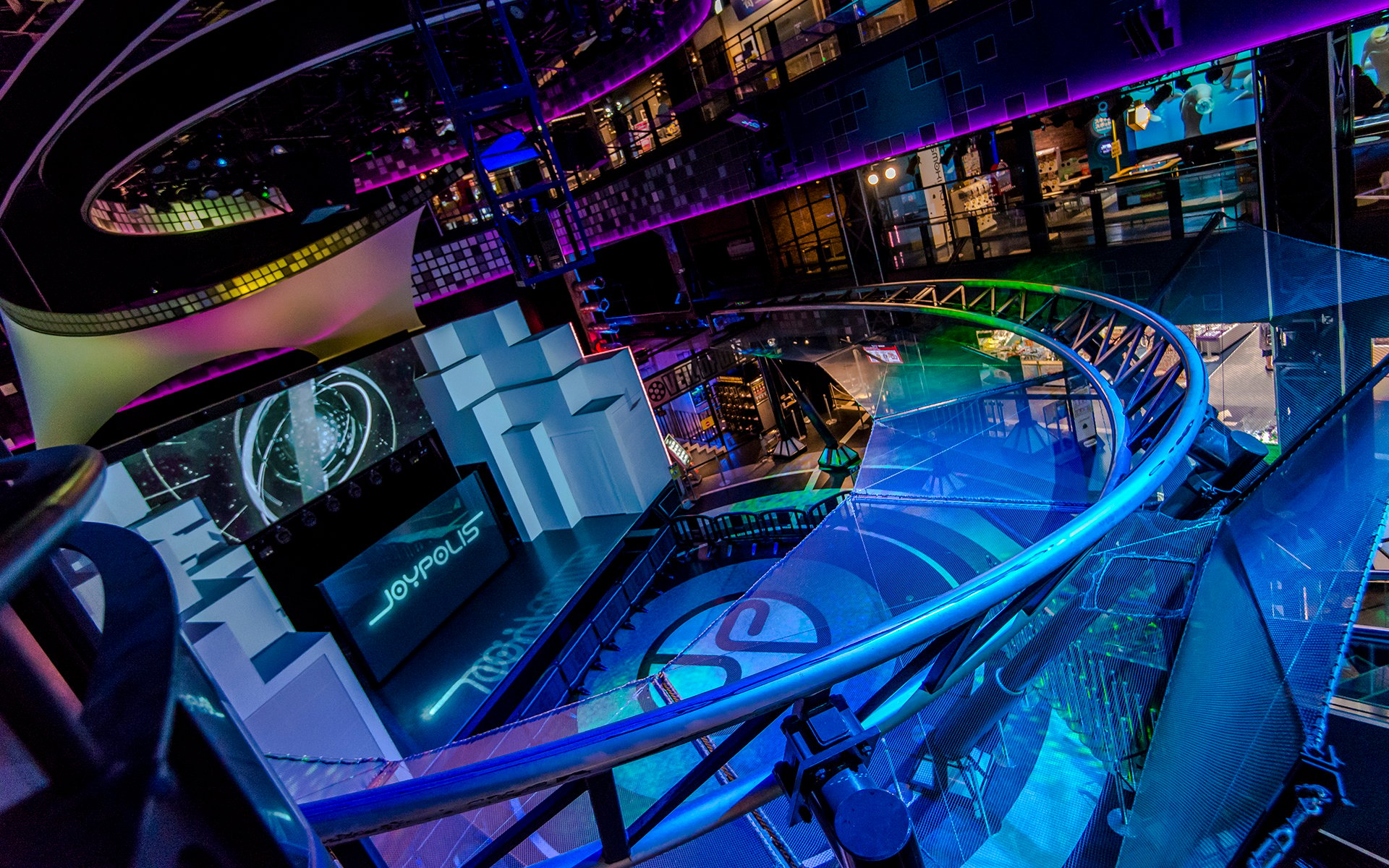 If you are a thrill seeker, video game enthusiast, SEGA player, VR enthusiast, or just looking for a day of fun, Joypolis is the biggest indoor amusement park in Japan that you must visit. It has many nostalgic and fun games and attractions, including Sonic The Hedgehog!
You can also play on the indoor roller coaster or karting track—an excellent choice for anyone who wants to immerse themselves in the technological marvels that Japan is known for.
The park is in Odaiba, about 40 minutes from Shinjuku. It's a great day trip for the family as the park has rides and attractions for all ages. They have many shops and restaurants that you can all enjoy, too.
If you want to experience some old-school games from back in the day and attractions based on TV and video games, head to Joypolis!
Attack on Titan: The Attraction
If you are a fan of this manga or anime series, this walk-through experience is a must-visit. It is an immersive adventure with backdrops, props, special effects, lighting, and sounds that will make you feel like you've stepped into the fictional universe.
Transformers Human-Alliance Special
Fight Decepticons and stomp around the city as a Transformer. This console slides left to right, back and forth, and spins 360 degrees as you fight enemies attacking you on all sides.
Zero Latency VR
Play a fun shooting game with your family and friends in this amazing attraction. You can roam around freely with the latest VR technology on a head mount, with supplies (4 kg backpack) and a weapon (2 kg gun) for realism.
Frame Cafe
The Frame Cafe on the third floor has a photo booth where you can take photos to commemorate your trip. The balcony area is the perfect spot to enjoy the scenery of Tokyo Bay and the Rainbow Bridge.
JP Store
The JP Store sells various merchandise and souvenirs. You can find all sorts of exclusive Sega-themed items, including toys and clothing. Shop until you drop and bring home the best souvenirs for your friends and family.
Sanrio Puroland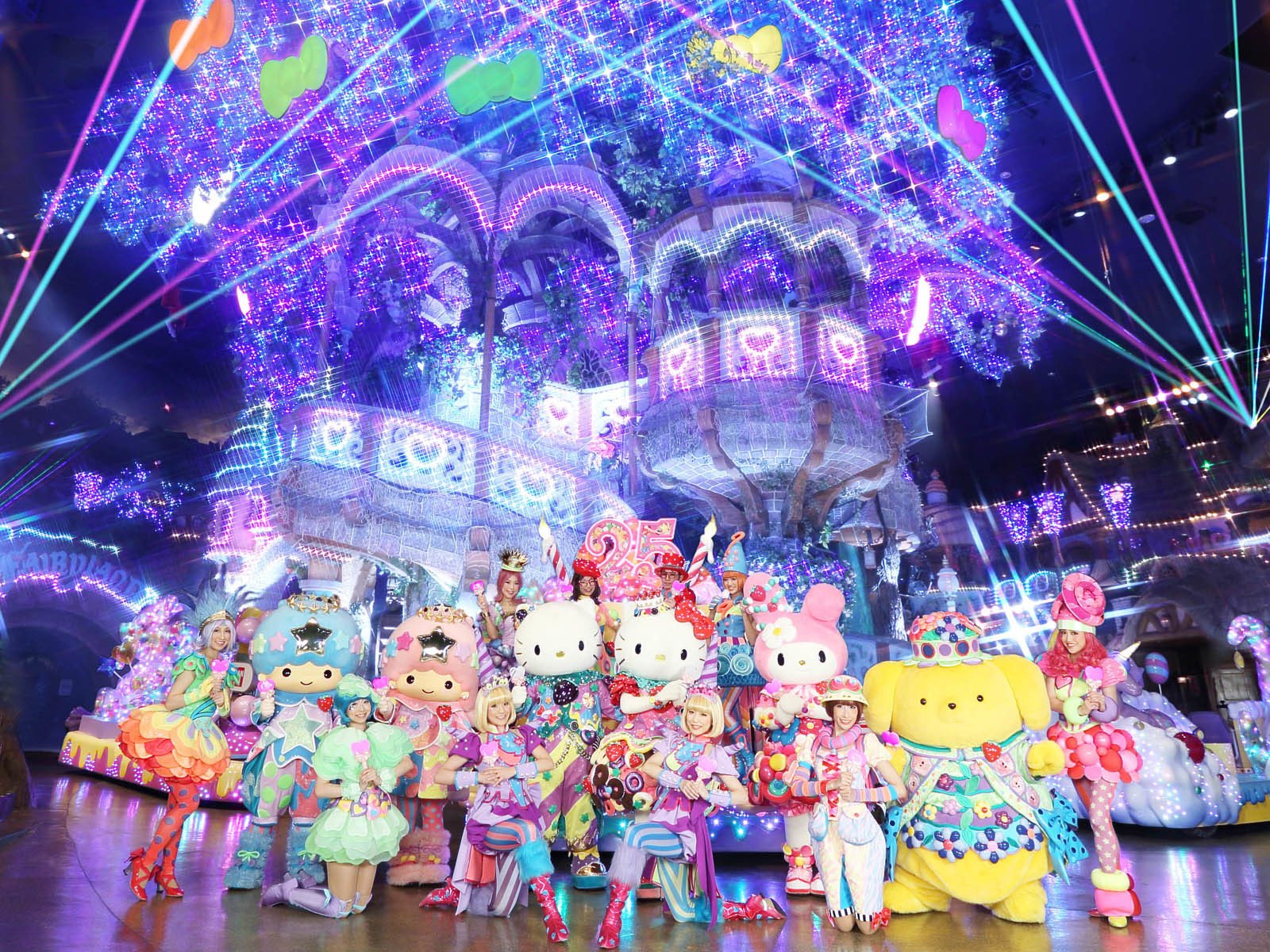 Sanrio Puroland is an indoor theme park in Japan that celebrates Sanrio, including Hello Kitty, My Melody, and Little Twin Stars. You can enjoy a musical show, eat the cutest food you will ever see, and even meet and take pictures with your favorite Sanrio characters!
There are also many gift shops where you can buy rare Sanrio items to bring home as souvenirs and add to your collection. The park is open year-round and is a great place to visit if you want something fun to do with your whole family. It is located an hour away from Tokyo by train.
Sanrio Puroland is the perfect place to spend a day in the land of cuteness and delight. Here are some attractions you should not miss:
Sanrio Rainbow World Restaurant
To get a hefty dose of color and cuteness, visit this food court divided into seven colors for Sanrio's most popular characters: red for Hello Kitty, pink for My Melody, orange for Gudetama, yellow for Pompompurin, green for Keroppi, blue for Cinnamoroll, and purple for Little Twin Stars. Enjoy the beautiful art on the walls along with your lunch or dinner!
Sanrio Character Boat Ride
This is the most popular attraction in the park, and for good reason. On this 10-minute cruise, you can see all of your favorite Sanrio characters. Remember to smile at the camera at the end of the ride for the photo shoot service!
Lady Kitty House
If you've ever wondered what Hello Kitty's house looked like, you can find out here! Walk around this iconic character's interior life and explore the many features fit for a queen. Nearly all the spaces have interactive elements, so you can spend some time exploring every nook and cranny. And, of course, your visit is not complete without loading up on Hello Kitty merch at the gift shop.
Yomiuriland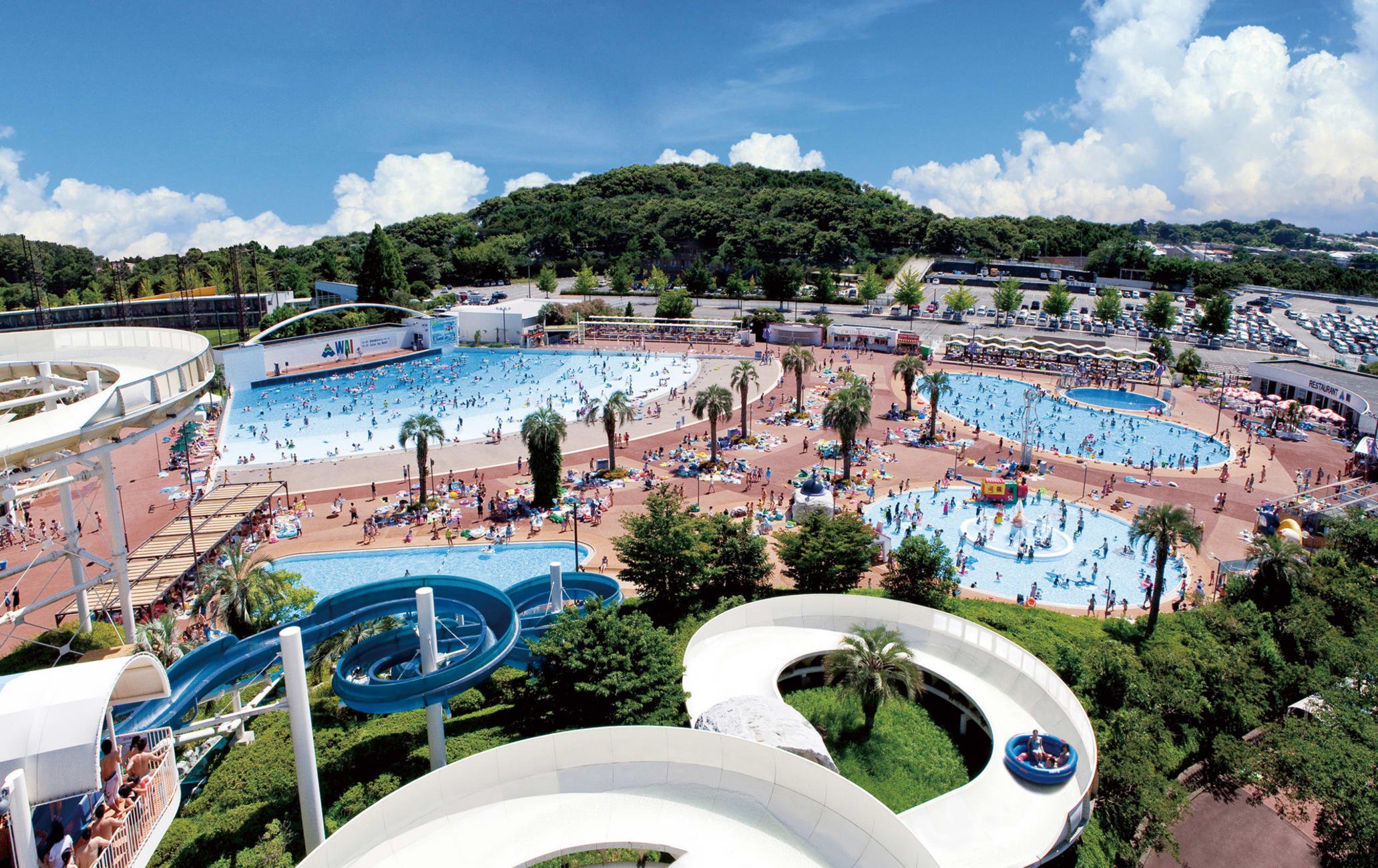 Yomiuriland is a great Japanese water park and theme park spanning about one square kilometer and has about two dozen rides and attractions, including roller coasters, water slides, and haunted houses. It also has many restaurants, shops, and cafes.
The park has traditional amusement park features as well as attractions aimed at adventure and exploration, such as haunted houses, haunted trains, escape games, and interactive play areas for kids.
Here are the most popular attractions in each area:
Plaza Stage of the Sun
The Plaza Stage of the Sun is a great area for families with young children. You can enjoy fun rides like:
Merry-Go-Land Dog
Frog Hopper
Guru Guru Drive
Goodjoba!! Area
The Goodjoba!! Area focuses on games that test your skills, such as:
My Racing
Custom Garage
Spin Drive
Lan Lan Area
The Lan Lan Area features thrilling and exciting rides to get your heart pumping!
Bungee Jump
Giant Sky River
Milky Way
Hashibiro GO!
Crazy Hyuuuu/Crazy Stooon
Sea Lion Show
Flag Street
Flag Street has the most intense rides where children will need adult chaperones. Here are the attractions in this area that you will surely love:
Looping Starship
Haunted House
Go-Kart Family Course or Single Circuit Course
Play Park
Hero Training Center
Miracle Wan Room
Wandit
Ptera Cycle
Jurassic Car
SHATEKI
SeaChicken Go!
Japan Theme Parks FAQ
How many theme parks are in Japan?
Japan has lots of big and small theme parks, especially built during the bubble / showa era. There are easily over 100 theme parks in japan.
Is there a Naruto theme park?
The biggest Naruto theme park is in Awajishima prefecture – its a big island near Osaka / Kobe. Its full of characters from the highly popular Naurto manga / comic.
Is there a Harry Potter world in Japan?
Yes, you can visit the harry potter world in Osaka at USJ (Universal Studio Japan) – its officially called the wizarding world of harry potter and is a HUGE attraction.
How many Disney parks are there in Japan?
There are only two Disney parks in Japan. They are both based in Tokyo – Tokyo Disneyland & Tokyo Sea.
What is the biggest amusement park in Japan?
Fuji-Q Highland amusement park is the biggest in Japan. Situated at the foot of mount fuji its a theme park with one of the best views in the world.
Is there an anime theme park?
Japan is home of anime so there are many anime themed amusement parks in Japan. The biggest are at USJ in Osaka and Tokyo Joypolis with its attack on titan attraction.
Does Tokyo have theme parks?
Tokyo has many small theme parks – the two main theme parks are operated by Disney. We recommend purchasing a weekend pass to enjoy both parks at your own pace.
Do they have roller coasters in Japan?
Yes, japanese love roller coasters. If you wish to ride rollercoasters in japan then we would recommend USJ or Fuji-Q Highland.
How many Universal Studios are there in Japan?
There is only one Universal Studio in Japan, its based in Osaka and is easy to get to by train.
What is the Disney in Japan called?
Disney in Japan is called Tokyo Disneyland, its named the same as other Disneylands around the world, making branding easier.
Is Tokyo Disneyland worth it?
If you are a fan of Disney then absolutely, we recommend a weekend pass so you can visit both Tokyo Disneyland and Tokyo DisneySea.
Is Disney big in Japan?
Disney is huge in Japan, many small children and young women love the cute characters from Disney. You can find Disney stores all over Japan and of course Disneyland in Tokyo.
How much does Tokyo Disneyland cost?
A day ticket to Tokyo Disneyland costs
Adult – $54 – $64
Junior – $45 – $55
Child – $32 – $42
Head on Over to Japan
Japan theme parks are a great way to spend time with your family. There are fun attractions for children of all ages and those young at heart.
If you're planning on going, here are some things you should know:
Avoid visiting in April and mid-November if you hate crowds. Peak cherry blossom seasons in the country mean just about all public areas are packed.
Budget generously for days you spend inside theme parks. Food and drinks are much more expensive in these locations.
Study Japan's public transportation system so you can get anywhere you want to go.
Visit Japanese Theme Parks Today
You will surely have a blast if you visit any of these amusement parks in Japan. Allot an entire day to the ones you're most excited about—there is so much to do, see, eat, drink, ride, and shop for, and you shouldn't feel pressed for time.
Have fun!
September 6, 2023

Make the most of your Japan trip with our expert advice. Learn about the best time to visit, must-see destinations,

August 22, 2020

Japanese drinking culture is deeply rooted in the country's traditions, customs, and social norms. It is characterized by a sense

March 15, 2023

Are you considering teaching English in Japan? This article on Fly-JPN provides a detailed guide on how to make that