Hakone, a picturesque town nestled in Japan's Fuji-Hakone-Izu National Park, is an enchanting destination teeming with cultural richness, serene natural beauty, and rejuvenating hot springs. If you find yourself pondering, "What to do in Hakone?", this comprehensive guide is just for you. From exploring art museums to cruising on Lake Ashi, this destination offers something for every traveler. So, let's delve into the heart of Hakone and discover the experiences that await you.
Soak in an Onsen
Immerse yourself in Hakone's onsen culture. The town is famed for its therapeutic hot springs, thanks to its volcanic activity. There are numerous onsens scattered throughout Hakone, from those nestled in luxurious ryokans to public bathhouses. After a day of exploration, there's nothing quite like a soothing soak in an onsen to rejuvenate your senses.
There's no end to the attractions that make Hakone a remarkable destination. Whether you're a first-time visitor or a returning traveler, Hakone promises a variety of experiences that combine tradition, relaxation, and natural splendor. This guide offers a glimpse into what to do in Hakone, but remember, the town's charm lies in its ability to surprise and delight you at every turn. Happy travels!
Hakone Open Air Museum
Start your adventure at the Hakone Open Air Museum, Japan's first open-air museum. This museum seamlessly blends art with nature, housing over a thousand sculptures and artworks amidst verdant landscapes. As you wander through the sculpture garden, you'll encounter works from world-renowned artists such as Picasso and Henry Moore. You'll also appreciate the museum's harmonious integration of art with Hakone's natural beauty.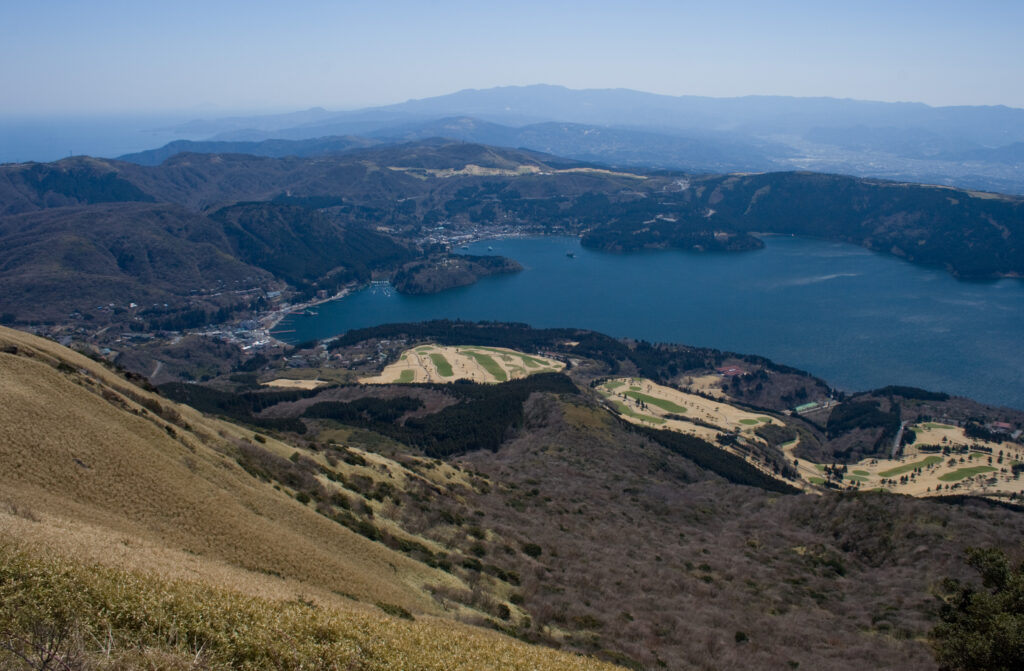 Lake Ashi Cruise
No trip to Hakone would be complete without a cruise on Lake Ashi. Embark on a sightseeing voyage aboard a replica pirate ship and drink in the panoramic views of the surrounding mountains and the iconic Mt. Fuji. Whether you're a landscape photographer or a nature lover, the tranquil atmosphere and stunning vistas of Lake Ashi will captivate your heart.
Owakudani Volcanic Valley
For an experience that's truly unique to Hakone, journey to Owakudani, a volcanic valley with active sulphur vents and hot springs. You can reach Owakudani via the Hakone Ropeway, which offers sweeping views of Lake Ashi and Mt. Fuji. In Owakudani, don't miss the opportunity to try kuro-tamago (black eggs), a local specialty. These eggs, boiled in the region's hot springs, are believed to extend one's life by seven years.
Hakone Shrine
Situated on the shores of Lake Ashi, the Hakone Shrine is a tranquil sanctuary that exudes an aura of mystique with its towering cedar trees and ancient torii gates. One of the shrine's torii gates is uniquely located in the lake itself, creating an iconic view that symbolizes Hakone. As you stroll around the shrine, you'll feel a sense of peace and reverence, making it a must-visit destination for spiritual seekers and culture enthusiasts.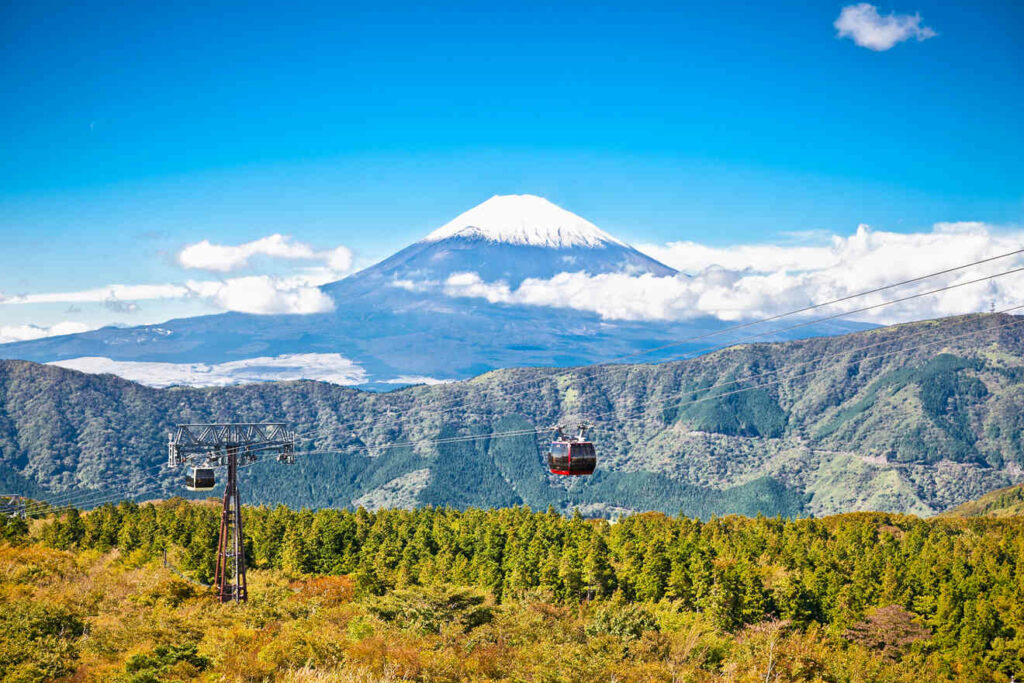 Where to Stay in Hakone
Now, you might be wondering, "Where to stay in Hakone?" Hakone boasts a range of accommodations to suit various budgets and preferences. If you're looking for a traditional experience, consider staying in a ryokan (Japanese inn). Many ryokans in Hakone offer private onsen (hot spring) baths and serve kaiseki (multi-course) dinners, providing you with a taste of authentic Japanese hospitality.
How to Travel from Tokyo to Hakone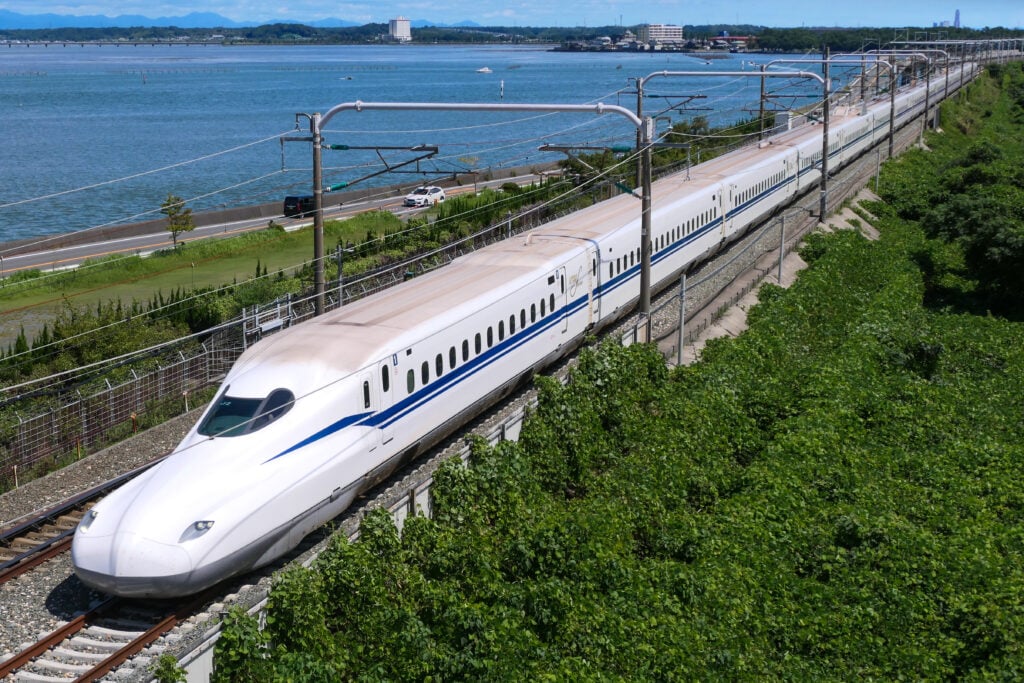 Odakyu Railway operates between Tokyo's Shinjuku Station and Hakone-Yumoto Station.

The one-way journey by the "Romance Car" limited express takes about 85 minutes and costs 2470 yen (or 2420 yen if using an e-ticket).
By slower express trains (kyuko), the journey takes about two hours, requires one transfer at Odawara, but costs only 1270 yen​1​.
With JR trains you can only get as far as Odawara, from where you will have to use non-JR trains or buses into the Hakone area.

By JR Tokaido Shinkansen you can access Odawara in about half an hour from Tokyo or Shinagawa Station (about 3500 yen one way).
Alternatively, you can access Odawara from Tokyo in about 70-90 minutes by local or rapid trains on the JR Tokaido Main Line (stopping at Tokyo, Shimbashi and Shinagawa Stations) or the JR Shonan Shinjuku Line (stopping at Ikebukuro, Shinjuku and Shibuya Stations) for about 1500 yen one way​.
Direct highway buses operate every 30 minutes between Tokyo's Shinjuku Station and the Lake Ashi area in Hakone. The one way journey costs about 2000 yen and under good traffic conditions takes about two hours.
The same company also operates less frequent direct buses between Haneda Airport and Hakone, which stop at Yokohama Station along the way. The one way journey costs about 2300 yen and under good traffic conditions takes about 2.5 hours​.
Transportation Passes
If you plan to travel around Hakone extensively during your stay, consider getting one of these passes:
Hakone Free Pass: From 5000 yen, the Hakone Free Pass provides two or three days of unlimited use of all Odakyu affiliated trains, buses, boats, cablecars and ropeways in the Hakone area. It optionally also includes a round trip between Tokyo and Hakone.
Fuji Hakone Pass: For 9340 yen, the Fuji Hakone Pass covers not only transportation around Hakone, but also transportation to and around the Fuji Five Lake region at the northern base of Mount Fuji on three days. It also includes a one-way trip between Tokyo and Hakone.
Hakone Kamakura Pass: For 7520 yen, the Hakone Kamakura Pass provides three days of unlimited use of trains on the entire Odakyu rail network, transportation around Hakone, as well as access to Kamakura​.
June 2, 2023

Nestled amidst Japan's picturesque mountainous landscape, the Hakone region is known for its serene environment, awe-inspiring views, and an assortment